 STARZ's adaptation of Neil Gaiman's American Gods proved to be one of the biggest and most unexpected success stories of the 2017 television season. Originally published in 2001, the Hugo Award-winning novel's adaptation was spearheaded under the guidance of executive producer Gaiman and showrunners/executive producers Bryan Fuller (Hannibal) and Michael Green (Heroes). With solid ratings and high praise from both television critics and social media, Starz renewed the series for a second season before American Gods' third episode had even aired.
Of course with that level of success comes more questions, so Gaiman took some time to sit down with The Independent to discuss the first season, what the future holds for additional seasons of American Gods and even a mention of a little something Gaiman's working on… that goes by the name American Gods 2.
Here are some of the highlights: When asked about how he feels now that the first season is over and was so well-received:
"It's kind of a weird mixture of feeling like we've dodged some kind of bullet and just joy. I love how well we've been received. I love that the show feels like it found its audience. I got a thing in my newsfeed this morning saying American Gods is the most popular Amazon download in the UK." As for storylines or scenes that never made it into the book but could be helpful to the series, Gaiman thought of one that he brought-up to Fuller and Green:
"I was talking to Bryan and Michael about stories that were lost and one of them was set in World War II – a Japanese internment camp in America – which I researched and plotted and then… well, my book was already too long. But talking with them about the idea of "Can we do this?" and I very much hope that it could happen somewhere in season two or season three."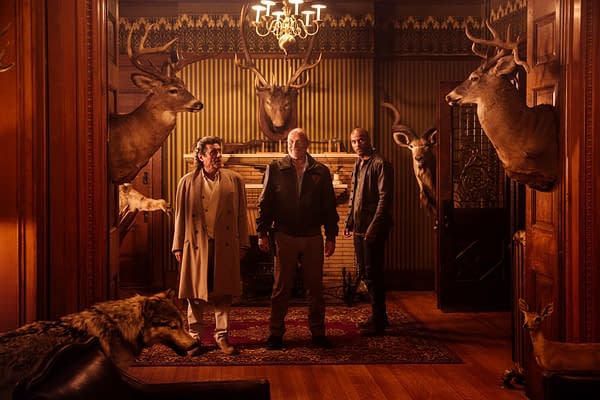 Concerning Season 2 and what storylines will be the main focus, Gaiman has a few idea…including showing us why the meet-up at The House on the Rock is so important; and where Shadow (Ricky Whittle) is heading next:
"We are going to reach The House on the Rock which is very strange. Lots of people believe that I made up, but I didn't – it really exists and it's half-way between a roadside attraction and a monument to surrealism. We're going to be shooting there. We're planning several episodes set in there and then there's a lot of playing around in season two with things that are in the book. We're still sending Shadow to Cairo, Illinois to work with Jacquel (Chris Obi) and Ibis (Demore Barnes). The most recent news on Cairo is that the government has decided all the public housing that is unfit for habitation, they wont be spending money on it or on building new housing so it's really the death knell for the town anyway. So we take that into account." So what was an unexpected highlight from Season 1 for him? It was Emily Browning's portrayal of Laura Moon, particularly in the "Laura backstory" fourth episode Git Gone. Gaiman admired the show creators' ability to do more with the character on film than he could within the structure of his novel:
"I love the Laura (Emily Browning) episode and I think I love it most because I'd always wished that I could've done something like that in the novel and couldn't [because of] the way the novel was built. So I just loved Emily's performance and the way they constructed it. I love all the moments that aren't in the books – these things that Bryan and Michael did. I look at them and go, 'You guys are mad and this is wonderful!'" The visuals of American Gods are nothing like what Gaiman visualized when he was writing his novel…and that's okay:
"The answer is not much and people always look disappointed when I say this. I have to say if I write a scene where two people are having a picnic in a field, whatever you shoot will not look like the thing in my head, because you will never find that field and you will never find the tree they're under.

Henry Selick's Coraline is, I think, the best of the films that have been made of my stuff and one of the reasons for that is it's a Henry Selick film and every frame of it is beautiful and magic – it's not my book. I love it just as much as if it was. But if people ask if it was my vision, I'd say, 'No, it really is Henry's and it's wonderful.' That's how I feel about American Gods."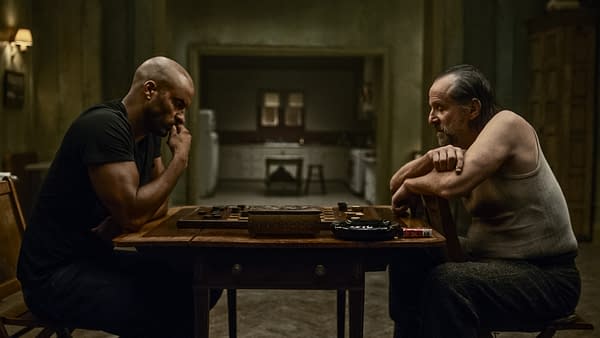 ● Gaiman doesn't see the source material from the first book drying-up before the end of American Gods' potential fifth season…which should give him more than enough time to finish that other book he keeps getting asked about:
"The fact we are liberated from the inside of Shadow's head means in season two we're going to meet more of the old Gods and more of the new Gods. We're going to watch some of the problems the new Gods have and the problems the old Gods have. We also, I hope, are going to encounter old friends. So with that, we've probably got around five seasons from the first novel and probably by the time that's ready, there will be another American Gods novel done." Reporter's Note: I had the opportunity to discuss the possibility of sequels and needing to work beyond the final page with Gaiman during April's American Gods media day:
"We have been talking about that since before we started. I had to do a J.K. Rowling kind of thing with the guys right at the very beginning and go "ok". I have not yet written American Gods 2. It's on the giant list of things I have to get to one day, but there is a giant list. However, if it actually happens might have to be moved up in the list of things… but let me tell you these important things about the plot because you need to know that these lines of apparently inconsequential dialogue and these bits of conversation in the book, you know, which are things as of that are things you might as well go "'I'll leave that out" are actually… they are the grappling hooks on which we attach the ropes that American Gods 2 is going so it is important that this character is in there and important that that line is said because we'll get that."
Enjoyed this article? Share it!