Conan: Haitians Respond to Trump's "Very Negative Yelp Review"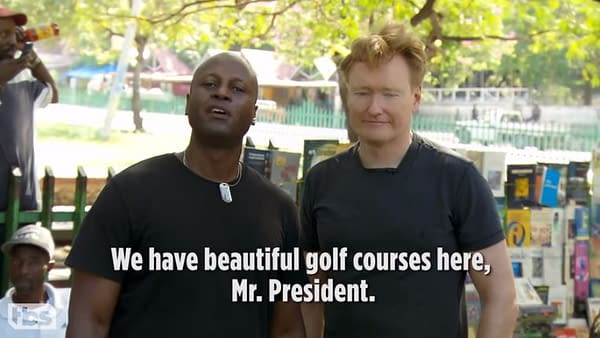 When Conan host Conan O'Brien took to Twitter a few days ago to let his followers know that he was heading to Haiti, fans of the late-night writer/comedian knew that he was going there to do more than just "explore and make some new friends." Considering the timing of the trip comes not-so-coincidentally on the heels of disparaging remarks U.S. President Donald Trump is alleged to have made about the country and its people, viewers were awaiting the full extent of O'Brien's pushback.
Except O'Brien decided to handle matters a little differently, giving Haitians the opportunity to express to President Trump the same level of "love and respect" that he's allegedly shown them. TBS released a brief preview clip of some of the responses, which range from a deep appreciation for America's true leader ("I want to send a message of love to the leader of America: Oprah, we love you!") to concerns over the quality of a degree from Trump University ("If we are poor it is because we are graduates of Trump University.").
So whether it's discussing long-term living arrangements in 2020 ("President Trump, I am from Norway and I live in Haiti. I would like to immigrate to USA — in 2020.") or a deep analysis of President Trump's academic prowess ("I know why President Trump doesn't like Haiti. We have books!"), you'll see that O'Brien's interviewees aren't exactly taking President Trump's alleged comments in stride:
Trump made headlines recently when he reportedly called into question — with members of Congress present — why the U.S. had an immigration policy that lets in people from "shithole" countries, with Haiti included on that list. In the past, Trump also is alleged to have said that Haitians "all have AIDS." O'Brien took to Twitter on January 14th to announce that — based on Trump's "very negative Yelp review of Haiti" — he would be heading to the country for a few days to film segments for his show and online.
Here are some of his social media highlights from the trip: