GLOW Season 2 Brings The Sopranos' Annabella Sciorra into the Ring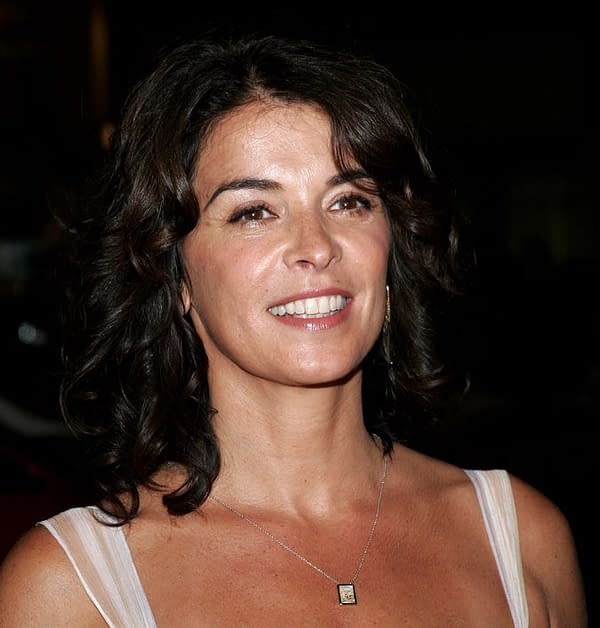 The squared circle just got a little more crowded, with The Sopranos alum Annabella Sciorra set for a recurring role on the second season of Netflix's hit '80s wrestling series GLOW. Created and executive produced by Liz Flahive and Carly Mensch and executive produced by Orange Is the New Black creator Jenji Kohan and Tara Herrmann, the series stars Alison Brie (Community), Betty Gilpin (Nurse Jackie), Sydelle Noel (Arrow), Britney Young (Those Who Can't) and Marc Maron (Maron).
Best known for her Emmy-nominated performance as Gloria Trillo in HBO's The Sopranos, Sciorra has been cast in the role of Rosalie Biagi, mother to the youngest of the GLOW girls. The celebrated actress has previously appeared in Spike Lee's Jungle Fever, Curtis Hanson's The Hand That Rocks The Cradle, and Nancy Savoca's, True Love.
https://www.youtube.com/watch?v=AZqDO6cTYVY
Set in Los Angeles in 1985, Ruth Wilder (Brie), a struggling actress, auditions along with dozens of other women in a fledgling professional wrestling promotion called the Gorgeous Ladies of Wrestling (GLOW). She is at odds with GLOW's director Sam Sylvia (Maron) due to her tendency to overact. When Ruth's former best friend, retired soap opera actress Debbie Eagan (Gilpin), arrives at the ring, their confrontation promises to either make or break the show.
In an interview with The Hollywood Reporter in June 2017, Flahive spoke about what made Brie and Gilpin so perfect for their respective roles:
"Carly and I had both worked with Betty on Nurse Jackie and in theater, and she's just such an extraordinary actress, but also had so many gifts that I feel like have not been fully explored onscreen. She's so strange and comedic and so incredibly physical and I don't know that she's gotten to do that all in one role before. So that was super exciting.

Alison we were less familiar with and it took us a while to realize — she was perfect for it, but we had completely overlooked her at first. From her first audition, it was super clear that she was going to have the range, the smarts, the physicality and both the gravitas and comic chops to do this extremely complicated role. Ali is also incredibly precise, her precision is amazing in terms of her performance on all levels. Watching her chase this role hard also let us know that she could really play this character because Ruth is so desperate and can be so needy, and that was something we didn't see in her initially. Then as she came after this role with every audition and every callback, it became more and more apparent."