iZombie Season 4, Episode 1 Review: Left Still Feeling Hungry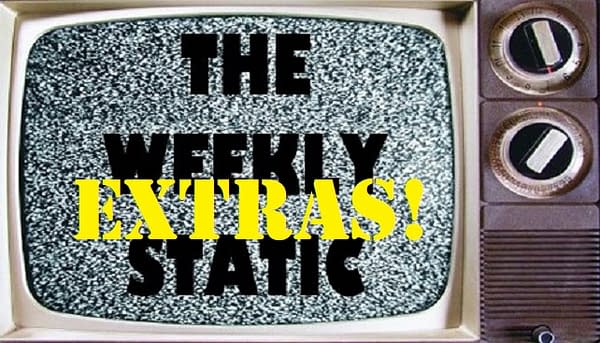 https://youtu.be/I6b9XumBF0s
"So I'm out there everyday trading sex for brain tubes to feed my little sister, and you get to eat them like candy bars?" – Jordan
I was psyched to welcome back CW's iZombie for a fourth season; so with popcorn (courtesy of my three-year-old) and cider in hand, I sat down to watch 'Are You Ready for Some Zombies?' and welcome the new world order of "New Seattle". If you remember where season 3 left us, the zombie jig was up courtesy of Chase Graves (Jason Dohring); who broadcast the existence of zombies for everyone to hear. Three months later, a much darker season 4 opens at a brain processing plant (think Unwrapped) — except instead of some delicious Smarties? It's a brain assembly line.
Blaine: Is that a guillotine?

Chase: Of sorts. It's a guillotine for zombies.

Blaine: But why? We're zombies.

Chase: Zero tolerance. That's our message.

Blaine: Message received.
Chase is running the show and has established a quarantine zone via a wall to divide Seattle; policed by soldiers from Fillmore-Graves, who enforce a newly established midnight curfew. Being a no-nonsense military type, Chase has zero tolerance for the turning of humans into zombies; which is pretty ironic considering he was the one who injected the zombie virus into the Aleutian Flu vaccine, turning most of its recipients into the "undead kind". His strict rules have created a backlash in the form of the "Dead-Enders": a group of outcasts dead-set on attacking zombies. Wonder if they are responsible for labeling the many residences with a "Z"…
https://youtu.be/MDARn2Sirs0
"I'm in harmony with nature and I am never going back" – Ravi
So what's the rest of the gang up to these days? Olivia "Liv" Moore (Rose Mclver) and Detective Clive Babineaux (Malcolm Goodwin) are back to solving murders. In this episode, Liv eats the brain of a Seahawks fan and becomes a little intense and aggressive because of it. To be honest, I was really disappointed with this episode's "brain meal". I was expecting something much more exciting to start off the season with like — oh, I don't know — grave robber, taxidermist, or maybe exhibitionist? I felt her acquired personality was pretty weak and really didn't add much to either the investigation or the episode.
Major Lilywhite (Robert Buckley) continues to be a loyal soldier for Fillmore-Graves, and is given an opportunity to go back to his roots: lead a therapy group for young, lost zombies. The goal is to educate them, and essentially turn the "best of the best" into Fillmore-Grave's newest soldiers. There's a problem brewing, however: a shortage of brains, with the cost of one going for $40 on the black market. Zombies are starting to go hungry and resorting to sex-for-brains to survive.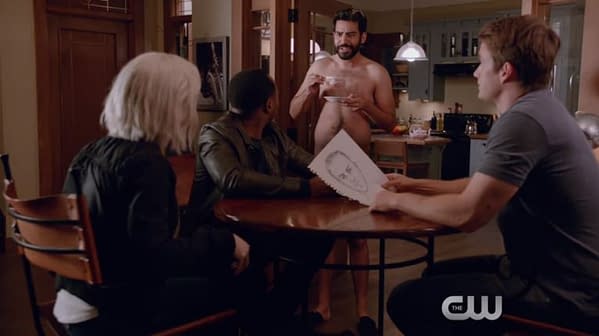 A very naked Ravi Chakrabarti (Rahul Kohli) is successful — sort of — in creating a cure; and although he periodically ventures into intimate moments with brain mode (probably one of the funniest scenes from this episode), he still remains (mostly) human.
'Are You Ready for Some Zombies?' ends with Blaine DeBeers (David Anders) father a ruthless man who's been held captive in a well courtesy of Blaine venturing into a church and eating the brain of the preacher. So now it appears as if Angus McDonough (Robert Knepper) now thinks of himself as a "zombie prophet" dead-set on building a following by any means necessary. I'm very interested to see where his story goes….
It was a solid start that set up some interesting possibilities for the season, but I was expecting a little more from a season opener; especially considering how season 3 ended. So what's in store for season 4? Will the humans and zombies learn to live amicably side by side? I'm gonna go out on a limb and say probably not. Given the lack of brains and a new anti-zombie anarchy group, I'm thinking the guillotine will be used for more than just zombies. Welcome to the new world order!
Once again, it's that time in the show when I pay homage to Liv's many personality-inducing brain feasts, with this episode's menu selection being: Deep-fried Brains of an Aggressive, Zombie-Hating Seahawks Fanatic.
https://youtu.be/MIQdyTpgtWQ
Margo Staten is a Ukrainian born, raised in Brooklyn organically driven, coffee loving, twice divorced mother of one baby Einstein. Has a passion for books, yoga in the park and all things 80's and New Orleans.