Glenn Howerton Returning to FXX's It's Always Sunny in Philadelphia Season 13 for "Some Episodes"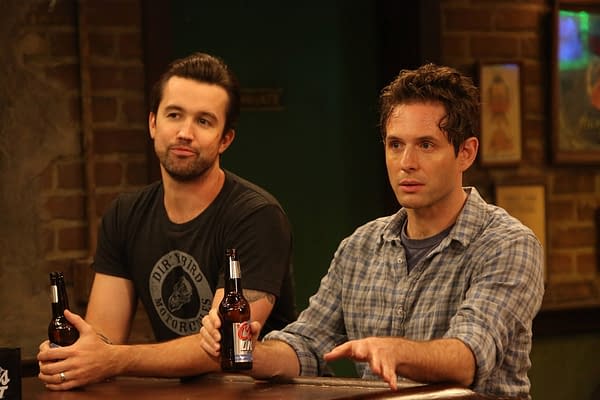 After weeks of "will he/won't he" confusion, of course it would be Dee who would have the scoop on the future of her brother. With Kaitlin Olson wrapping up the second season of her Fox sitcom The Mick, the actress confirmed that her It's Always Sunny in Philadelphia co-star Glenn Howerton's (A.P. Bio) Dennis Reynolds would be returning to the FXX series for its 13th season.
Speaking with The Wrap, Olson confirmed that Howerton would be back – while avoiding any specific details on how his return would be handled:
"I do know that Glenn Howerton is coming back for some episodes. I don't know the specifics, but I do know how he's being introduced back in, and it is absolutely hilarious."
Howerton recently addressed the matter through a series of tweets at the end of January 2017 – prior to the premiere of A.P. Bio on NBC:
Howerton makes it clear to It's Always Sunny fans that the two series are completely separate and different projects: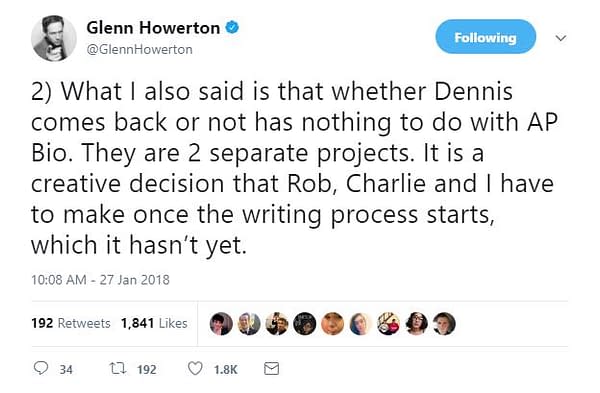 One of the reasons Howerton can't tell you if Dennis is coming back? Spoilers, folks:
But even if Dennis ends up "gone forever," Howerton knows exactly where he's at: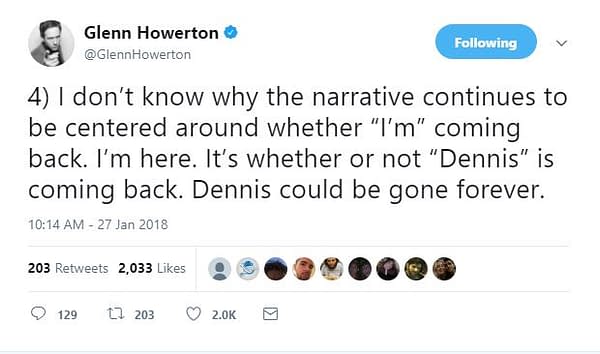 Finally – with a move that Dennis would be proud of – Howerton invoked no less than "The Brahma Bull" himself to help fans better understand the "subtle nuances" between projects: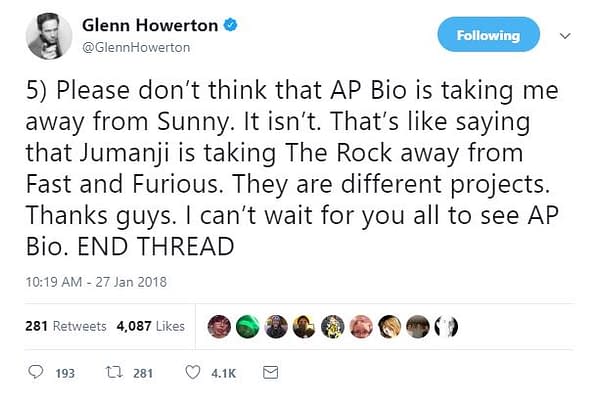 When it was first announced that Howerton would be spending some time outside of It's Always Sunny in Philadelphia's Paddy's Pub to (hopefully) "teach" a couple of seasons of A.P. Bio at NBC, Sunny fans started to get nervous about Howerton's future with the FXX series. While we're not going to spoil anything here, the Season 12 finale didn't exactly do much to ease fans' concerns over Dennis' fate.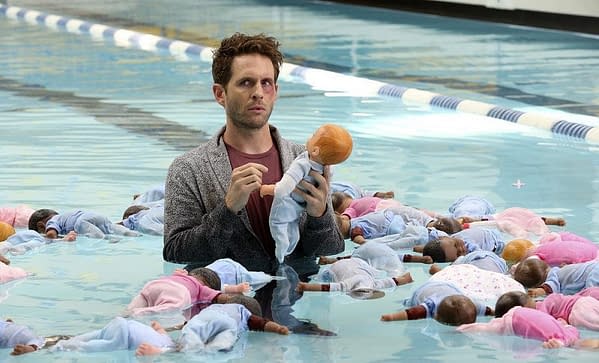 Howerton addressed the issue during the A.P. Bio panel at the Television Critics Association (TCA) press event. earlier this year, reassuring those who think A.P. Bio is "replacing" his work on It's Always Sunny in Philadelphia that the two shows are separate projects; and that A.P. Bio gives him a unique opportunity to work with individuals he admires:
"I've not officially left It's Always Sunny, so I hope people understand that. This is a totally separate project that I'm doing. The thing about doing a show for 12 years is that people might have a hard time seeing you as anything else […] I wasn't planning on jumping into anything else, but I saw it was Lorne Michaels and Seth Meyers, and I just loved it."
As for the future of It's Always Sunny in Philadelphia, Howerton emphasized that while the team still enjoys making the series, each of them needs to be able to take breaks and work on other projects to avoid personal/professional burnout; and to maintain the show's quality:
"I don't know if this is going to turn into a 'Curb Your Enthusiasm' thing where we make them when we can or if it's gonna pick up where it left off and it's gonna be every year again. I don't really know […] We've talked about [a gap between season]. We love the show and we love each other and we want to keep doing it and if we can get away with just doing it whenever we want, why not? Creatively speaking, we just want the show to be good, so if any of us is feeling burned out and we feel like it's gonna compromise the quality of the show, we just won't do it."