'Wet Hot American Summer' Sequel Gets Premiere Date, Trailer Netflix has announced that Wet Hot American Summer: Ten Years Later, the follow-up series to the film Wet Hot American Summer and the prequel series Wet Hot American Summer: First Day of Camp, will premiere the entire eight-episode season on the streaming service on August 4. Along with the announcement, Netflix also released the first trailer for the series:
Wet Hot American Summer introduced us to the camp counselors of Camp Firewood in 1981 who are looking to tie-up a ton of personal loose-ends on the last day of summer before camp ends and the real world starts. Trying to keep everything under control was camp director Beth (Janeane Garofalo), who had her own issues juggling camp responsibilities with her growing infatuation with local astrophysics professor Henry (David Hyde Pierce). One problem: Henry was a little busy with his team of students trying to save everyone from a deadly piece of NASA's Skylab that was hurtling their way.
Spoiler? As you can tell by the title of the new series, he was successful. Wet Hot American Summer: Ten Years Later takes place in 1991 as the former counselors of Camp Firewood gather for a reunion that's guaranteed to go as smoothly as things did ten years earlier.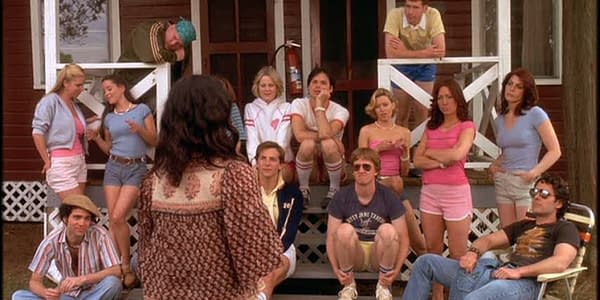 Wet Hot American Summer: Ten Years Later has a returning cast line-up that's second only to Avengers: Infinity War: A.D. Miles, Amy Poehler, Beth Dover, Chris Meloni, Chris Pine, David Hyde Pierce, David Wain, Elizabeth Banks, Eric Nenninger, H. Jon Benjamin, Janeane Garofalo, Jason Schwartzman, Joe Lo Truglio, John Early, Josh Charles, Ken Marino, Kristen Wiig, Lake Bell, Marguerite Moreau, Marisa Ryan, Michael Ian Black, Michael Showalter, Molly Shannon, Nina Hellman, Paul Rudd, Rich Sommer, Sarah Burns and Zak Orth.
New cast members joining this series includes: Skyler Gisondo, Samm Levine, Mark Feuerstein, Marlo Thomas, Joey Bragg, Jai Courtney, Dax Shepard, Alyssa Milano​ and Adam Scott.
Interestingly enough the original film was both a critical and commercial failure when it was first released in 2001, but developed a strong cult following over the past sixteen years due to the large number of cast members who would go on to popular and successful work. Netflix released the eight-episode prequel series Wet Hot American Summer: First Day of Camp with most of the film's original cast in 2015.
Here's the trailer for the original film, Wet Hot American Summer: