Joseph Schmidt writes for Bleeding Cool:
The team at the Hasbro booth have once again brought their A-game to Comic-Con with their Marvel display, a vast and elaborate battle of action figures not even seen on comics pages.
Castle Doom is playing host to the most epic fight these guys could imagine, and there are callbacks to classic Marvel moments, storylines and characters throughout. The big scene of the battle is right on the Castle's doorstep.
The combined mights of Drs. Doom and Strange, Scarlet Witch, Adam Warlock and Kang the Conqueror hope to contain the mighty Galactus.
The X-Men are locked into battle with many of their foes. While Xavier is being rescued by Storm in the battle above, and Wolverine is locked in battle with ninjas, there are a few notable absences…
Oh, there's Cyclops. Crying in the corner as his ladyloves duke it out. Deadpool, on the other hand, seems to enjoy a good catfight.
Devil Dinosaur munching on some Doombots…
As Moon Knight, Blade and Venom take care of a few Ultrons in the cellars.
Deadpool Corp. are working hard while their leader enjoys a different show elsewhere.
Miles Morales and Peter Parker pause for a brief bonding moment.
Death's Head and Deathlok make their last stand.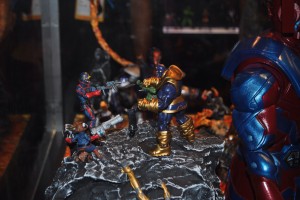 Thanos versus the Guardians of the Galaxy.
Looks like the FF are on the outs with Norrin Radd, again.
Sadly, it appears that Alpha Flight have fallen at the hands of Apocalypse.
And while these are all epic, awesome moments, (especially whiney Cyclops) they all pale in comparison to the stand-off between Bullseye and the Punisher.
Who blinks first?
Check this display at the Hasbro booth if you're in San Diego and tell us your favorite part.
Enjoyed this article? Share it!