Nerd Food: No Chaser Clean Energy Drink is a Gluten Free Treat
Energy drinks are my guilty pleasure. I don't indulge in them too often since they aren't always a healthy drink — and they can cause some severe side effects. However, recently I started drinking NO CHASER, a tropical tasting energy drink that contains 80mg of caffeine, B-vitamins, L-Theanine, ginseng, and more. As a bonus, the drink is also gluten-free!
What started as an Instagram page in 2016, morphed into a clean energy drink the following year. The drink was also designed to get rid of hangovers, or to keep you awake during work, a long gaming session, or when you just need a natural boost. While I can't speak on if it gets rid of hangovers — as I no longer drink heavily enough to warrant one — I can say I do get a nice little kick to start my mornings.
The tropical scent and taste aren't bad either. It reminds me of mango mixed with pineapple, but in fact, neither fruit is in this drink — but citric acid and monk fruit extract are present. This drink reminds me of being in San Diego in the middle of summer, walking around after Comic-Con. This drink would have probably kept me going during the con as well. I also love the packaging on the can. The neon orange and blue against a black background is appealing to the eye and gives it a youthful feel. This would fit in well at a nightclub as well as a video game store.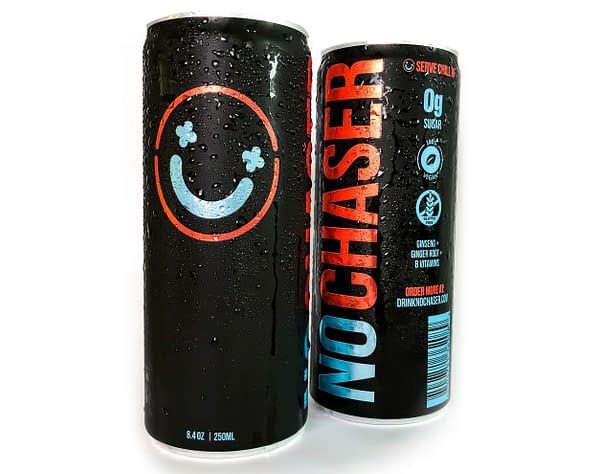 No Chaser is available for wholesale, but since we're still in the global COVID-19 pandemic, I haven't been able to see if anyone local to me sells it. But you can order yourself some cans of this directly from the website itself! A 12 pack will run you $35. These 8.4 oz cans are slim enough not to take up a ton of room in your fridge. They sit nicely near your keyboard, or wherever you may be enjoying NO CHASER.