On a dark Wednesday evening in 1994, dad and I were driving to our local comic book shop. Sports radio is all he would listen to. But on this night, he asked me if I wanted to listen to this album he just bought. It was called Crash! Boom! Bang! and performed by Marie Fredriksson and Per Gessle.
"Sure." After all, what choice did I have?
"I think you'll like this song." The hopeful tone in his voice was barely there, but this was clearly important to him.
When Marie Fredriksson's voice sang "My papa told me to stay out of trouble" she had my attention. The power, the range, the emotion she conveyed while singing Crash! Boom! Bang! tore through me. I didn't know who this band was — but I was immediately obsessed. After our weekly comic shop ritual, I snuck outside with my dad's car keys and nimbly took the CD out of the car. I listened to C!B!B! quietly through the whole night. Each song painted a beautiful picture in my head.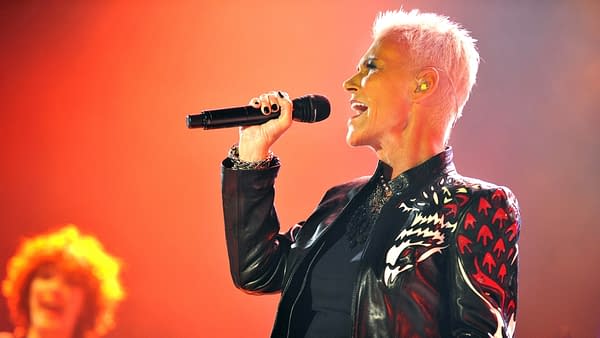 Over the next few weeks I pleaded with my dad to find their other albums.
His protests were unconvincing: "You won't like them."
I refused to believe that. Several weeks later I had Dance Passion, Pears of Passion, Look Sharp! Joyride, Tourism, Crash! Boom! Bang! and several singles.
I was born in 1986, the same year Roxette was formed. Marie and Per were both successful pop singers in their respective bands before they teamed up. They dominated the European charts before becoming known in America. It Must Have Been Love is arguably their best known song thanks to Pretty Woman.
It's hard to put into words how much something means to you when you truly love it. It's an abstract, intangible feeling. Roxette was there for me through my spinal surgery, various hospital visits, when I felt my lowest and most vulnerable, and then some. There was a song for every mood I had. There was an album for every season of my life.
In 2002, Marie was diagnosed with having a brain tumor. I was in 10th grade, and I reacted as a 10th grader would to news like that. It felt like time was robbing me of her — and selfishly I was angry that I hadn't seen them live yet. I was angry at any higher being that would hurt such an amazing woman.
In the spring of 2012 Roxette announced a tour, and they were coming back to the US — and New York City was one of the stops. Several weeks later, I received a message from my friend Shannyn that presale tickets were going live for US dates in four hours. I was at work, and I panicked. Several repeat phone calls to my dad later, and he had gotten me Roxette tickets.
"Lauren, they're $500 a piece"
"Ok??? I don't see the problem???"
"…I got you in the orchestra, in the middle. Don't ask me for anything ever again."
It was official. After waiting for this moment since 1994, I was finally seeing Roxette. My best friend Allison booked a room for us at the hotel adjacent to the venue — she knew how much this meant to me. I won't bore you with the details of me freaking out, meeting Per before the show, and then buying all of the merchandise from the show, but it was the best concert.
After the show, as I was getting ready to head to dinner, Marie Fredriksson came out. I froze. She was small, but powerful. I stammered out a "Thank you, I love you." And she smiled and said "I love you too."
It's a universal truth that life is fleeting. It's largely unfair and unjust, but we find little bits of joy and happiness. This morning my phone had hundreds of notifications. All of them read similar; I'm so sorry. Are you ok? Did you see the news?
Gun-Marie Fredriksson was born May 30, 1958. In her 61 years on this planet, she managed to change the lives of countless people. She was hopeful, beautiful, and full of life and love. She leaves behind a family, and one hell of a legacy. Thank you for the joyride.
Enjoyed this article? Share it!