4.30am Eternal… Off to Get Tickets For Fleabag's Final Performances by Phoebe Waller-Bridge
It's four-thirty am and I have just seen a fox crossing London's late-night streets. This omen feels right. I told myself if I woke up early enough I would do this, and I did so I am. I have just got on the 85 bus as I type this.
Fleabag, the BBC TV series that took the nation and now the world by storm began life as a one-woman play by Phoebe Waller-Bridge. And now as she plays droids in Star Wars, rewrites James Bond into something I'm excited to watch and pulls in Emmys and Baftas with Killing Eve, she is returning to London to put on a final run of the play, for her at least, at the Wyndham Theatre.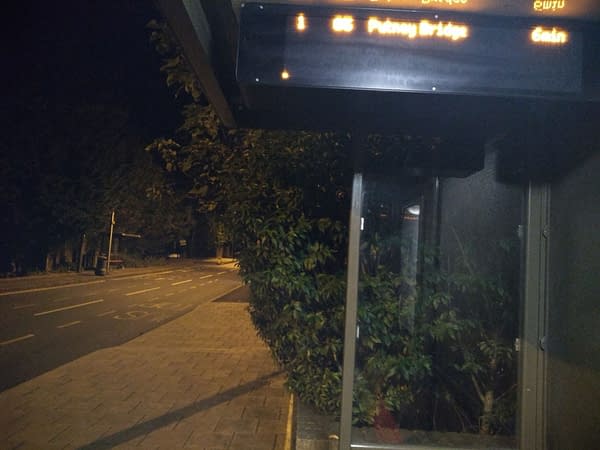 Tickets sold out in May. Returns go for £125. Which not even the good lady wife would countenance my spending. Which is why, at half four in the morning I am on a bus heading into Putney with a gaggle of, as I understand, drivers, students and cleaners, to go and line up outside the Wyndham Theatre for one of thirty-three standing tickets they sell, each day, for ten quid. At this time of the night, buses run every half hour and the connecting buses have quite a delay. I may need a Boris bike. We shall see.
For those less mad than me, a live performance will be broadcast to cinemas around the world on the 12th of September. And if I fail in my mission, that's what I'll be doing.
I will update… I'm in Putney. 4.45. No going back now…
UPDATE: Made my connection, no Boris bike needed.
On a 14 bus with, as I have discovered, three people opening shops in and around Oxford Street, someone on their way to Brazil and needing an early morning flight, and someone who is heading home after a very late night indeed…
Onwards. I have brought a camping chair with me, wasn't sure how I'd have attached that to a Boris bike. Maybe I'll discover later tonight. Man public transport motors fast through London at this time of day. Fulham Broadway already…
UPDATE: It is 5.25am, I made it to the Wyndham Theatre.
I foolishly thought Monday would be my best bet as who the hell would anyone other than me be mad enough to line up in the cold outside a theatre in London on a Monday morning? Turns out nine people got here before me… and I am tenth in line.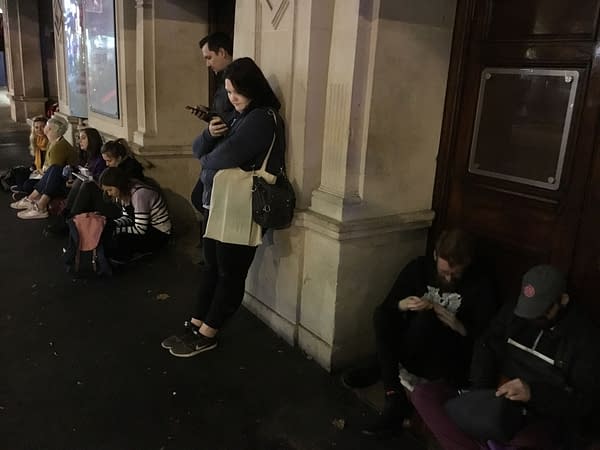 6.30 am and things are starting to light up.
There are eighteen of us, some local, some from around the world. Some who had a hotel local. Some who got the night coach from Liverpool. All on the off chance. And someone else who brought a folding chair… I am not alone. Weirdly it is chillier now than it was two hours ago.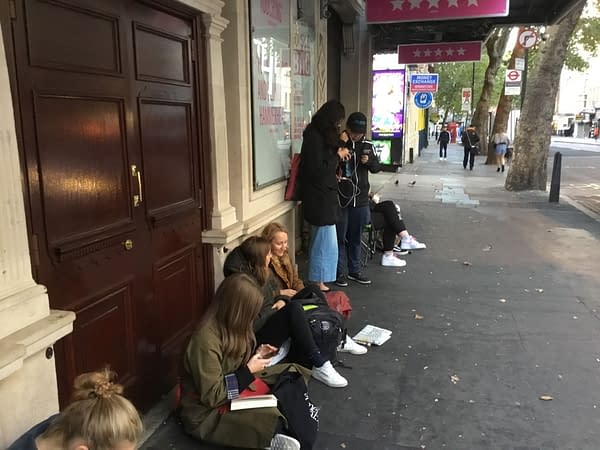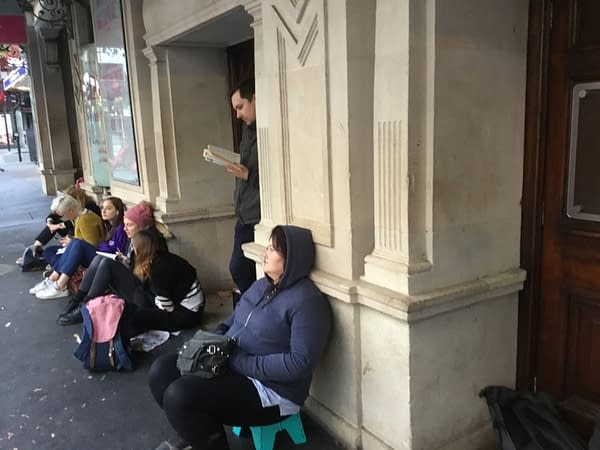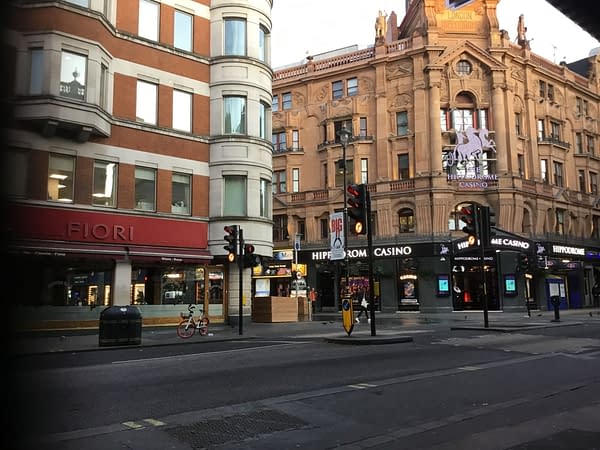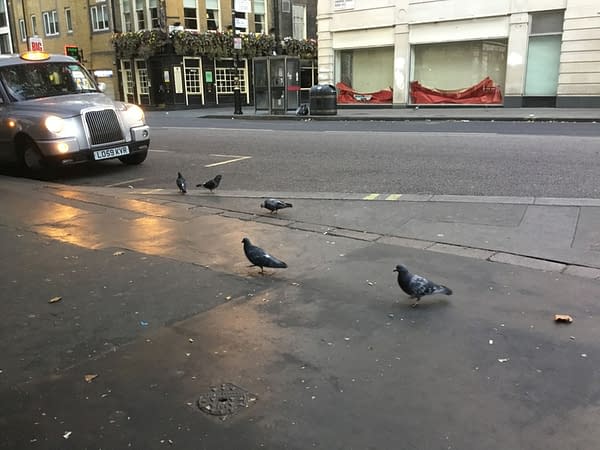 UPDATE: 7.30am and the thirty-third person is now in line.
Thirty-four actually. There will be tears. People in the line, now in the knowledge that there will be tickets, are starting to call in sick to work. Practicing their fake coughs. Wondering how to explain the sound of early morning traffic around them… we are joined by early morning workers, early go-getting students and people coming through Leicester Square with large suitcases after having flown into Heathrow… I've spent my time working in my Monday morning cartoon for Guido which has caused a mini-commotion…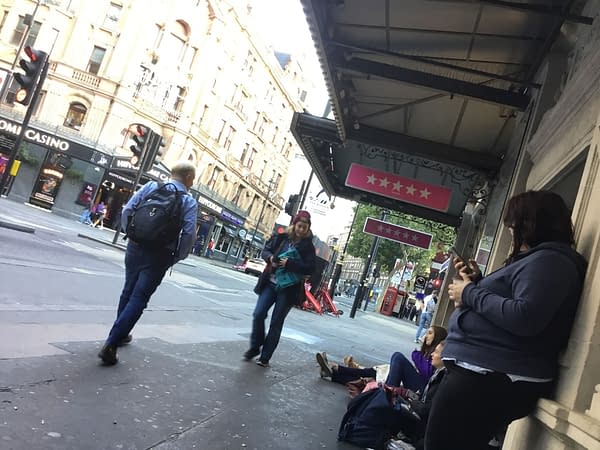 8.30am update: Kieron Gillen didn't do this.
London is now fully awake, noisy and running around shrieking like a mad thing. We Fleabag-waiters are now an attraction in ourselves. We are asked what we are doing, why we are here and if this Fleabag thing is any good? In his latest mailing list, Kieron Gillen wrote:
I managed to get tickets to go see Fleabag last week, where Phoebe Waller-Bridge reprised her one person show which she expanded to the first series of the show.

To state the obvious, it's good. Fleabag first came to my attention when a reader tweeted at me about it on the night it debuted, and watched with fascination. As someone who is attracted to writing messes of protagonists, clearly this is something that is My Jam. I found series one frustrating in some ways, and genuinely brilliant in others, while season two is genuinely an astounding piece of television.

Watching the show makes you understand why – the first season is an adaptation of an hour show, which means that things which work exquisitely with that tighter pacing alienate more when stretched out to three hours. The second series, written entirely for the screen, starts from the blank canvas and works better with the space.

In other words, if you get a chance to catch it, do so. It's strong work.

Also, for the record, Phoebe Waller-Bridge would be the dream casting for Phonogram's Emily Aster.
Yeah, Kieron, but you didn't line up at 5.25 in the morning. You paid £250 out of your Star Wars earnings, I know. How the other half live…
9.30am update: My body is sore and cramping.
I have just realised I am the oldest person in this line. No one else my age is stupid enough to do this, are they? The workers have come and gone… now it's the people late for work rushing past…
10.30am update. Bingo.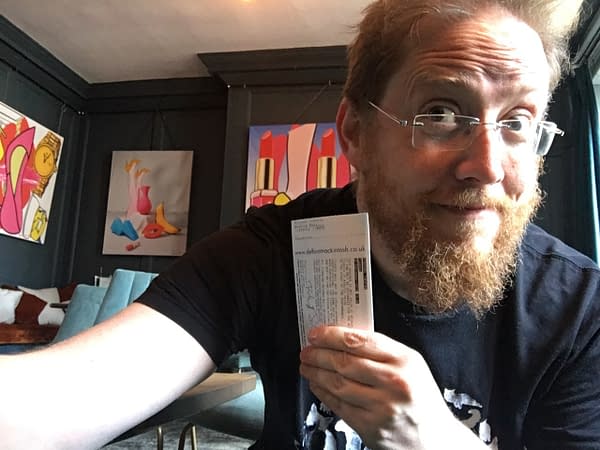 Oh and look, I was blessed by the editor of the TV show, Gary Dollner…
Later all….
Drywrite, Soho Theatre, and Annapurna Theatre present

FLEABAG AT WYNDHAM'S THEATRE

WRITTEN AND PERFORMED BY PHOEBE WALLER-BRIDGE
The critically acclaimed multi award winning production comes to the West End this summer for its last ever run.
Following a sold-out run in New York, Fleabag, Phoebe Waller-Bridge's award-winning comedic play, directed by Vicky Jones, comes home to London for 30 performances only from 20 August.

The play that inspired the hit television series, Fleabag is a rip-roaring look at some sort of woman living her sort of life. Fleabag may seem oversexed, emotionally unfiltered and self-obsessed, but that's just the tip of the iceberg. With family and friendships under strain and a guinea pig café struggling to keep afloat, Fleabag suddenly finds herself with nothing to lose.

Don't miss your final chance to see this 'filthy, funny, snarky and touching' (Daily Telegraph) show, running for a strictly limited season at the Wyndham's Theatre.

PLEASE NOTE:

Fleabag will be performed at Wyndham's Theatre, Charing Cross Rd, London WC2H 0DA
There is a captioned performance on Sat 14 Sep, 4pm matinee
Access bookings and further information can be requested by calling 0344 482 5137 or emailing access@delfontmackintosh.co.uk.

THREE WAYS TO GET YOUR HANDS ON TICKETS

Fleabag will be broadcast live to venues around the UK and internationally on 12th September at 7.30pm with National Theatre Live. For more information on where to watch and how to buy tickets, check out the NT live website.

A digital lottery will be available through the TodayTix app. A total of 50 tickets for each of the 30 performances (1,500 in total) will be available for £15. The lottery will be held weekly during the season, with the first one opening on Monday 12 August and closing on Wednesday 14 August, enabling users to apply for multiple performances at the same time. To enter the lottery, you need to download the free TodayTix app, and register. All TodayTix users will be notified when the lottery opens and winners will have the choice to purchase either one or two tickets. Seats allocated for the lottery will include prime positions in the front row.

There will also be a limited number of £10 tickets will be available to purchase each morning in person from 10am at the Wyndham's Box Office. Each person will be permitted to purchase one ticket each and are subject to availability.