5 Cancelled Shows That Are Still Better Than Hanging with Your Family
As the days get shorter and the smell of pumpkin spice invades our souls, many of us will be blessed with days at a time with our beloved family members. If you need to escape for a few hours (or days), Bleeding Cool has you covered. Below is a list of excellent, stream-able, cancelled shows that you may have missed. So charge your tablet, steal some pie, and prepare to binge watch.
Pushing Daisies (Amazon Prime)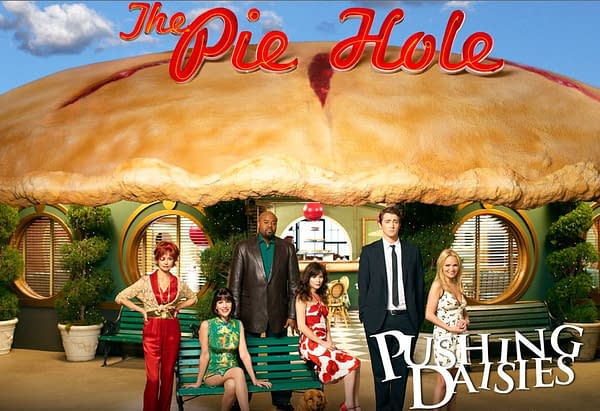 Pie maker Ned (Lee Pace, Guardians of the Galaxy) has the power to bring things back from the dead with a single touch, while a second touch kills them permanently. Using his power to solve crimes with Private Investigator Emmerson Cod (Chi McBride, Hawaii Five-0), Ned wakes his childhood sweetheart Chuck (Anna Friel, Marcella) from the dead and refuses to part with her. Created by Bryan Fuller (Hannibal), Pushing Daisies is colorful, beautiful, witty, and surprisingly deep. Unfortunately, the Hollywood writer's strike in 2007-2008 fell right in the middle of Pushing Daisies's first season, killing the excellent buzz the show generated and causing it to be cancelled early in its second season. With only 22 episodes, Pushing Daisies is perfect for a holiday escape.
Deadwood (Amazon Prime)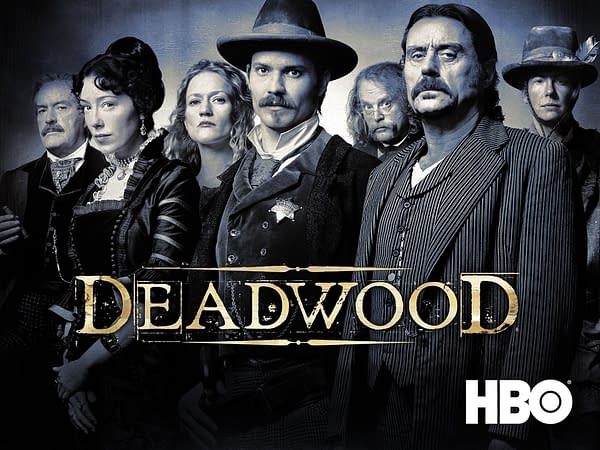 Set in South Dakota in the 1870's, Deadwood is Game of Thrones meets Tombstone. Newly retired U.S. Marshall Seth Bullock (Timothy Olyphant, Santa Clarita Diet) and his friend Sol Star (John Hawkes, Too Old to Die Young) move to Deadwood to make their fortune. Bullock and Star soon find themselves embroiled in a feud between Wild Bill Hickock (Keith Carradine, Madame Secretary) and local villain and business owner Al Swearengen (Ian McShane, American Gods). Deadwood is dark, dirty, gritty, and violent, much like the Wild West was in the late 19th Century. It contains phenomenal acting and an impressive amount of cursing. Due in large part to its small but dedicated fan-base, the original cast is currently filming a Deadwood movie, so now is the perfect time to catch up with all 36 episodes.
Eureka (Amazon Prime)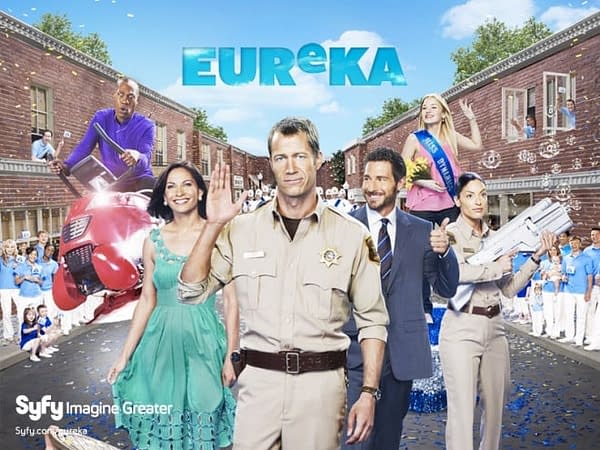 Ever wonder what would happen if the U.S. Government took all of their smartest scientists and engineers and made them work and live in a super-secret small town in Oregon with little supervision and even less common sense? Eureka follows the life of Jack Carter (Colin Ferguson, Haven), an average cop with a challenging home life and a knack for problem solving as he tries to bring order to just such a town. Assisted by his deputy Jo Lupo (an amazing Erica Cerra, The 100) and lab administrator Dr. Allison Blake (Salli Richardson-Whitfield, Stitchers), Carter tackles crazy geniuses, out of control inventions, and nefarious government plots all with charm, common sense, and dad jokes. While Eureka, with 77 episodes, might be more difficult to stream in secret while hiding in the bathroom, it has the potential of being as show you could binge watch with your family rather than while escaping them.
Broadchurch (Netflix)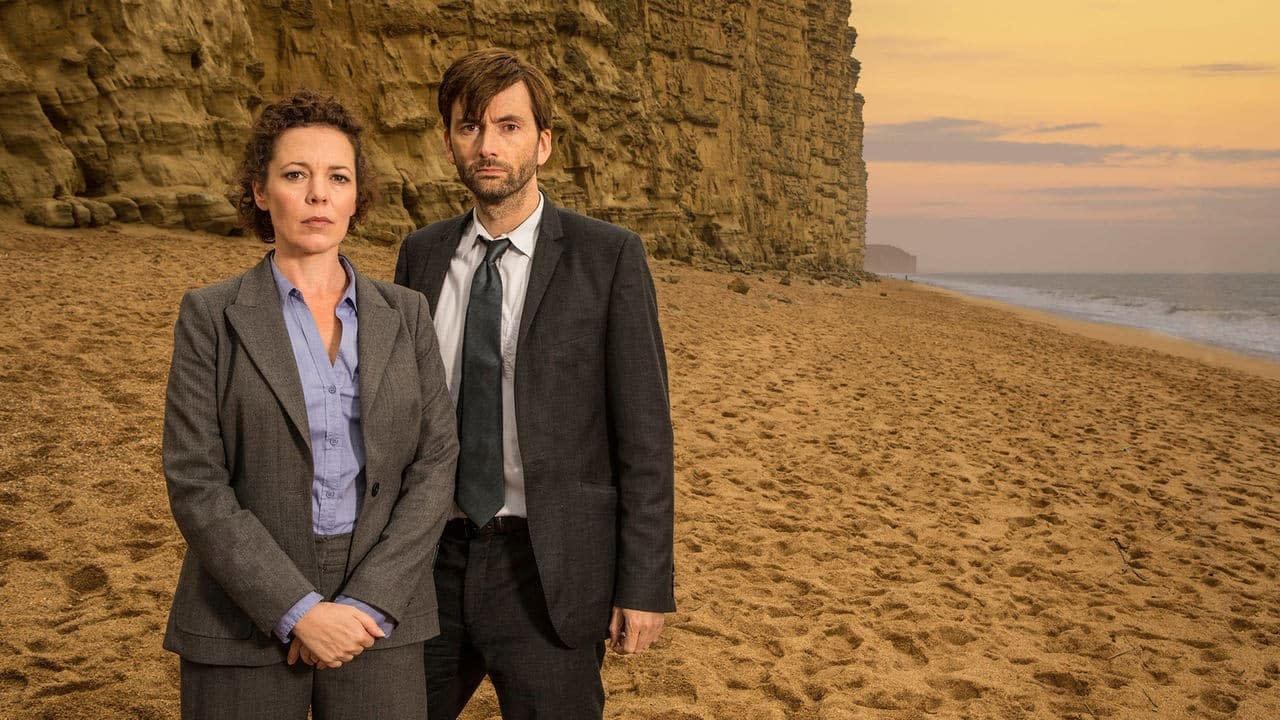 Broadchurch, named after the town in which the show is set, stars two Doctors, but the subject matter could not be more different from Doctor Who. David Tennant (Doctor Who) is Alec Hardy, an outside investigator brought in to work with local detective Ellie Miller (Olivia Colman, The Crown) to investigate the murder of a local boy, the mother of whom is played by current Doctor Who star Jodie Whittaker. The entire first season follows the murder investigation to its shocking conclusion, while the second season centers on the trial of the murderer, and the third follows Hardy and Miller through a rape investigation. With only three seasons and 24 episodes, Broadchurch is not a huge time commitment, but the show is an emotional roller coaster focusing on grief, loss, trauma, interpersonal relationships and small town politics, so binging it all in a weekend might be too intense.
Sherlock (Netflix)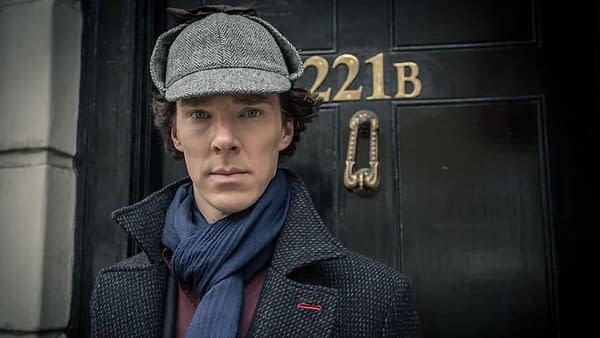 The best of the many Sherlock Holmes related properties to come out in the past ten years, Sherlock stars Benedict Cumberbatch (Avengers: Infinity War) as everyone's favorite sociopathic detective. Throughout four seasons and fifteen 90-minute episodes, Sherlock is assisted by the cynical and damaged Dr. Watson (Martin Freeman, Black Panther), who writes of their adventures in his blog. Expect cutting jokes, questionable science, and lots of Cumberbatch being the best looking mansplainer in London. While there are longer season arcs, most of the episodes stand on their own as individual stories, making this a show that you can either binge or watch an episode or two when you have the time.
BONUS ROUND – Star Wars: The Clone Wars (Netflix)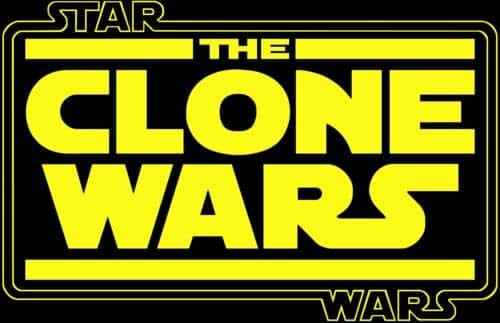 The Clone Wars follows Obi-wan Kenobi, Anakin Skywalker, and Jedi Padawan Ahsoka Tano as they fight in the Clone Wars (events taking place between the Star Wars Episode II and Episode III). Animated in 30 minute episodes, the show introduced beloved characters and provided more insight into the marriage between Padme Amidala and Anakin, as well as Anakin's eventual descent towards the Dark Side. Cancelled unceremoniously in 2012 after Disney purchased the Lucasfilm properties, The Clone Wars has a special place in my heart as the real revival of the Star Wars Universe after the disappointment of the prequels. With the announcement from Dave Filoni at San Diego Comic-Con 2018 that The Clone Wars is coming back for twelve new episodes in 2019 or 2020 on Disney's new streaming service, now is the perfect time to catch up on all 121 episodes.
Honorable Mentions (available on DVD or for purchase from Amazon)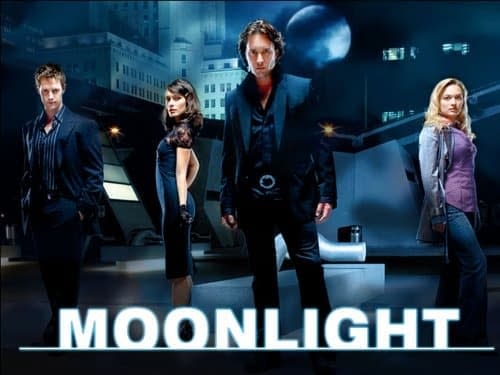 Moonlight – Vampire private investigator Mick St. John (Alex O'Loughlin, Hawaii Five-0) faces undead crime, reporters, unrequited love, and noir style in an underrated show that was tragically cancelled after only one season.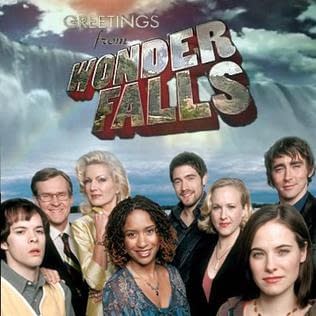 Wonderfalls – "Overeducated and underemployed" souvenir shop worker Jaye Tyler (Caroline Dhavernas, Mary Kills People) develops a mysterious new power that forces her to help people in one of Bryan Fuller's best character studies.