AEW Moves John Moxley vs. Brian Cage Back; Taz Takes Shot at WWE
AEW has rescheduled the planned main event of next week's Fyter Fest Night 2. Fyter Fest is a two-part special episode of AEW Dynamite that kicked off tonight, and Jon Moxley vs. Brian Cage was meant to be the main event of the whole shebang. Unfortunately, that became unlikely when Moxley's wife, Renee Young, tested positive for COVID-19 last week. Tonight on Fyter Fest Night 1, AEW made things official by announcing that the match will now take place on July 15th, two weeks from now, on a special episode of Dynamite called Fight for the Fallen.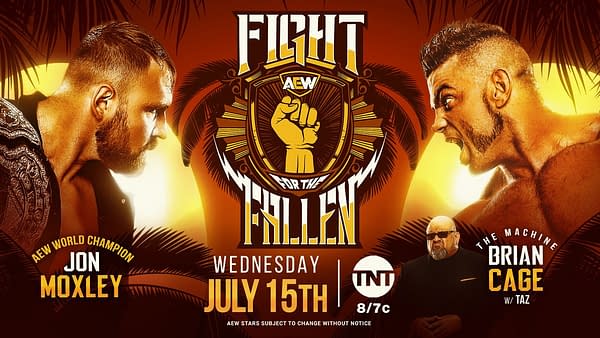 Tomorrow morning, our full report for AEW Dynamite: Fyter Fest Night 1 will be up, but here's the portion on the segment following the announcement of the change in schedule.
It looks like Jon Moxley will fight Brian Cage in two weeks at another special edition of Dynamite, Fight for the Fallen, presumably because Moxley has to quarantine for two weeks. Taz and Brian Cage come out. Taz says they just found out earlier today that the match is pushed back. Taz says he and Cage aren't upset because Moxley ducked out of the match next week. Taz says he talked to Tony Khan today, and Khan told him that Moxley is concerned for the health of everyone at AEW so that's why he's not coming. But Taz says Moxley has tested negative twice, so if he wanted to, he could come to work next week and get tested again. Taz says "we don't run a sloppy shop" at AEW, taking a shot at AEW. Taz says Moxley has a case of the "chickenshits." He's afraid of Cage because Cage is gonna beat his brains in and take the championship. Taz says Cage will win in two weeks.
That wasn't the only time AEW referenced their competition on Dynamite this week. Earlier in the night, MJF said he was being featured on the PPV-like card because AEW is in a "ratings war." It's good to hear that Jon Moxley and AEW are doing what they can to keep everyone safe from coronavirus. The company has been giving everyone actual tests every week before filming since returning to Florida in May, while their competitors only started doing so a few weeks ago after the company was rocked by a COVID-19 outbreak. That's what Taz was talking about with his "sloppy shop" reference. In any case, it looks like we'll get a third straight week of PPV-quality matches with Fight for the Fallen taking place on July 15th, and fans will only have to wait one extra week for the big AEW Championship match. Better safe than sorry.