Renee Young in WWE Doghouse for Going Public with COVID-19?
Renee Young was the first WWE talent to go public with her COVID-19 diagnosis as WWE deals with what seems more and more likely to be a full-blown outbreak in the company. Young announced the news on Wednesday, after her husband, Jon Moxley, had to be pulled from that day's live episode of AEW Dynamite due to coming in contact with the potentially deadly disease. Since then, Kayla Braxton, Adam Pierce, and Jamie Noble have also revealed they are amongst the people who tested positive at WWE's recent round of television tapings, and it's rumored there could be two dozen people in the company who have the virus.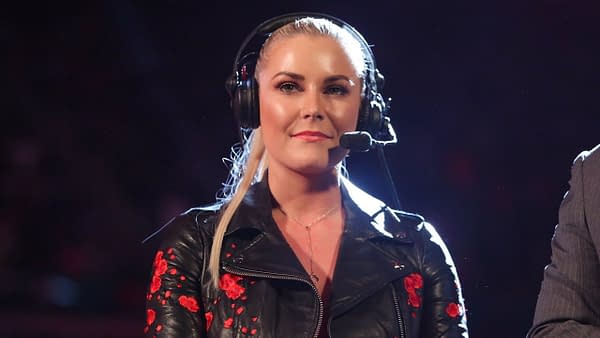 However, WWE has not said anything about the infections, either publicly, or, according to reports, even in an official statement to talent. What they have done, however, according to a report from one anonymous NXT developmental talent, is let everyone know that WWE doesn't want people talking about the virus publicly. In the latest Wrestling Observer Newsletter, Dave Meltzer elaborates on this, saying that Young's public revelation "did not go over well" with the company.
With Moxley being pulled at the same time stories came out about a WWE outbreak, it was clear people would make assumptions and start speculating. Young came right out and said what the situation was, which did not go over well in WWE as her telling the public. WWE still at this point has yet to acknowledge the cases or inform the performers and their families of the extent of the outbreak.

The time line is that on 6/22, Young started getting sick, feeling pressure on her chest, was bedridden and lost her sense of taste. Both she and Moxley immediately got themselves tested by a local doctor.
Meltzer goes on to say that no one in the upper levels of WWE management contacted Young to see how she was feeling, at least as of Thursday.
It's also notable that neither Vince McMahon, Kevin Dunn, Paul Levesque or Mark Carrano contacted her as of 6/25 to ask how she was doing, although a lot of talent did. For the record, she had improved from the worst, At last word on 6/25 she was tired and her chest felt heavy, which were the main issues, and her cough had gotten better. The belief was that she had already been through the worst.
It's unknown whether anyone in WWE management have reached out to Young since then, but at the very least, Young is reportedly doing better after getting sick. Hopefully everyone suffering from the virus in WWE gets better soon and without incident. Even more importantly, we would like to hope WWE would learn some kind of lesson about their irresponsible behavior in dealing with the pandemic… but we're not holding our breath on that one.