Agents of SHIELD Season 5: the Awesome Star Wars Reference
I did the recap of the Marvel's Agents of SHIELD episode Rewind earlier today, but this was something I felt should get its own article. Skip this if you don't want spoilers, because telling you how this happened is basically a spoiler.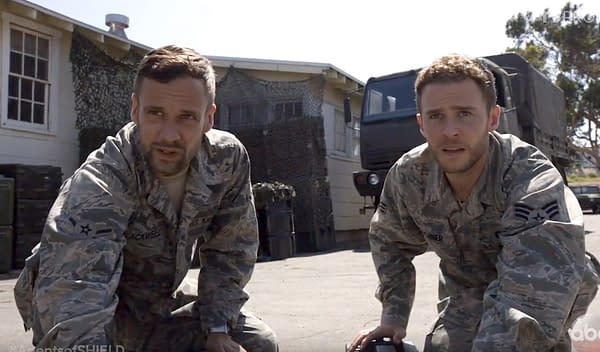 In the episode, Lance Hunter (Nick Blood) returns and helps Leo Fitz (Iain De Caestecker) break out of the government facility that he's been detained in for six months since the rest of the team were abducted and sent to the future. When Hunter arrives, claiming to be Fitz's lawyer, there is a prolonged hug that Hunter finally breaks up, promising there will be time for more hugs like that later. It's shows just how close to losing hope Fitz had come and what seeing Hunter means to him as a step back towards being able to help Jemma and the others.
After tracking down the Alien, Enoch, from the premiere, he explains what happened and where the others went. We also learn that the 'Seer' knows that Fitz has to go and save the rest of the team. And this involves him being frozen in a cryo-pod for over seven decades. (Would that cause freezer burn? I think it would.) Once they've retrieved the pod and Fitz is inside, Hunter leans over it and looks into the window and says, "I love you." To which Fitz smiles and replies, "I know," just before freezing. The nod to Empire Strikes Back was perfectly timed and worked so well in the scene.
Along with the new setting for the season so far, the show has upped the one-liners and comedic beats, which is really making it a good season.
Marvel's Agents of SHIELD will be back on January 5th.