Agents of SHIELD: Coulson and Talbot Disagree on Negotiating Tactics
We've got a new clip from tomorrow night's 20th episode of Marvel's Agents of SHIELD season 5. The clip features Phil Coulson (Clark Gregg) and Glenn Talbot (Adrian Pasdar) having gotten on board the alien ship and going to negotiate with Qovas (Peter Mensah), the representative of the Confederacy. There are spoilers in the video for last week's episode, so don't go any further if you don't want to know.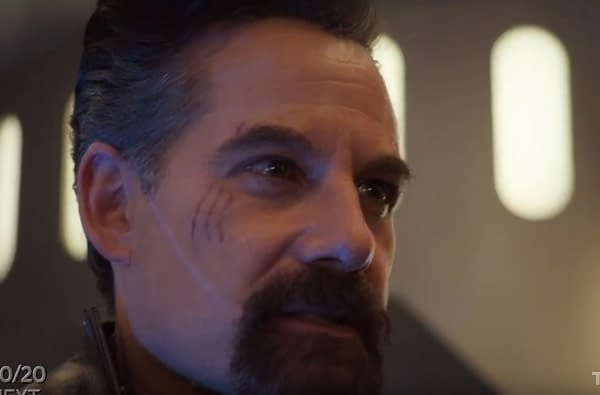 The scene seems to pick up where last weeks episode left off. Talbot had just came out of the Particle Infusion Chamber having merged with the gravitonium… to basically become Graviton, and wiped out the invading aliens. Then took Coulson with him up to the surface and into the ship. They go to meet with Qovas and Coulson starts the negotiations. Qovas is rather combative, and it doesn't seem to be going well when Talbot takes over, tells Qovas that it's now his ship, and that he should kneel. When a guard makes a move, Talbot crushes him with gravity. Two very different negotiating strategies, and I have to say I think Talbot's will probably work better for now. But he was already partly unhinged, and now he has incredible power. This should go perfectly well… right?
Marvel's Agents of SHIELD airs Fridays at 9 p.m. ET on ABC.