Last weekend when I binge-watched and reviewed Altered Carbon, I also talked about the changes in the series from the Richard K. Morgan novel it was based on. Having just read the book, it was fresh in my mind.
The biggest change overall led to a lot of other changes. The novel was a first-person narrative focused solely on Takeshi Kovacs (Joel Kinnaman), which meant he would need to be in every scene. Moving out of that mode into a more standard format for television allowed series creator Laeta Kalogridis to increase many of the roles. Characters that we only saw in the novels when they were in proximity to Kovacs, in the series got stronger backstories, more screen time, and more to do. And while that helped characters like Laurens Bancroft (James Purefoy), Poe (Chris Conner), and Vernon Elliot (Atos Essandoh), it was an even bigger boon for Kristin Ortega (Martha Higareda), Reileen Kawahara (Dichen Lachman), Quellcrist Falconer (Renee Elise Goldsberry), and Lizzie Elliot (Hayley Law).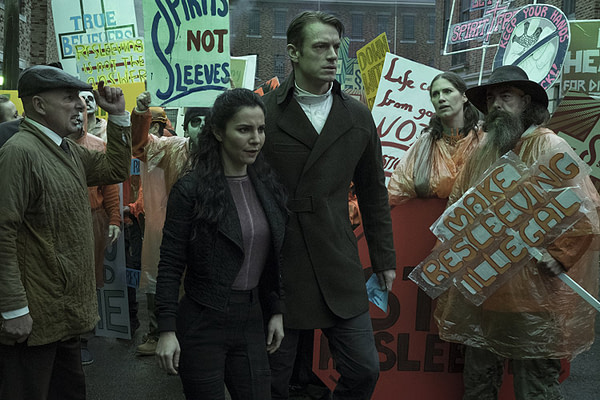 Kalogridis made each of the female character more capable, stronger, gave them more screen time, and they became essential parts of the story. While the novels was sticking more to the noir detective genre, the series embraces the science fiction side. And science fiction has always been a place to find strong female characters. The featurette below includes many of the actresses from the series talking about their characters, how they changed from the novel, and being around so many ass-kicking women. Most of the major fight scenes in the series has women in them and doing a lot of damage.
Altered Carbon season 1 is available now on Netflix.