The Twelve Days of 'Sunny': Season 5, Episode 7 'The Gang Wrestles for the Troops' (Day #5)
On The Fifth Day of 'Sunny,' The Gang from Paddy's gave to me…
…FIIIIIIIIIVE INCH WOUND ON CRICKET'S NECK!
Four times Charlie lost it…
…three huffs of spray paint…
…two months community service…
…and Dee Reynolds in a pear tree!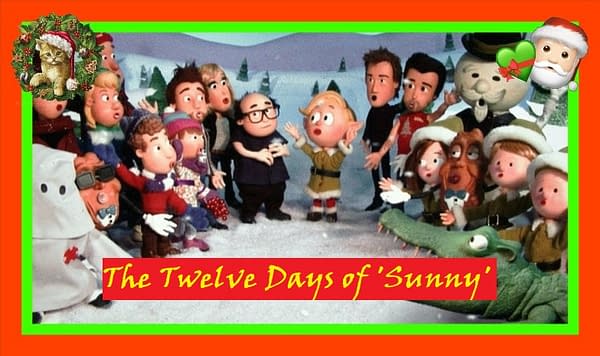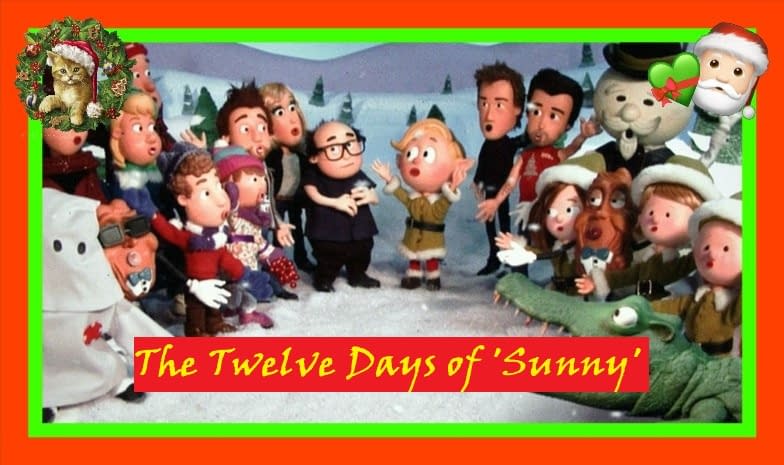 For the past thirteen years and thirteen seasons, The Gang from Paddy's Pub–Charlie (Charlie Day), Mac (Rob McElhenney), Dee (Kaitlin Olson), Frank (Danny DeVito), and Dennis (Glenn Howerton) – have quietly turned FX/FXX's It's Always Sunny in Philadelphia into one of the most shocking, tasteless, and subversive sitcoms to ever hit the airwaves. It's also one of the best.
Because for nearly 1-1/2 decades, The Gang's put themselves on the frontlines of major social and political issues with all the satirical subtlety of a hand grenade–with Dennis, Dee, Charlie, Mac and Frank usually finding a way to blow themselves up in the process.
"We immediately escalate everything to a ten… somebody comes in with some preposterous plan or idea, then all of a sudden everyone's on the gas, nobody's on the brakes, nobody's thinking, everyone's just talking over each other with one idiotic idea after another! Until, finally, we find ourselves in a situation where we've broken into somebody's house – and the homeowner is home!"

– Dennis (s07e09 'The Gang Gets Trapped')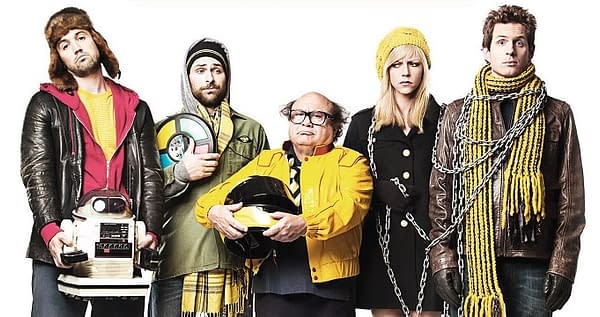 So with the holidays being a time to spend wih family and friends, the fine folks at Bleeding Cool are honoring South Philly's favorite sons (and daughter) with a rundown of our 12 favorite It's Always Sunny in Philadelphia episodes–one per season (sorry, season 13: you're sitting this one out until next year) – with "The Big Present" on Christmas Day as we crown an overall champ – and dump a little coal in your stocking in the form of the worst It's Always Sunny in Philadelphia episode of the first 12 seasons (spoiler: it's probably holding the crown next year, too).
It's Always Sunny in Philadelphia s05e7 'The Gang Wrestles for the Troops': There's nothing more American than wrestling; that's why The Gang has decided to put on a wrestling show for the returning troops. Writer: Scott Marder & Rob Rosell / Director: Randall Einhorn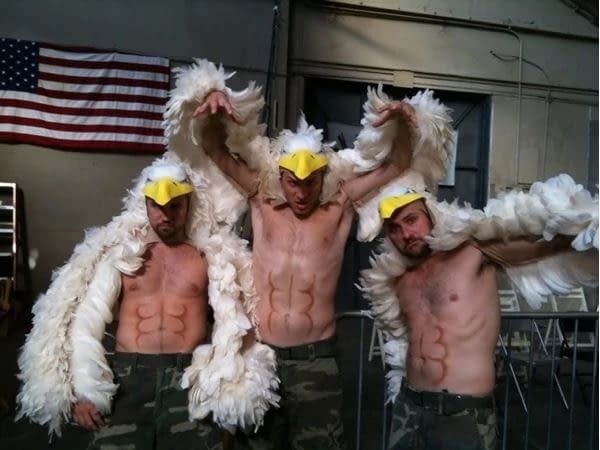 You had me at "professional wrestling," It's Always Sunny in Philadelphia. So many wonderful douche-chilling moments, character introductions/developments, and random acts of Rick Derringer (the dude who created that Hulk Hogan theme that makes you want to do that "hand-to-ear-I-can't-hear-you" move):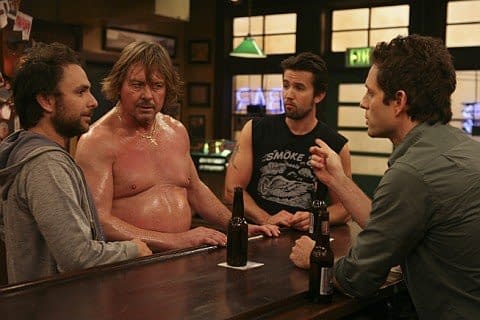 ● The late, great "Rowdy" Roddy Piper as Da' Maniac–giving the level of The Wrestler performance that would make Mickey Rourke cry, and then combining it with some great facial expressions and brilliant comedic pauses.
● Our introduction to Dee's online soldier boyfriend Ben (Travis Schuldt), the sheer hypocrisy of "The Aluminum Monster" shunning him for his wheelchair, and Frank bestowing upon him a gift that will define him as a man for the remainder of the series: jean shorts (John Cena would be proud).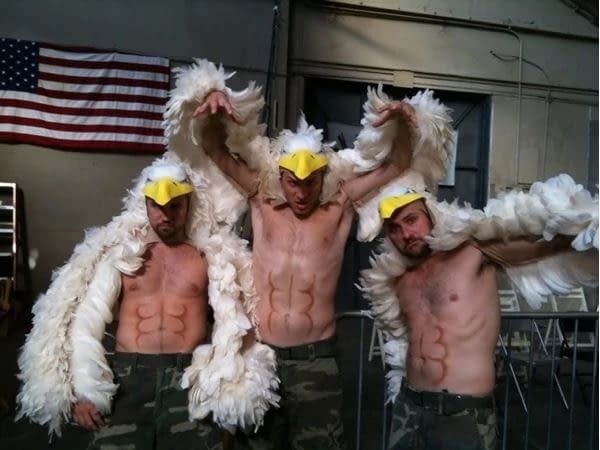 ● Dennis, Mac, and Charlie: "The Birds of War." I still can't decide what's the best-worst part: the Sharpie abs, the Andrew Lloyd Webber-like entrance, or the mic-break arguing during their entrance.
● Did I mention how much I love Artemis (Artemis Pebdani)? It's going to be an ongoing subplot during this countdown, as Artemis proves once again that the only reason why she's not part of The Gang is that she chooses to not be a part of it. Artemis? Always badass.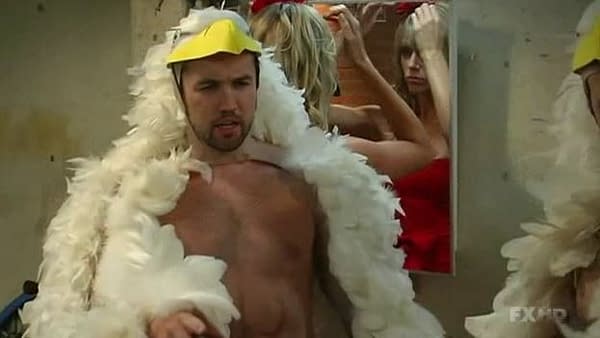 ● From a soundtrack standpoint, this one was an interesting one: you've got Derringer's Hulk Hogan "Real American" theme in the beginning, Dee singing Seal's "Kiss from a Rose," and her code name "Desert Rose" being a nod to The Police frontman (and not awesome professional wrestler) Sting.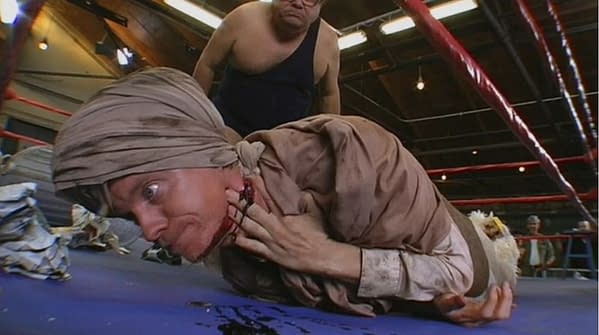 ● As much as I love The Gang, Rickety Cricket (David Hornsby) really earned the shots he got in on Dee, Charlie, Dennis, and an until-he-fled Mac – turning his "The Talibum" into the ultimate chair-swinging, sand-throwing heel. When all hope seems lost, "The Trashman" makes the save with a trashcan to Cricket's head – and to his neck, causing Cricket to bleed in a way that brought Monty Python and The Holy Grail to mind. There's no way Cricket could've/would've/should've survived getting cut like that by a dirty trashcan – and yet he did.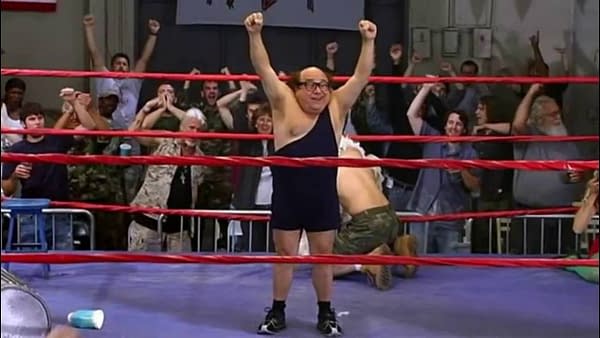 Much to the future delight of dogs throughout South Philly…