Posted in: American Gods, Review, Starz, streaming, TV | Tagged: american gods, ARGUS, bilquis, bleeding cool, books, bryan fuller, cable, death race 2000, easter, Episode 1, House on the Rock, ian mcshane, Jinn, Laura, mad sweeney, media, Mr. Nancy, mr. town, Mr. World, neil gaiman, novels, preview, Review, ricky whittle, salim, season 2, shadow, streaming, tecg boy, Tech Boy, television, The Walking Dead, tv, TWD, wednesday
---
'American Gods' Season 2, Episode 1 "House on the Rock": Fuller-Free Effort Keeps The Faith [SPOILER REVIEW]
Probably the best way for me to begin my review of STARZ's American Gods season 2 premiere "House on the Rock" is to address 800 lb. "Bryan Fuller" in the corner of the room. While I know that Fuller is still listed as an executive producer, my "Fuller-free" reference in the headline refers to his day-to-day creative influence (and lack thereof) on the series – and how that vibe made for a different yet still strong "next chapter" in the Neil Gaiman adaptation.
To be fair, I'm not going to get into the between-seasons drama that went on (Bleeding Cool has spent more than enough time on the intertubes covering it) other than to say that I hope all parties learned something from the mess. Perfect example of a hopefully learned-lesson: don't ever again force fans to wait almost two years for a new season because of reasons that were within your control.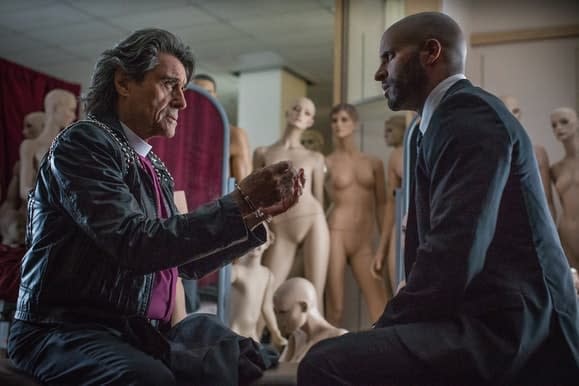 That said, the reason Fuller is worth singling out is that there's been this false narrative out there that the loss of Fuller's vision on American Gods will doom the series to mediocrity and a slow-death slide towards cancellation. Quite frankly, you can read it in some of the early reviews that have already posted: a gushing adjective used about Fuller followed or preceded by something about the series "having lost its way.
To be blunt, I have no idea what they're talking about.
American Gods s02e01 "House on the Rock": Following the epic showdown at Easter's party, Mr. Wednesday continues his quest to pitch the case for war to the Old Gods with Shadow, Laura and Mad Sweeney in tow. Meanwhile, Mr. World plans revenge and Technical Boy goes on the hunt for Media. First stop — the House on the Rock, where Shadow is taken "backstage."
Maybe it's because I find Fuller amazing but better in small doses when it's not so "much" (never bought into his vision of Hannibal (Mads Mikkelsen) as a cross between James Bond and a world-class MMA fighter, for example), but season-starter "House on the Rock" was what I wanted from an almost two-year absence: reminded me of what's at stake, introduced new characters / developed existing characters, and planted storyline seeds for the remainder of the season.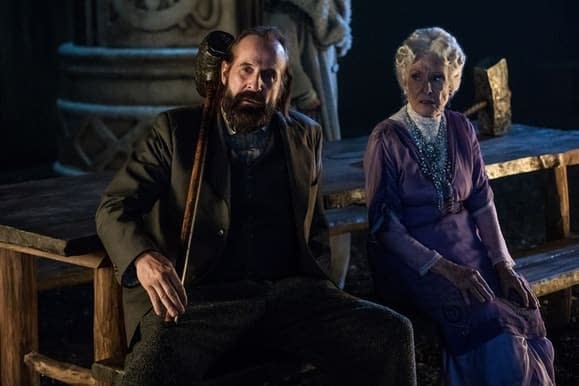 While I know the comparison I'm about to make will make some of you roll your eyes so much that you'll end up in a staring contest with your brain, I liken what's going on with the characters in American Gods this season with what's currently happening on the now Rick Grimes-free The Walking Dead. In both instances, a loss of a main player – one in front of the camera, one behind – has seemingly opened up opportunities for other characters to shine. I feel like I heard more from Bilquis (Yetide Badaki), Czernobog (Peter Stormare), and the Jinn (Mousa Kraish) during this one episode than I did the entire first season.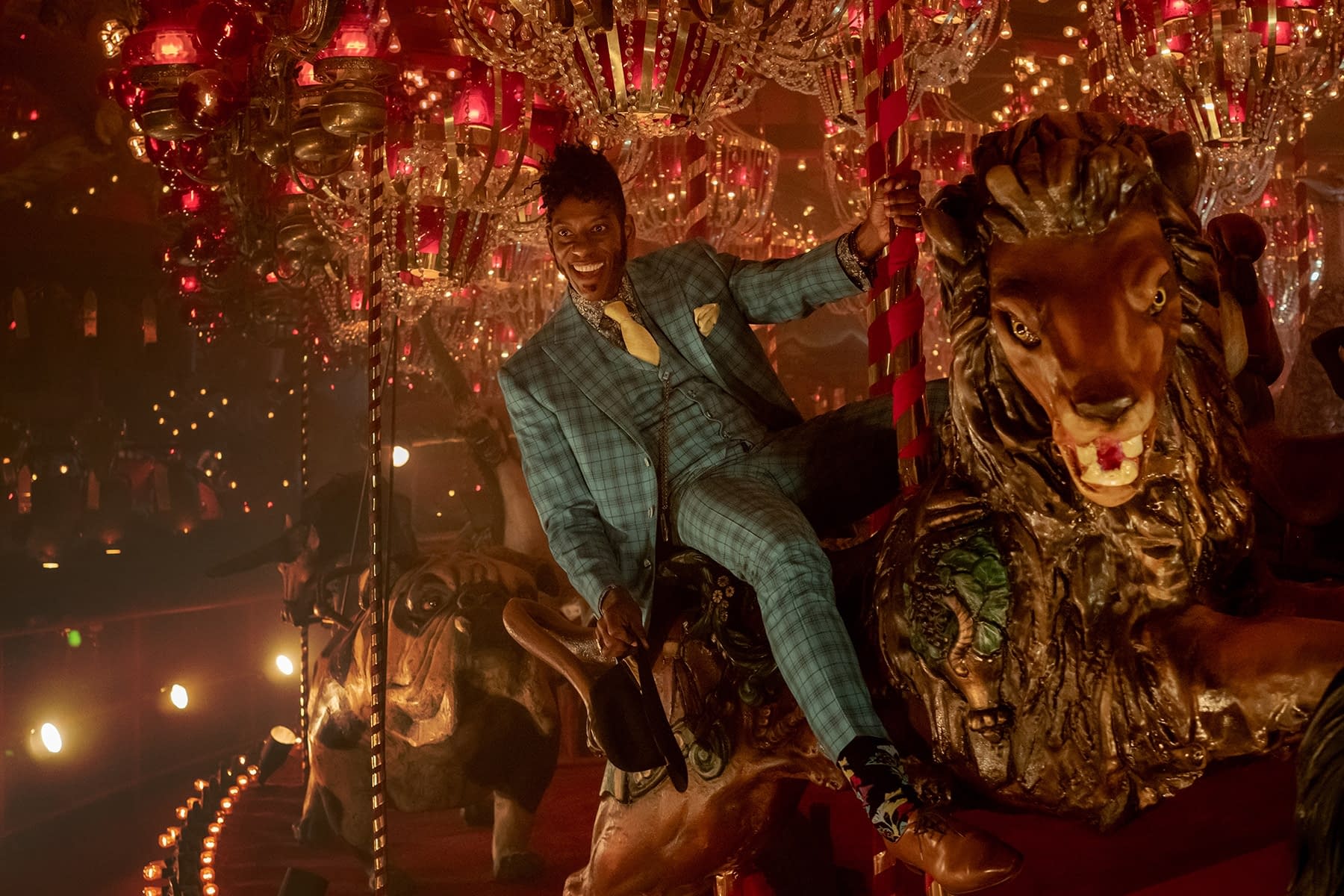 The series feels less like The Shadow and Wednesday Show! Guest Starring… and more like a show about "gods" plural. Extra credit is given for the unexpected extra amounts of Mr. Nancy (Orlando Jones) and Mr. World (Crispin Glover) we were treated to this episode. Both beings have proven themselves to be adept storytellers – each with their own "unique" way of storytelling. Yet, this is the first time that I truly found their "storytelling" deadly and threatening – less cautionary tales and more foreshadowing of what's to come – and what they're going to do.
Highlights/Key Thoughts
● Which isn't to say everything was great. Not including Gillian Anderson's Media in the first season recap clip felt a little petty, and the resolution to Easter's (Kristin Chenoweth) "scorched earth" season-ending cliffhanger fealt rushed and handled rather dismissively. While I respect that she'd have a big issue with Wednesday (Ian McShane) going Death Race 2000 on the bunnies, this felt more like Gaiman (who co-wrote the episode with EP Jesse Alexander) making it known that the series was going to lean closer to the novel moving forward.
● On the opposite end of the specturm, respect will be given to cinematographer Tico Poulakakis – who makes the look of the show feel like its own character, speaking to us between the actual words spoken.
● While I missed having an opening story about an old god, the map/toy car approach was a nice change – and appropriate considering this episode was so focused on the old gods anyway.
● I need to meet a mermaid or three from Wicky-Wacky, and Mad Sweeny (Pablo Schreiber) and Wednesday have some nice comraderie together in this episode – which makes Wednesday's continued denial of Sweeney even more hurtful to watch. Extra points for the look on Wednesday's face after Sweeney's flicked cigarette move backfired.
● Speaking of sexy chemistry, the brewing war of wills between Wednesday and Laura (Emily Browing) has us hoping for more one-on-one time between the two – and my brain is still processing the Bilquis/Laura kiss… and we'll leave it at that.
● Mr. World confirmed it: the Compton crack outbreak in the '80's was started by "The Man."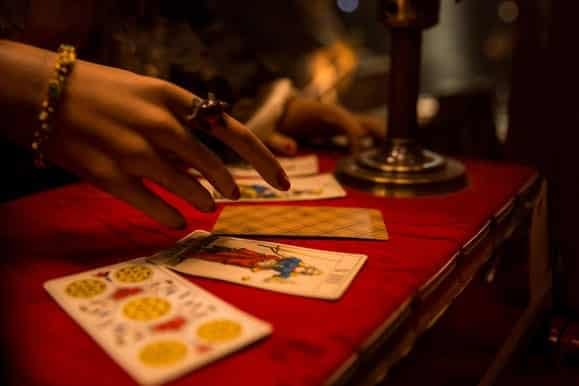 ● "The Eye of Argus" sounds like a '70s prog rock cover band or an ancient evil from Doctor Who.
● Mad Sweeney's Awesome Nickname of the Night: "Roadkill Rhonda"
● I would watch an entire episode of just McShane, Stormare, and Cloris Leachman (poor Zorya) sitting in a diner, riffing on the menu. Three distinctly different approaches to acting, all twirling beautifully around one another on the same dance floor.
● With the way he "handled" Mr. Nancy, Shadow (Ricky Whittle) is already showing he has the skills necessary to walk between the worlds of the gods.
● In an episode where "sacrifice" factored in on so many levels – beginning with the golfer Tech Boy (Bruce Langely) "sacrificed" in the beginning – the final one was the most impactful. Zorya's last line to Wednesday before passing could be viewed in a number of ways: "You're such a bad, good man." For us, it's pretty clear: while she may agree with Wednesday's "big picture," she sees the evil in what he has done – and will do – to achieve his goals.
So with STARZ's American Gods back and Shadow now not-so-safely in the hands of Mr. World, make sure to join us next week as we take a look at "The Beguiling Man":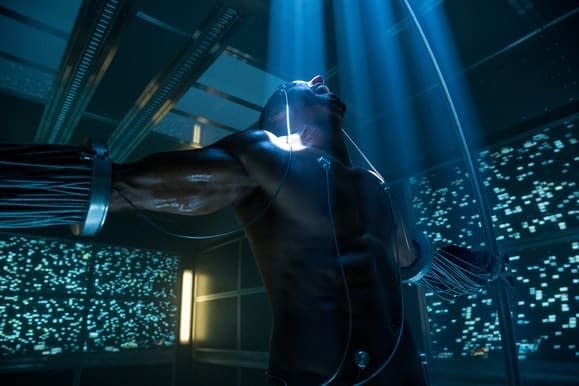 American Gods s02e02 "The Beguiling Man": Promising vengeance for the death of a beloved old god, Mr. Wednesday begins preparation for a great battle. Meanwhile Laura and Mad Sweeney chase Shadow's diminishing light after his disappears. The Jinn and Salim set out to retrieve the Gungnir spear, and Shadow encounters an associate of Mr. World.
---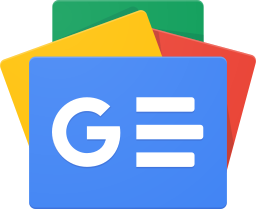 Stay up-to-date and support the site by following Bleeding Cool on Google News today!