'American Gods' Season 2, Episode 6 "Donar the Great" A Mighty Effort [SPOILER REVIEW]
So last week's episode "The Ways of the Dead" wasn't exactly the season's high point – especially coming off of a stellar effort the previous week and a season that's had a nice flow and build to it. Thankfully, STARZ's series adaptation of Neil Gaiman's American Gods got itself back on track – and back on the road – with this week's episode "Donar the Great," directed by Rachel Talalay and written by Adria Lang.
Before we give you a chance at a quick reminder, a moment to give STARZ's American Gods promotion machine. The two previews released gave us the impression that "consolidation of power" would be the underlying theme: that we would be splitting a majority of the thematic screen time flip-flopping from old gods to new, as they amped up their theological arms race. Which we definitely got to see:
● In order for Mr. Wednesday (Ian McShane) and Shadow (Ricky Whittle) to get the runes on Wednesday's mighty Gungnir a recharge from Dvalin (Jeremy Raymond), the duo have to get their hands on an authentic, Lou Reed-owned leather jacket. These were the moments that represented the first season well: watching Wednesday and Shadow as a two-man scam squad pulling the "Bishop Game" was a true joy – punctuated by McShane's speech extolling the musical vitrues of Reed and Whittle's wonderfully over-the-top "Agent Shadow." They make a great team – almost as if they were…???
● Meanwhile, now that Argus is currently "indisposed" thanks to Laura (Emily Browning) – and with a look-the-other-way nod from Tech Boy (Bruce Langley) – Mr. World (Crispin Glover) looks to New Media (Kahyun Kim) to bring some righteous social media fire power to his side. New Media is more than happy to oblige – especially after what happened to Tech Boy – but at no point does Kim every portray New Media as not being in control, and that's what made these moments work. Glover's necessary over-the-top, melodramatic tones are expertly balanced by Kim's outward aloofness and quippy "no problem"-type responses. But make no mistake: New Media may appear all "social media now" – but she also operates several moves ahead of everyone else. She's a chess player – she just plays it through an app.
American Gods s02e06 "Donar the Great": Shadow and Mr. Wednesday seek out the dwarf Dvalin to repair Gungnir, but he requires a powerful artifact in exchange. On the journey, Wednesday tells Shadow the story of Donar the Great. Meanwhile, Mr. World and New Media harness the power of her worshippers to prepare for the coming storm.
But as quality as those storylines were, this episode was about Wednesday, his son Donar aka Thor (Derek Theler) and the mistakes parents make when trying to "do right" by their children – and that even gods aren't immune to repeating past mistakes. Wednesday serves as Donar's manager/insurer-of-worshippers in a burlesque club run by Mr. Nancy (Orlando Jones), where he performs in a show with the love of his life/America personified Columbia (Laura Bell Bundy, who deserves special merit for an amazing performance that spoke as much about the episode as the dialogue did – ) – and where one of Wednesday's greatest tragedies took place.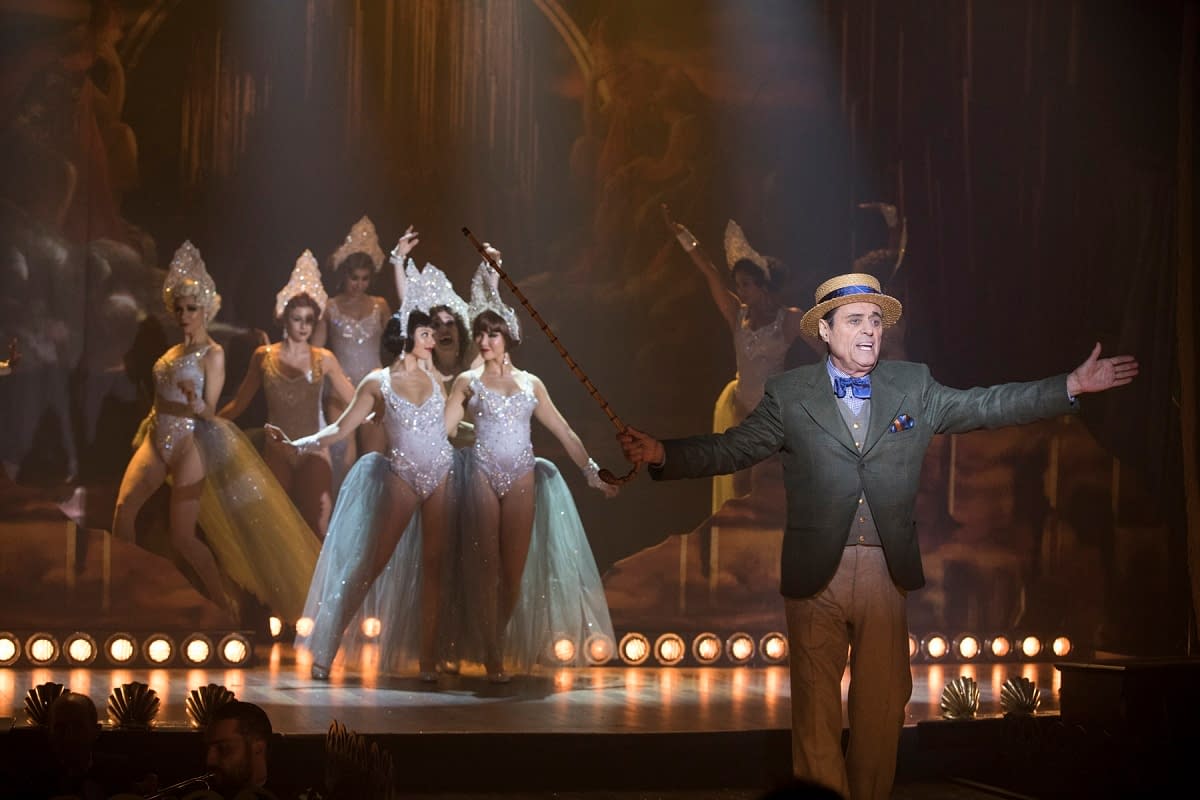 Wondering how Gungnir ended up broken? The result of a son's final act of defiance against a father who has controlled him to the point where he's lost the want to live let alone be worshipped. Because Wednesday did the one unthinkable thing: in a world of potential worshippers, Odin cost his Son the only "worshipper" he wanted – someone he could put his faith in, too. So when Donar's hammer Mjolnir shatters Wednesday's spear, it's the sound of two hearts breaking that echoes the loudest. In the end, Donar would make what might have been the first (and last) decision in his life that was truly his to make: suicide – the one "death" no god comes back from.
Yet as we watch Wednesday on his knees in the pouring rain… watch as he sings "Brother, Can You Spare a Dime?"… we can't help but feel for him (a testament to McShane, as always) – even as he repeats the same mistakes with his "assistant" Shadow as he did with his late, truly great son.
Here's a look at what we can expect next week in "Treasure in the Sun":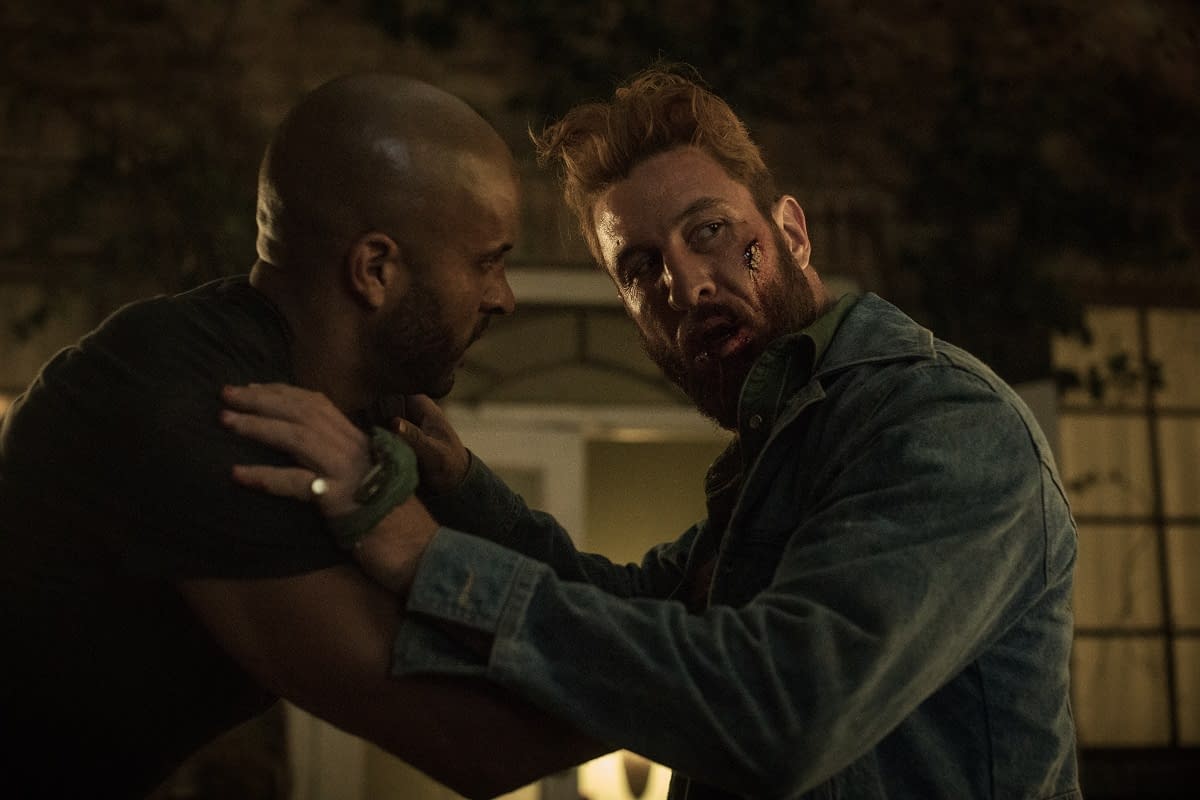 American Gods s02e07 "Treasure in the Sun": In Cairo, Mr. Wednesday entrusts Shadow with the Gungnir spear. Mad Sweeney, plagued by the cries of Banshees, recalls his journey through the ages as he awaits his promised battle. Once again, he warns Shadow about Wednesday. Meanwhile, Laura receives sage advice from Mama-Ji, and Bilquis finds an audience.

We were forged in God's image, but the Gods are also made in ours — and in Season Two the battle moves inexorably toward crisis point as the destinies of gods and men collide. While Mr. World plots revenge for the attack against him in Season One, Shadow throws in his lot with Wednesday's attempt to convince the Old Gods of the case for full-out war, with Laura and Mad Sweeney in tow.

A council at the House on the Rock explodes into chaos, sending deities both Old and New on quests across America that will converge on Cairo, Illinois: forcing Shadow to carve out a place as a believer in this strange new world of living gods — a dark world where change demands commitment, and faith requires terrible sacrifice.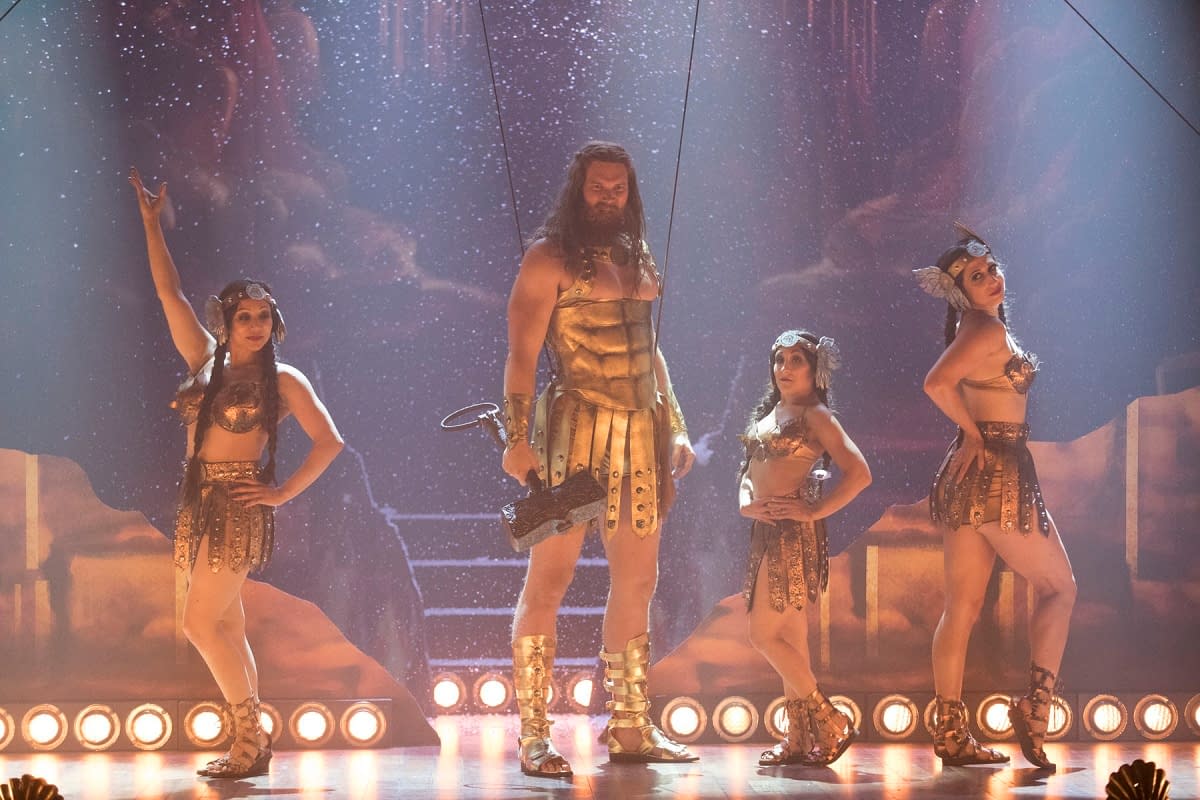 American Gods stars Ricky Whittle, Ian McShane, Emily Browning, Pablo Schreiber, Crispin Glover, Yetide Badaki, Bruce Langley, Mousa Kraish, Omid Abtahi, Demore Barnes, Peter Stormare, Sakina Jaffrey, Dean Winters, Devery Jacobs, Kahyun Kim, Derek Theler, Laura Bell Bundy, and Christian Lloyd.
American Gods season 2 airs on STARZ on Sundays at 8 p.m. ET/PT.