"American Horror Story: 1984" Episode 8 "Rest in Pieces" [Spoiler Review]: Victims of Their Pasts (BONUS: Our Finale Prediction)
Combine our professional obsession with uber-creative genius Ryan Murphy (Glee, Pose, 9-1-1, Feud, and a billion more) with our love for 80's horror/slasher film, and it's easy to understand why we're excited for FX's American Horror Story: 1984. In fact, executive producer Tim Minear only confirmed our excitement when he said this about the current season of Murphy and Brad Falchuk's horror anthology series American Horror Story:
"I think it's awesome. I think it's gonna be really scary but a lot of fun, like it always is. And that if you have a taste for '80s horror, you're in for a treat."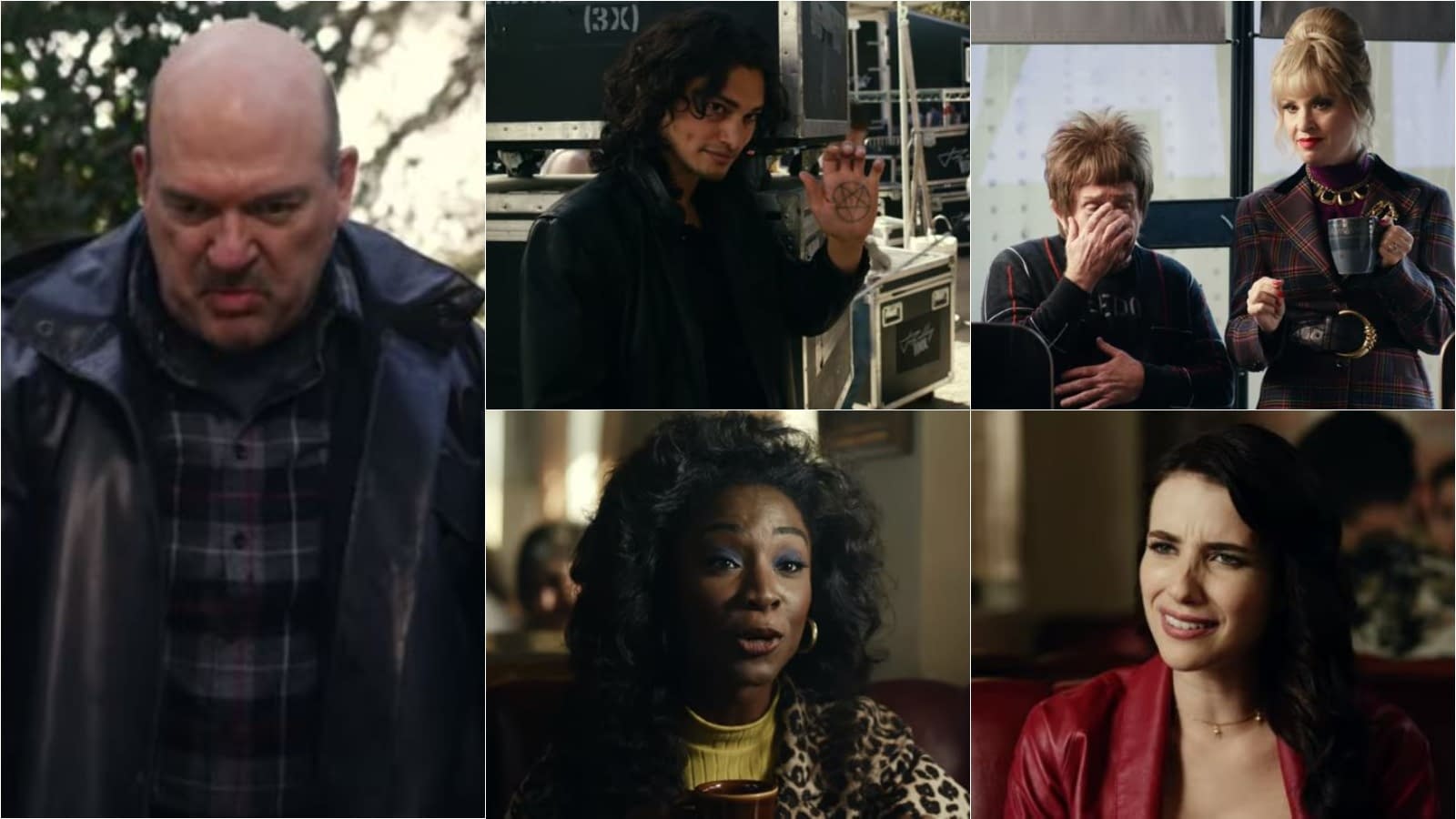 When we reviewed season opener "Camp Redwood," we made a connection to both Shaun of the Dead and The Cabin in the Woods when describing how the season's initial tone and vibe made us feel.
Then "Slashdance" happened and… wow. We're talking false identities, double-crosses, hidden alliances, impalements, and our first major counselor "death" (sorry, Ray).
"True Killers" (our review here) was a fun frightfest that confirmed our worst suspicions about Margaret while actually getting us to start to feel(???) for Richter/Mr. Jingles – and Trevor went RIP.
"Red Dawn" got our brains back into "WTF?!?" conspiracy theory mode… then "Episode 100" celebrated the franchise milestone with an episode that time-jumped to 1989 – and tied all nine seasons together.
From there, "The Lady in White" offered previously-unrevealed backstory on the bloody history of Camp Redwood, and who the true "big bad" was in Richter's life.
So with only two episodes left, did "Rest in Pieces" position us for a righteously bloody finale?
MAJOR SPOILERS ahead…
"American Horror Story: 1984" season 9, episode 8 "Rest in Pieces": A deadly trio emerges, hell-bent on unleashing a new era at Camp Redwood. Our former counselors desperately try to keep history from repeating itself. Directed by Gwyneth Horder-Payton and written by Adam Penn.
At this point, we're taking a Damon Lindelof/Lost approach to this season: if you haven't drank the wine cooler by now, we not sure what to tell you since this season has lived up to everything we've wanted and expected. This is a season that feels balanced, that going with nine episodes feels "baby bear" just right: the season doesn't feel padded out, or (unlike the one issue I had with Murder House) that we're going to need a ton of lengthy exposition to spackle any storyline holes.
For those of you commited to the cause and willing to see where this bloody path leads, our biggest thematic takeaway was the past and role it plays in shaping – and distorting – who we truly are on so many levels. For Richter (John Carroll Lynch), the tragedy of his brother Bobby's death manifested itself in a evil maternal spirit (Lily Rabe) who cursed her son's future out of rage and heartbreak. In the end, Richter is left to embrace his family of old – but it's no happy ending. Richter's son is left vulnerable to Ramirez's (Zach Villa) murderous vow, while Richter find his mother's "heaven" his own personal Hell – living a life that's no longer his, impotent to save the life he created.
Though we can't shake this feeling that Richter's story isn't quite over yet…
While that wasn't the biggest example of our point, there were a number of others. That moment between Montana (Billie Lourd) and Trevor (Matthew Morrison) where he declares his love and willingness to die to be with her was genuinely sweet and heartbreaking.
Trevor has proven himself to be much more self-aware than I thought he would: he's a decent man who hasn't always done decent things – but then he sees how he is with her and how they are together "in the now"?
Living in the past for all of eternity seems like a no-brainer – except for Montana, who can't forgive herself for a past she doesn't need forgiving for. Her personal guilt over her past projects upon Trevor – driving them apart… though based on the trailer for the series finale (below), it looks like they might've made up.
With Donna (Angelica Ross) and Brooke (Emma Roberts), we have two sides of the same coin: one looking to redeem her past, while the other seeks vengeance for a wronged past. One thing they have in common? National Enquirer reporter Stacy (Stefanie Black), who physically personifies the idea of "the past coming back to haunt you". Simply put, Stacy has all the "receipts" on what Donna and Brooke have been up to… so Stacy ends up literally a victim of the past she spent so much of her time in.
If you're into serial killers then you might even feel bad for Ramirez: he thought he would be some kind of "pop culture crime icon" like Charles Manson. Then along comes Bruce (Dylan McDermott) and what he represents: the next person willing to step up and break his "record", threatening "The Night Strangler's" standing within the serial killer pantheon.
Hell, even Kajagoogoo found a way to make the best of a bloody situation – and they never sounded better!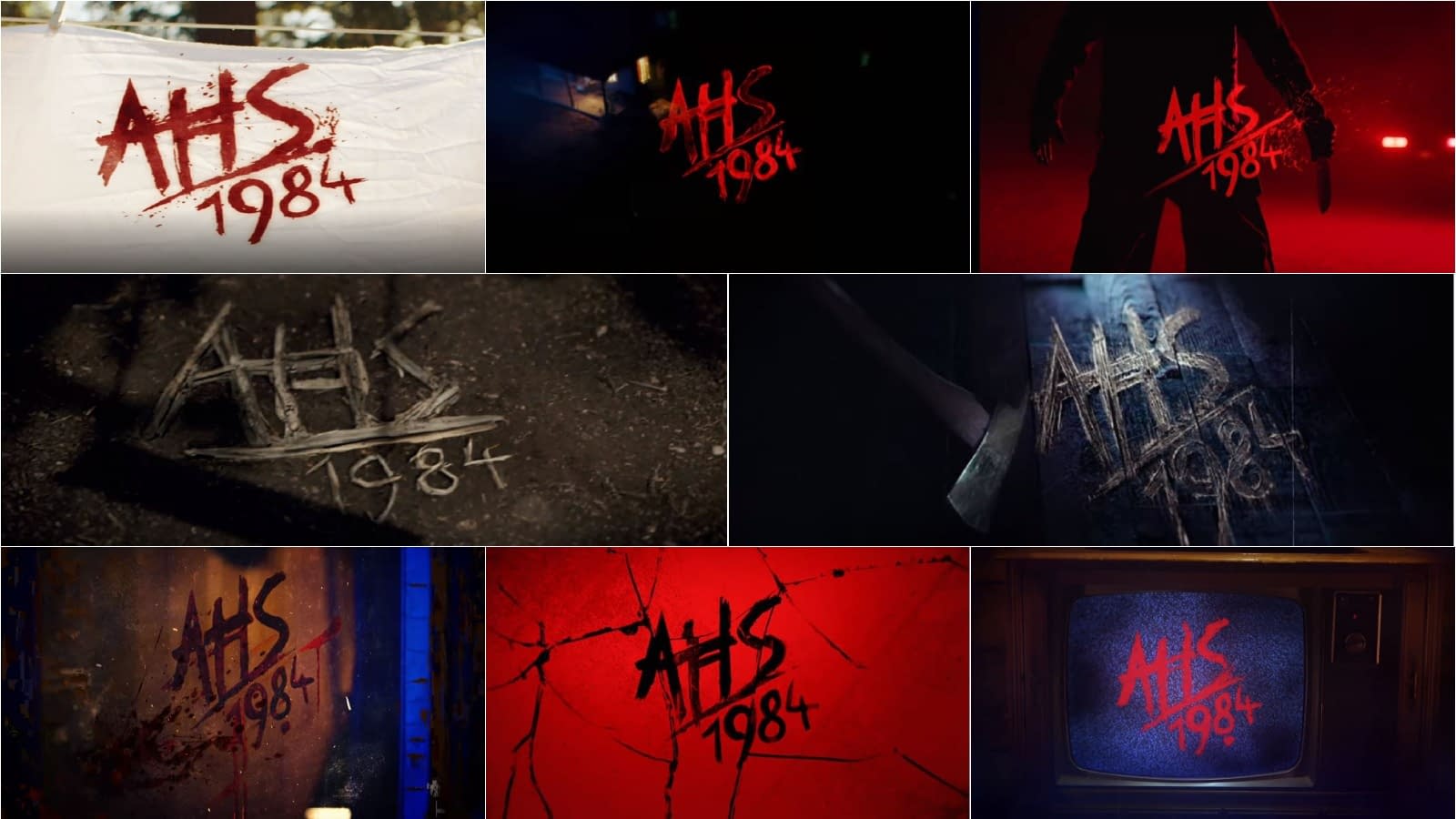 ● This episode is definitely not a recruitment video for Mary Kay.
● We have to make sure to remind everyone just how amazing Leslie Grossman is this season, as my love/hate for her Margaret continues to grow.
● Even a serial killer disciple of Satan and psychotic, homicidal hitchhiker have their favs – be thankful, Billy Idol.
● As for that season 10 clue Murphy mentioned earlier? We're thinking the answer lies in this line from episode:
"Back in the '70s, all anyone cared about was Bigfoot, aliens, the Loch Ness monster… all that Leonard Nimoy 'In Search Of' shit."
● Anyone get the feeling that next week will be a time jump to 2019, with Finn Whitrock playing Richter's son Bobby? In the trailer for the season finale below, we're going with the theory that Montana and Trevor are going to tell Whitrock's Bobby the story of what happened during the festival.
It looks like Bobby might be visiting some other familiar faces, too. Since we're going all-in, we're also vibing that Bobby's going to end up a kind of caretaker of Camp Redwood – or whatever it's called by the time we get to "Final Girl":
"American Horror Story: 1984" season 9, episode 9 "Final Girl": Camp Redwood draws in a lost soul looking for closure. Written by Crystal Liu; directed by John Gray.

https://youtu.be/9wcEiFIM3mM
In case you're like us and you need to see it for the 166th time, here's a chance to see the cast in all their '80's slasher-film-audition glory:
American Horror Story: 1984 stars Emma Roberts (Brooke), Billie Lourd (Montana), Cody Fern (Xavier), Angelica Ross (Nurse Rita/Donna Chambers), Leslie Grossman (Margaret), John Carroll Lynch (Benjamin "Mr. Jingles" Richter), Gus Kenworthy (Chet), Glee's Matthew Morrison (Trevor), DeRon Horton (Ray), Zach Villa ("The Night Strangler" Richard Ramirez), Alhan Bilal (Jamie), and Tara Karsian (Chef Bertie).
FX's American Horror Story: 1984 slashes its way onto our screens every Wednesday at 10 p.m. EDT.