"American Horror Story: 1984" – Sexy, Disturbing "Camp Redwood" Slashes Our Expectations [SPOILER REVIEW]
Combine our professional obsession with uber-creative genius Ryan Murphy (Glee, Pose, 9-1-1, Feud, and a billion more) with our love for 80's horror/slasher film, and it's easy to understand why we're excited for FX's American Horror Story: 1984. In fact, executive producer Tim Minear only confirmed our excitement when he said this about the upcoming season of Murphy and Brad Falchuk's horror anthology series American Horror Story:
"I think it's awesome. I think it's gonna be really scary but a lot of fun, like it always is. And that if you have a taste for '80s horror, you're in for a treat."
https://youtu.be/9wcEiFIM3mM
"American Horror Story: 1984" Episode 1: "Camp Redwood": In the summer of 1984, five friends escape Los Angeles to work as counselors at Camp Redwood. As they adjust to their new jobs, they quickly learn that the only thing scarier than campfire tales is the past coming to haunt you. Written by Ryan Murphy and Brad Falchuk, directed by Bradley Buecker.
American Horror Story: 1984 stars Emma Roberts (Brooke), Billie Lourd (Montana), Cody Fern (Xavier), Angelica Ross (Nurse Rita), Leslie Grossman (Margaret), John Carroll Lynch (Benjamin Richter), Gus Kenworthy (Chet), Glee's Matthew Morrison (Trevor), DeRon Horton (Ray), Zach Villa ("The Night Strangler" Richard Ramirez), Alhan Bilal (Jamie), Tara Karsian (Chef Bertie), and Ashlyn Mackenzie (Debrah).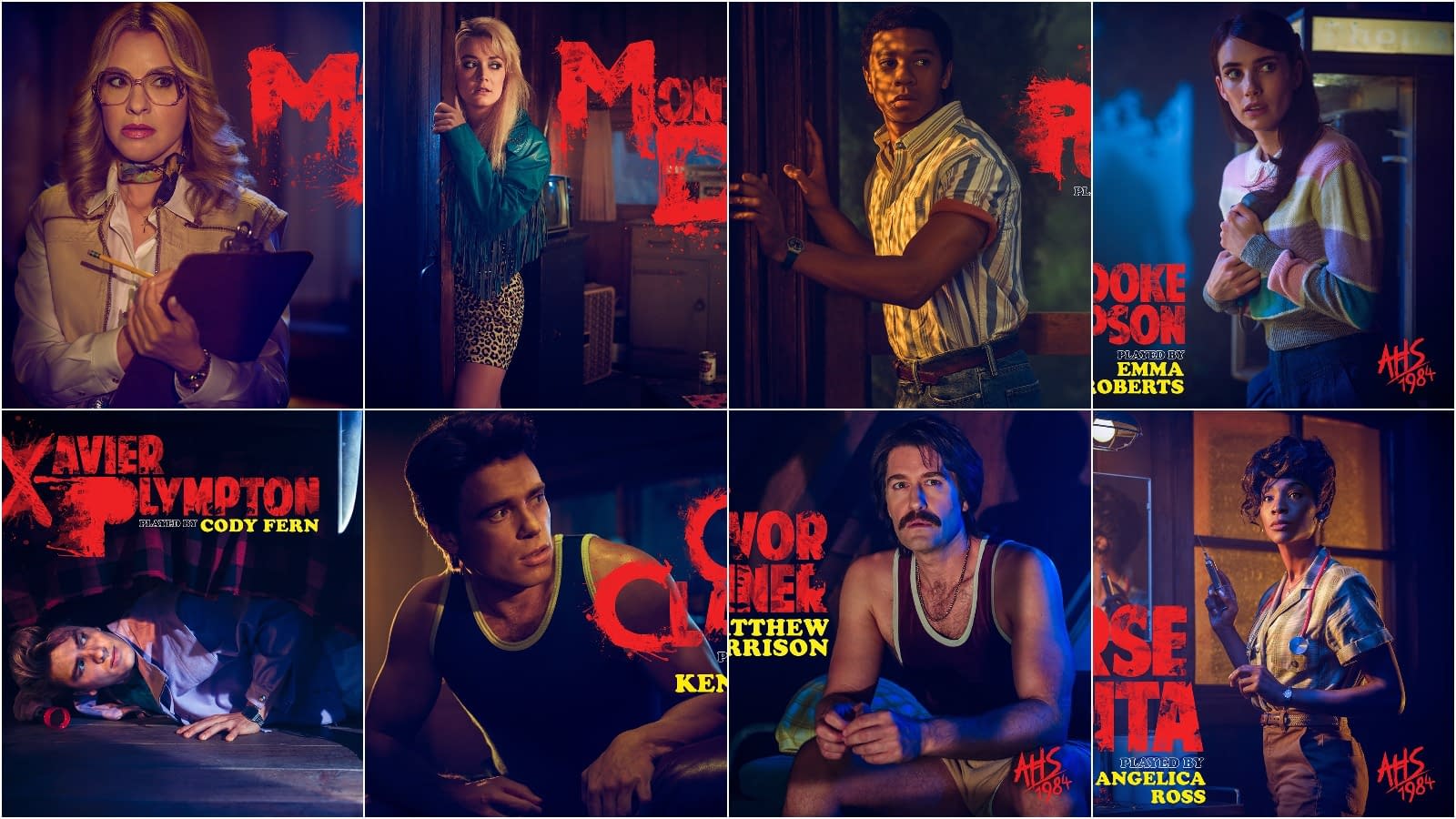 So let me dive right in by saying this is exactly how I wanted the new season of AHS to start. If you're going to tell me that you're taking on "'80's slasher films" then show me you're taking on "80's slasher films" – and season opener writers Murphy and Falchuk did just that. From the opening backstory-slaughter at Camp Redwood to the wonderfully implausible way the group dismisses their hit-n-run's "disappearance," there wasn't a horror film cliche that wasn't respectfully turned over – from Halloween to Sleepaway Camp to The Burning to any number of others.
But the two films this opener brought to mind the most for me were Shaun of the Dead and The Cabin in the Woods. From the Shaun of the Dead perspective, Murphy, Falchuk, and episode director Bradley Buecker are crafting an homage that "winks" respectfully at the films that came before it – that it bases its basic foundation upon – without mocking them or disrespecting their fanbase.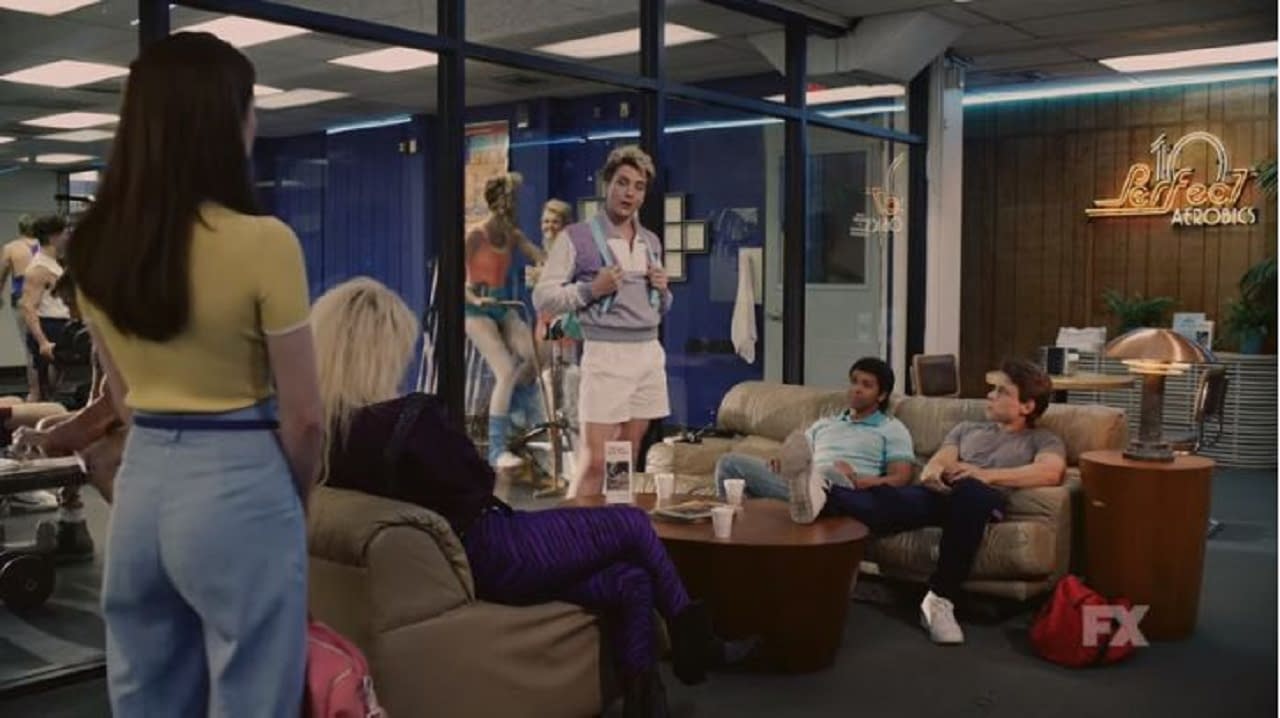 As for AHS 1984's connection to Joss Whedon's deconstructed (I know people hate that phrase but it applies here) horror outing, it comes down to the visuals and our cast of characters. Camp Redwood's 1970 backstory felt both over-the-top and horrifically real: in just those brief moments, we knew enough about those we met to connect with them on some level. Combining that with having the majority of the killings take place off camera and Mr. Jingles' quiet (minus that damn jingling) walk out of the cabin made for a sobering start.
That translated into the narrative when it moved to 1984: once you cut through the thin leather ties, leg warners, and "FRANKIE SAYS RELAX" shirts, we're still presented with individuals who feel real and not just "Now Serving Victim #88." Does that mean we like all of them? Hell no. I think it's safe to say that Chet's coming across like a "'roid rage date rape" ready to happen, and Margaret is wound up so tight she'd fart diamonds if she ate coal. Out of everyone, I'm rooting for Nurse Rita and Montana – and so far, Trevor isn't nearly the d-bag I thought he would be.
As for the cast… well, let's just say there's a reason Murphy has a reputation for hving an eye for talent. Fern is in his own world, and owning evey inch of screen time he's given. Roberts has us forgetting her past AHS lives, nailing the "innocent with unspoken darkness" role with ease. Ross' Nurse Rita is a serious badass already (and who I want still standing in the end), and – I never thought I would ever write these words but… Morrison and Lourd have serious sex vibes between them. Big fan.
John Carroll Lynch is also bringing serious game – proving that he's as much an award-winning-level physical actor as he is when he speaks.But much like Apocaplypse, special attention should be given to Grossman – who is dangerously close to achieving Sarah Paulson–Evan Peters levels of Murphy importance.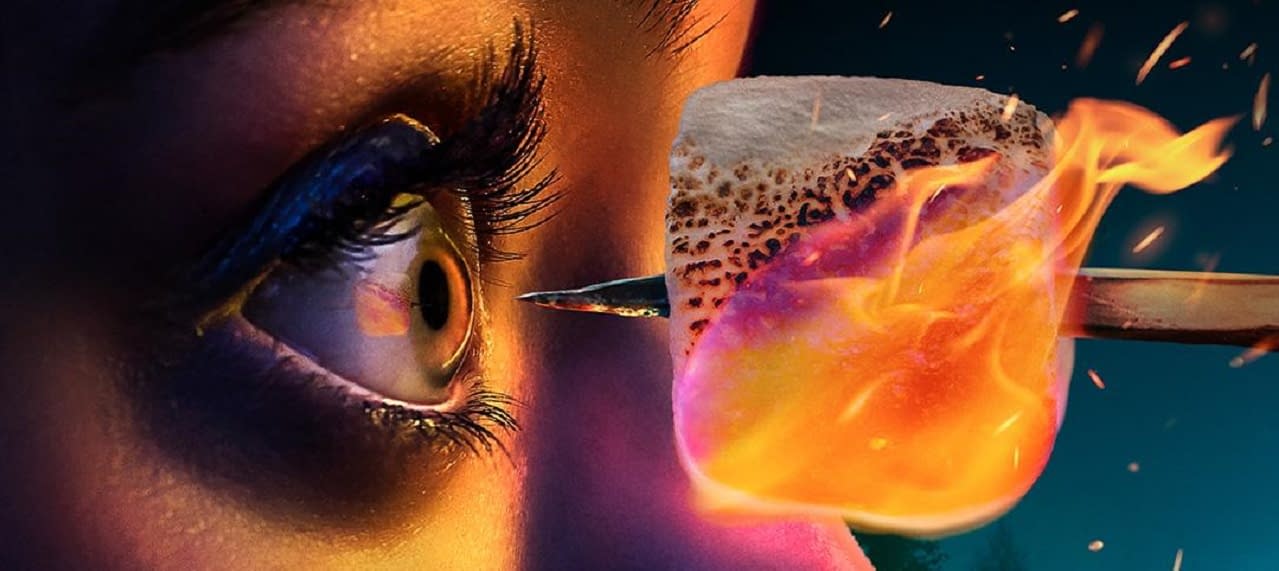 So we're going to end this with the best compliment I can give "Camp Redwood": five questions I'm sticking around to see answered – because either our "conspiracy fires" are raging hot for no reason, or there are definitely some "possibilities" at play this season that could impact the AHS "Bigger Picture":
● Are either of these theories right: that each of them is paying a price for something in the past and Camp Redwood is Hell; or Xavier and Margaret are some how connected/related?
● I know Kenworthy is an incredible athlete – and I'm trying not be too rough here – but is his acting supposed to be that bad as Chet? Some of the lines come across like they were recorded at rehearsal.
● Is the addition of "The Night Strangler" Richard Ramirez (Villa) connect this season to Hotel – and does this have any connection to the other mysteries everyone else seems to be running away from (Montana seeing the headlights, Xavier getting the phone call, etc.)?
● Is the series still playing fast-n-loose with time, and we should be reconsidering when Mr. Jingles (Lynch) escaped in comparison to when these events are happening?
● Are we going to spend the entire season feeling like we'd have sex with pretty much everyone (sorry, Jingles) at the camp so far – and will this involve therapy? Because that could get pricey…

In case you're like us and you need to see it for the 166th time, here's a chance to see the cast in all their '80's slasher-film-audition glory:
FX's American Horror Story: 1984 slashes its way onto our screens beginning Wednesday, September 18.