'Animal Kingdom': Smurf Has All Your Last-Minute Mother's Day Gift Ideas [VIDEO]
So Mother's Day is here (and mostly over) – and while many are celebrating with their mothers and mother-figures, others are freaking out over the realization that they've completely forgotten to get a gift for the special maternal figure in their life. So how does TNT's Animal Kingdom fit into this? They've got you and your last-minute forgetfulness covered!
In a new video released for the holiday, the fine folks at Animal Kingdom cover some great gift ideas for Mother's Day, featuring our favorite crime matriarch, Smurf (Ellen Barkin).
So what do Smurf and her boys recommend for a gift this holiday? Here's their five recommendations:
5. A silk robe
Everyone knows that Smurf loves being fabulous, fashionable, and in-charge – so what better way to rule the roost than in a lavish silk robe? There is no better way.
4. A bottle of something nice
Be it day-drinking Chardonnay, toasting your dead son, or making thinly veiled threats from your kitchen, you can't go wrong with a nice bottle of Mom's favorite from your local vineyard or liquor store (depending on her tastes, of course).
3. A stash of cash
Who doesn't love cold, hard, cash? Smurf definitely does – which is why it's never a bad call to slip a few stacks to the woman who raised you… or just cut her in on your next heist.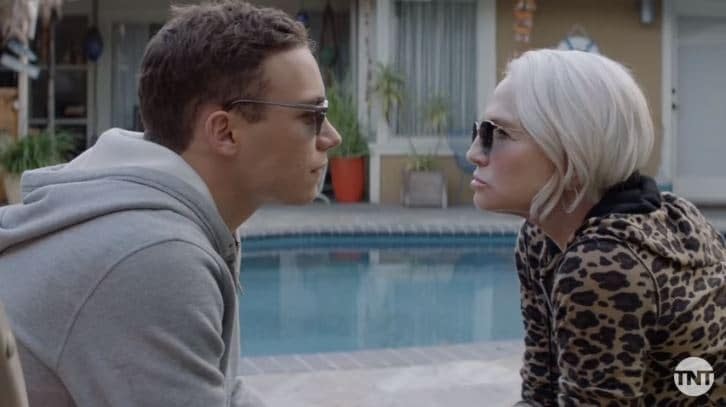 2. Peanut butter (non-sandwiche usage)
Okay, so this one may be a little niche, but if there's someone who's really on her bad side and that special lady in your life likes to get things done (and doesn't have either a peanut allergy or a queasy stomach), maybe think about supplying her with plenty of jars of this multipurpose spread for her next torture session.
1. A little affection
Yes, what every Mother really wants from you this Mother's Day: a hug. All she really wants is to be appreciated and loved, so show Mom you care… just not too much.
This summer, the ruthless Cody crime family returns in Animal Kingdom season four and they will be as much of a threat to each other as they are to their targets. The series stars Emmy® and Tony® winner Ellen Barkin, Shawn Hatosy, Ben Robson, Jake Weary, Finn Cole and Sohvi Rodriguez. Emily Deschanel also joins the cast this season in a recurring role.

This season, Smurf (Barkin) is back on top reminding her boys who's boss no matter whom she hurts in the process. Trapped with Smurf and becoming increasingly unhinged, Pope (Hatosy) has found new and dangerous ways to deal with his anger. J (Cole) continues to scheme about how to take over the family business, Craig (Robson) plots one of their most difficult heists and Deran (Weary) is worried about his future with Adrian (Spencer Treat Clark).

As always, outsiders move in to threaten the Cody's fragile peace, including Angela (Deschanel), the former best friend of J's deceased mother and a recovering junkie, who tries to snake her way back into the family's good graces. A new criminal crew is also introduced with a surprising connection to the Codys.

TNT
The fourth season of TNT's Animal Kingdom premieres Tuesday, May 28 at 9 p.m. ET/PT.