Another Life Season 2: Tongayi Chirisa as Series Regular, 3 Recurring
Though productions across the television landscape are only now just starting to put together plans to get the engines roaring again, that isn't keeping Netflix from boosting up the cast of Another Life for its second season. The Katie Sackhoff-starring sci-fi drama series is welcoming aboard Tongayi Chirisa (iZombie, Antebellum) as a series regular, with Dillon Casey (Remedy), Shannon Chan-Kent (Good Trouble), and Kurt Yaeger (L.A.'s Finest) set for recurring roles.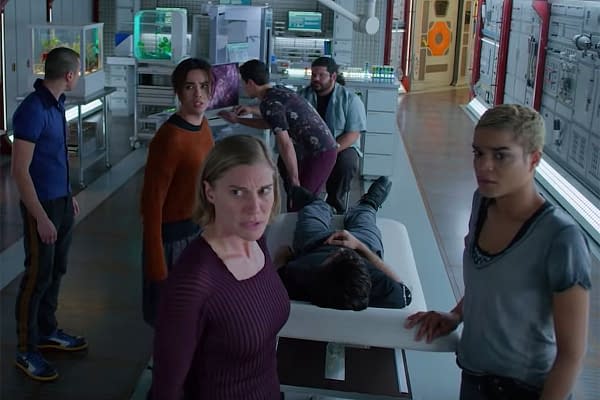 Created by series showrunner Aaron Martin, Another Life tells the story of Niko Breckinridge's (Sackhoff) quest for alien intelligence. Niko and her crew start with sussing out the source of the alien artifact that came to Earth. As they face the harsh realities of space and its dangers, they realize that discovering intelligent life in space is hazardous- and deadly- work. Joining Sackhoff are cast members Justin Chatwin as Erik Wallace; Samuel Anderson as William; Elizabeth Faith Ludlow as Cas Isakovic; and more.
Chirisa's Richard Ncube is a decorated veteran of many Earth campaigns. Having seen active duty, Richard is very adept at making life-or-death decisions and dealing with the fallout after he's saved your life. Casey's Seth Gage is the head of Homeland Security who's tasked with taking over the alien response, now that First Contact has been established. On the surface he's affable and professional; underneath he's incredibly ambitious, and determined to turn this alien arrival to his personal advantage. Chan-Kent's Iara is a hybrid alien-human A.I. who represents a bridge between humans and their alien visitors. Neither side, however, completely trusts her – not the crew of the Salvare, nor the Achaia they encounter. Iara just wants to belong, somewhere. Anywhere. Yaeger's Dillon Conner is a trained military engineer who's served various tours of duty in Earth's hot spots, losing one of his legs to an IED. His mission has now taken him to space, where every day is a new adventure.