If you haven't caught up on this season's Westworld, you may not want to read further, as there will be a somewhat spoilery casting reveal. Turns out, one of the surprise faces that appeared in Westworld episode "Reunion" was picked specifically by one Sir Anthony Hopkins.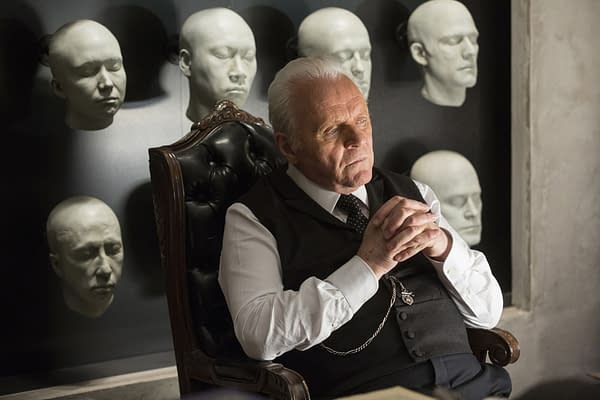 Sadly, we will NOT be getting more of the Oscar winning actor on the series, as show runners Lisa Joy and Jonathan Nolan confirmed to Entertainment Weekly that Dolores DID succeed in killing the character of Robert in the season 1 finale.
That said, his presence will still be felt, with flashbacks and a not-quite malevolent presence in off screen uses of the character.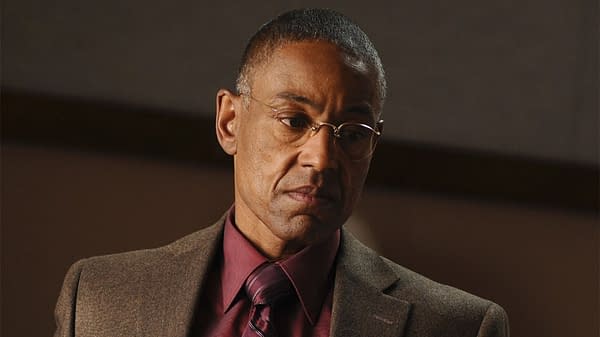 Turns out, that one special cameo in last night's "Reunion" episode was all Hopkin's idea. Giancarlo Esposito (Breaking Bad, Better Call Saul) showed up as outlaw boss El Lazo, taking the role over from Clifton Collins Jr.. Members of the press who were privy to this casting were asked not to reveal it until after airing, and I think folks definitely succeeded, so go team.
In an interview with Vulture, Esposito spoke a bit about how he came to the series:
Vulture: How did you end up on Westworld?

Esposito: I love Sir Anthony Hopkins. I really loved the original movie about this particular subject matter. Although I don't watch a lot of the television series, I had watched pieces of a few episodes that caught my attention. And then I got a call. That's how it always happens!

You know, people know other people. In terms of how public life affects all this, I've said some great things about Anthony, and he's said some great things about me in regards to my work as Gus Fring on Breaking Bad, so I think it was all kind of synchronous in that way.
Needless to say, we're hoping to see more of Esposito in this season of Westworld, which airs on HBO on Sundays.
Enjoyed this article? Share it!