This article contains spoilers for the Arrow season six episode – All for Nothing.
.
.
.
.
.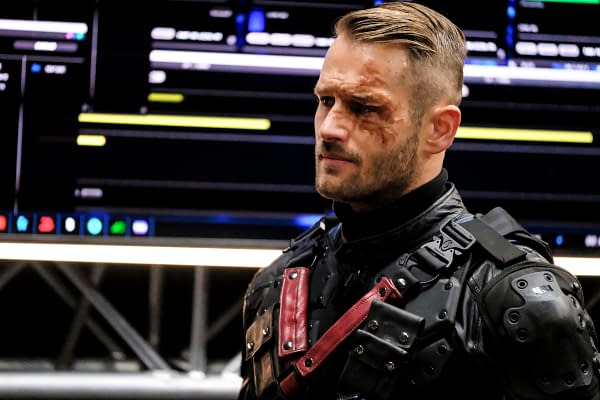 This episode is mostly about heroes and villains and how a villain may be hiding a hero inside of them. Last week we learned that Vincent Sobel (Johann Urb) was working undercover, trying to take down Cayden James (Michael Emerson) and his team. But Green Arrow (Stephen Amell) isn't ready to trust the Vigilante, even when Dinah (Juliana Harkavy) and the others are. Felicity has a plan to swipe the data off of Cayden's computers, but it involves Vincent sneaking into the server room, attaching a sniffer, waiting while it downloaded all the data, then getting out and allowing it to upload. You have to suspend disbelief in how quickly the data downloads and uploads… but the scene itself is pretty cool and its relatively easy to start pulling for Vigilante as a hero. He has to bluff his way out of trouble with Felicity's help and he is able to get the data to Team Arrow, but then is captured as a traitor and given to Anatoly (David Nykl) to torture. Felicity, Curtis (Echo Kellum) and the returned Alena (Kacey Rohl) are able to track down the bomb to a large warehouse, but before the full team can go find the bomb, Vincent's mike is turned back on and they hear him being tortured. Dinah and her team insist on saving him while Oliver and Diggle (David Ramsey) have to go short handed to deal with the bomb.
Meanwhile Laurel (Katie Cassidy) has been following Quentin (Paul Blackthorne) around and he walks her into a setup where he has photos on a projector to show her the Earth-1 Laurel and tries to connect with her. It seems to be working. She ends up running off, but the images did effect her.
Turning the mic on was James' way of splitting up the team and giving them over to get the bomb away. And it works. Richard Dragon (Kirk Acevedo) and Anatoly use hostages and multiple trucks to get the bomb away. Meanwhile when Black Canary, Mr. Terrific and Wild Dog (Rick Gonzalez) rush in, the site is rigged and Canary and Vigilante get caught in an explosion. Canary is pinned by debris and has to watch as James has Black Siren kill Vigilante by screaming in his ear to the point past his healing abilities. Dinah is heart broken, not only is Vincent dead but he seemed to have died for nothing because James still has the bomb. But Alena discovers that the video of Green Arrow killing James' son and that it came form the same source that released the video in the beginning of the season. James is being used. Oliver tries to talk with Dinah, who tells him that she is going to kill all of them starting with Laurel. Quentin is devastated to hear that Laurel killed Vigilante, crushing his hopes that there was some of his daughter in her.
It was a pretty intense episode, and where the question was whether the team could trust Vigilante or not, the writer's made it pretty easy to get behind him. The problem with characters who have extreme healing powers is you really don't know if they're really dead or his body just needs longer to recover. Earlier today executive producer Marc Guggenheim was talking about how the trust issue was going to create drama for a while, indicating more than just one episode. Was he leading us on or will Vincent be back? It feels like there is more to his story, but we'll have to wait and see if we get it. The flash back to Dinah and Vince working together in Central City was very cool and a nice cameo by Captain David Singh (Patrick Sabongui) from The Flash and Sonus (Steve Bacic) a villain from back in season 5.
Dinah Drake is very upset and plans to kill all the bad guys, starting with Black Siren. Hard to blame her for that. Star City is just about out of money to pay James. The synopsis says James launches a full out attack when he uncovers a secret about the Green Arrow that puts him over the edge. Could that be the fact that Green Arrow didn't kill his son? Who is behind send him the fake footage? Was it a left over gift from Prometheus? Or one of this other partners like Anatoly Knyazev or Richard Dragon? Or maybe it's the person we least expect, Alena.
https://youtu.be/CL0QlgCjIrY
Enjoyed this article? Share it!