Arrow Season 6: Can Felicity and Curtis Still Work Together?
The point of no return isn't what it used to be, at least on a show like Arrow. After the big "civil war"episode where Rene (Rick Gonzalez) got hurt, it seemed like that line was crossed that would separate the teams forever. And yes, Dinah (Juliana Harkavy) is working with Quentin (Paul Blackthorne) to figure out the crooked cops, but that's not the same as working with one of original Team Arrow. But last week we saw that Curtis (Echo Kellum) was a little upset he wasn't invited to Thea's (Willa Holland) going away party. Could this mean a bit of a thaw between the teams? Or maybe getting Helix Dynamics back on track?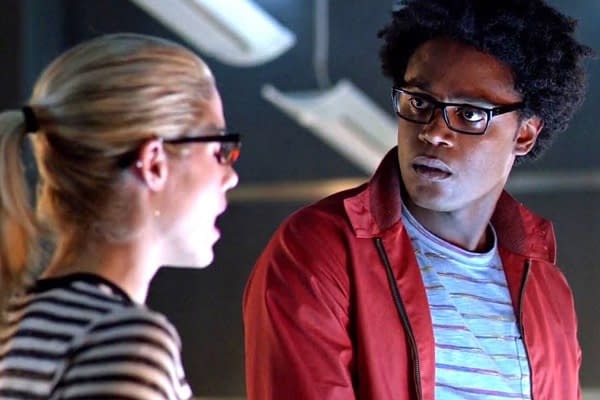 Helix is the company that Felicity (Emily Bett Rickards) and Curtis were forming when things got bad. TVLine asked the two actors about the future for their endeavor:
Rickards said:
Yes, Helix Dynamics sort of comes back. Felicity and Curtis obviously got in a bit of a disagreement over a big problem, and I say their disagreement is 'little' because we do come back to Helix Dynamics without addressing it a major way. They just decide to accept each other back, because I think they miss each other more than anything. Which is nice. Sometimes space and time [heals wounds].
Kellum added:
You'll see Felicity and Curtis get back on the ball, making sure that they're focused on doing what made them great in the first place, by delving into some dynamic technologies.
It's a step in the right direction, but will it help heal the bigger rifts between the team?
Arrow airs Thursdays at 9 p.m. ET on the CW.