There are absolutely spoilers in this article for the upcoming 15th episode of Arrow called 'Doppelgänger'. We've got the synopsis and some photos released by the CW, which will give away some of the plot along with some of the fall out from the 14th episode, 'Collision Course', so leave now if you don't want spoilers.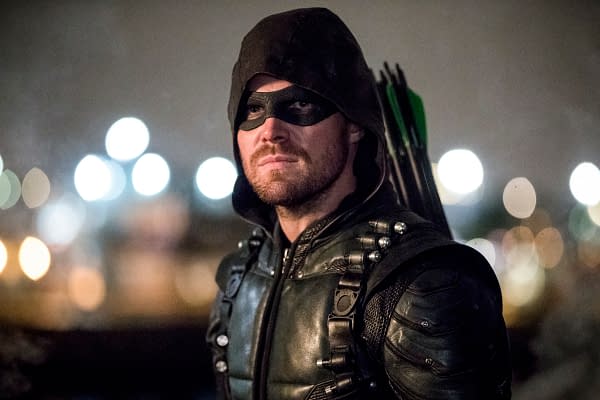 Let's start with the fact that the 14th episode picks up from where we ended off before the Olympic hiatus, with Quentin (Paul Blackthorne) taking off with an injured Laurel (Katie Cassidy) to try to get her to be more like his dead daughter. Besides that sounding a bit crazy, we know that Dinah (Juliana Harkavy) still wants Laurel dead for killing Vincent (Johann Urb), and the two teams are still very separate at this point. What we know about the episode is that Quentin takes Laurel to what looks to be a cabin in the woods, Thea (Willa Holland) is there as well, and the two teams end up fighting each other. How does it all end up? This shot tells us part of it.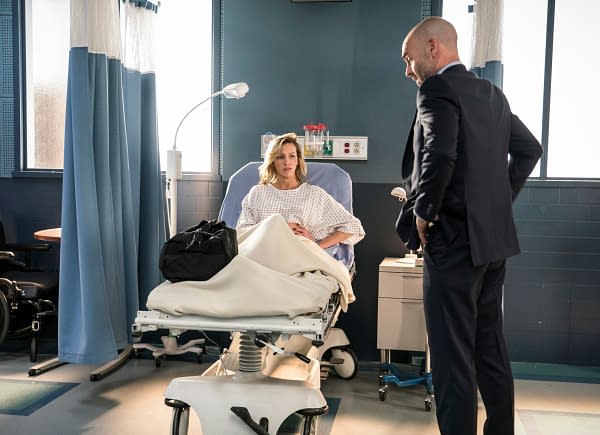 Laurel is holding her side, which is where she had been shot. The fact they're in a hospital shows that she survives, and the black bag might mean that Quentin is either picking her up because he's ready to be released or that he's giving her the opportunity to leave town if she wants. Let's look at the synopsis for the episode:
ROY HARPER RETURNS — Oliver (Stephen Amell) and Thea (Willa Holland) are shocked to hear that Roy Harper (guest star Colton Haynes) is back in Star City. However, when they discover the circumstances of Roy's return, Oliver and Thea realize that Roy is in trouble and jump in to save him. Black Siren (Katie Cassidy) makes a shocking decision. Kristin Windell directed the episode with story by Christos Gage & Ruth Fletcher Gage and teleplay by Speed Weed (#615). Original airdate 3/8/2018.
She makes a shocking decision? This might be part of that.
It's interesting in that of all the photos they released, not one has Dinah, Curtis (Echo Kellum), or Rene (Rick Gonzalez) in them. But none of them have Felicity (Emily Bett Rickards) in them either, so it's hard to say what that means. But what we do get is to see Thea back in her Speedy gear, Roy (Colton Haynes) not doing too well, and an appearance by Antoly (David Nykl). And we see Spartan (David Ramsey), Green Arrow (Stephen Amell) and Speedy working together again.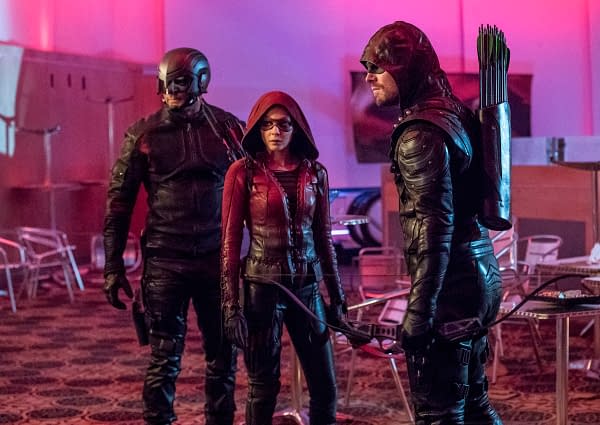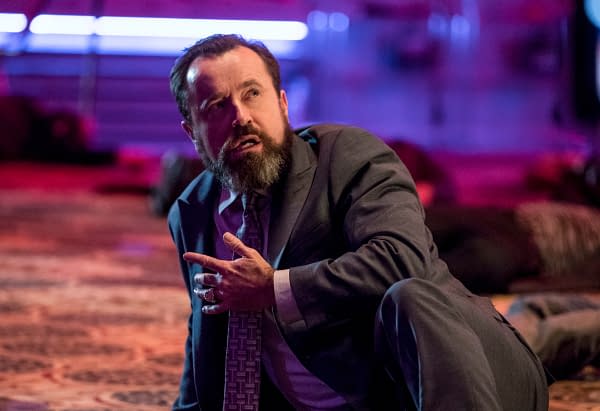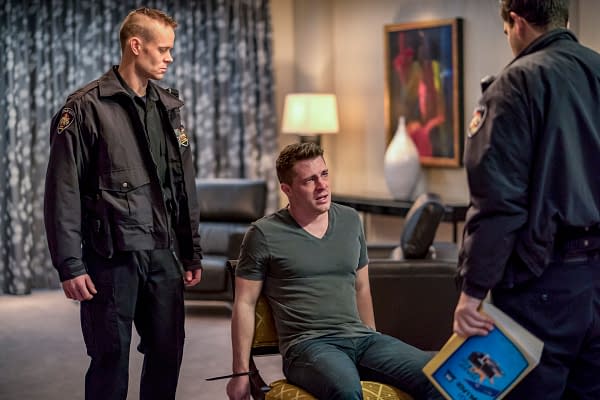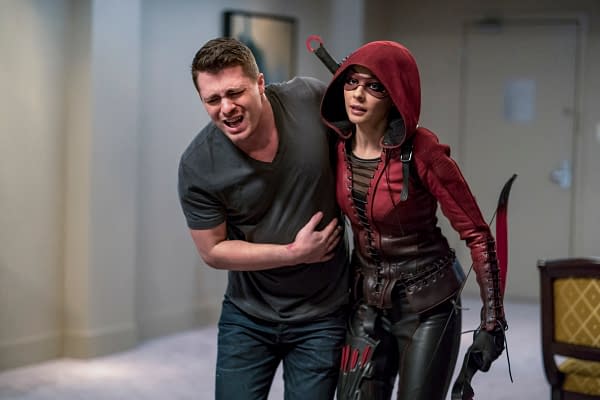 The fact that Thea is suited up in the scene with Anatoly makes me think he has something to do with what's happening to Roy. Unless they come up with another reason why she would pick up the bow again, I can only see her doing it to save Roy.
Arrow returns March 1st at 9 p.m. ET on the CW. 'Doppelganger' will air on March 8th.
Enjoyed this article? Share it!