Arrow Season 7 Gets Promo Video, Producer Teases No Happy Ever After For Roy
Arrow kicked off its seventh season last week, with Oliver in prison and his team still dealing with Diaz. We also have a Green Arrow wannabe running around causing a ruckus. So, business as usual. The CW just released a new teaser for the season, featuring explosions and a broken Oliver talking about how he has always done "what he had to do, and done it my way". Check that out below:
https://www.youtube.com/watch?v=u1L9uz2tMJg&feature=youtu.be
Here is the synopsis for tonight episode "The Longbow Hunters":
In order to track down Diaz (Kirk Acevedo) from inside prison, Oliver (Stephen Amell) realizes that will require aligning with an old enemy. Meanwhile, in Star City, Felicity's (Emily Bett Rickards) attempts to root out Diaz are thwarted by Diggle (David Ramsey), whose allegiance to ARGUS now requires him to keep civilians like her on the outs. Realizing that she can no longer rely on her old team or old methods, a clear-eyed Felicity resolves to find a new way to go after Diaz.
Laura Belsey directed the episode written by Jill Blankenship & Rebecca Bellotto.
Also, in an interview with The Hollywood Reporter, showrunner Beth Schwartz talked a little about the surprise reveal last week when the episode ended by revealing that the island snippets we were seeing were not only flash-forwards of Olivier's son William heading to the island, but that Roy (Colton Haynes) himself was there. Considering the last time we saw him he was reunited with Thea (Willa Holland) and getting a happy ending, that was a surprise:
"You'll see a lot more in episode two that he's much darker, he's definitely been burned. There will be a lot of mysteries to reveal throughout the season about what happened to him in that time span. We don't like the happily ever afters, apparently."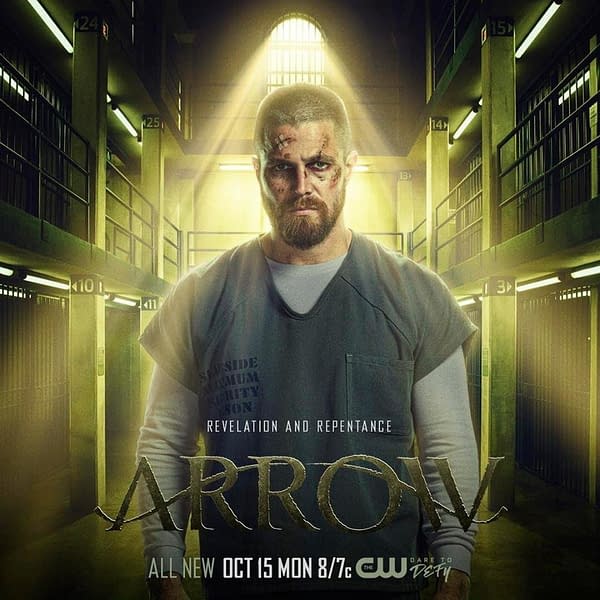 Arrow airs on Monday's at 8PM on The CW, and you can stream it for free on The CW app shortly after it airs.