This Year's Arrowverse Crossover is Titled Elseworlds
Arrowverse fans: start speculating.
DC announced this afternoon that the three-night Arrowverse crossover this year will be titled "Elseworlds". The crossover begins will The Flash airing on a Sunday, December 9th, followed by Arrow on Monday, December 10th, and wrapping up with Supergirl on Tuesday, December 11th. This will be the debut of Ruby Rose as Batwoman and Elizabeth Tulloch as Lois Lane. She will make her debut alongside the returning Tyler Hoechlin as Superman.
These seasons should begin in interesting places this year. The Flash will see Nora Allen-West stick around to keep Barry on his toes, and over in Arrow Ollie is in prison and outed as Green Arrow, so…that should be interesting. Stephen Amell also requested that they write this season as if it would be the last, so there is that. And on Supergirl expect a ton of new characters and even a Red Son storyline to pop up as the show shifts to airing on Sundays.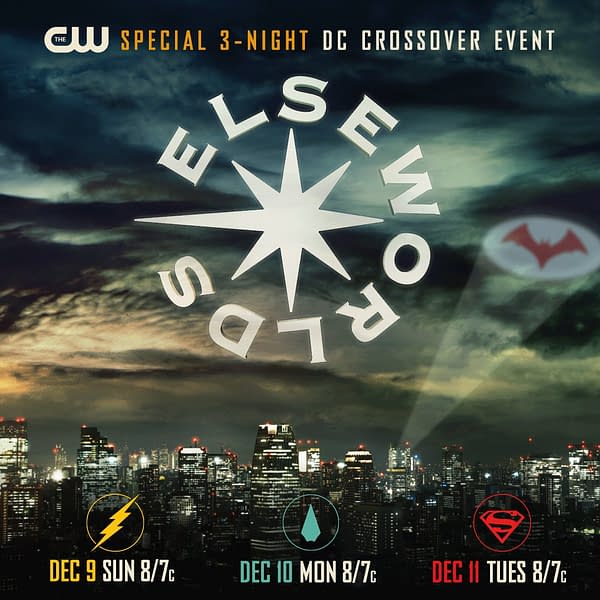 Every year now is about the crossover though, and this should be the biggest one they have ever done. Batwoman seems to be their Bat-character they are going to use, but could we see another version of Batman make an appearance? What Elseworlds stories should they attempt to cram into this? Also: I love that they used the classic Elseworlds comic logo for this, but it feels like a clue.
What say you? What Elseworlds versions of these characters do you want to see? What surprise heroes we haven't seen yet besides Batwoman and Lois Lane will pop up? Why did they shift around the shows schedules instead of just letting them air the same nights they always do? More importantly, which villains do you think will pop up here?
The Arrowverse: Elseworlds crossover will air December 9-11 on The CW.