Ash vs Evil Dead Season 3 Gets a Poster and Trailer
Ash vs Evil Dead, the horror hit on STARZ Network that follows the cult classic Evil Dead film series, is coming back for what many are expecting to be the final season. The Season 3 poster and trailer have been revealed by the network, and features all the crazy, bloody, joke-filled action one has come to expect from the show and franchise (NSFW, obviously):
Ash is back, baby! Get ready to face evil when Season 3 of Ash vs Evil Dead premieres February 25 on STARZ.

The third season finds Ash, having gone from murderous urban legend to humanity-saving hometown hero, discovering that he has a long lost daughter who's been entrusted in his care. When Kelly witnesses a televised massacre with Ruby's fingerprints all over it, she returns with a new friend to warn Ash and Pablo that evil isn't done with them yet. Blood is thicker than water in the battle of good vs Evil Dead.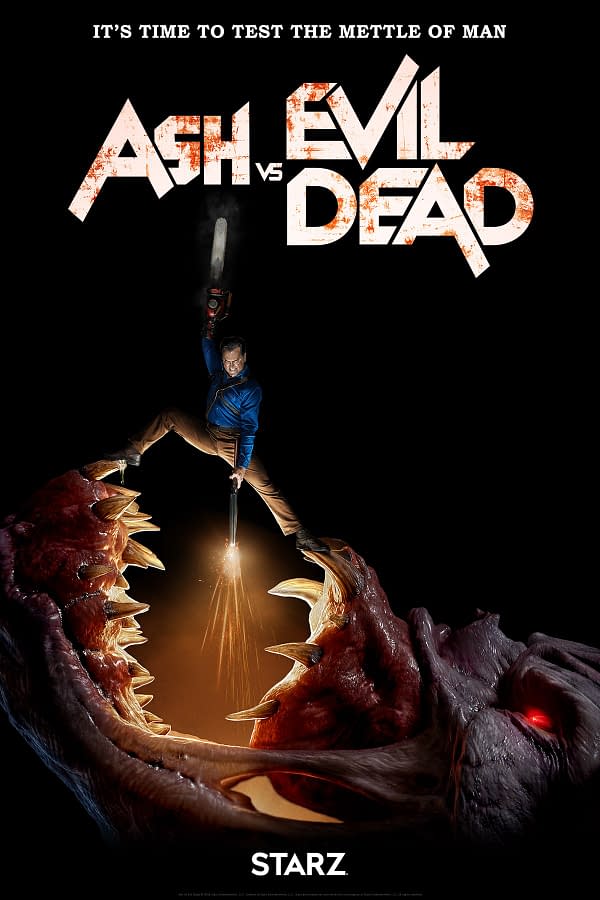 That is one huge creature. You know what? The way that poster is laid out reminds me of that scene in Finding Nemo when Dory and Marlin are being chased by that fish with the light attached to its head. The Deadite even kind of has that look, doesn't it? Or is it just me?
I really hope this is not the last season for this show. It really is a blast to watch, and Bruce Campbell brings such a fun energy to it all that it would be a shame to see it go anywhere. Not to mention that Lucy Lawless is a treasure, and any excuse to see more of her Ruby is alright by me. Gory horror television, comedic or not, is always welcome by me. And when it is this smartly done, it deserves a place on the dial.
Season 3 of Ash vs Evil Dead premieres February 25th.