We were lucky enough to chat with the pretty fabulous Ashley Clements, creative mind behind The Lizzie Bennett Diaries, as well as the new space-series SONA, which just released today onLegendary Digital Networks Geek & Sundry and Alpha.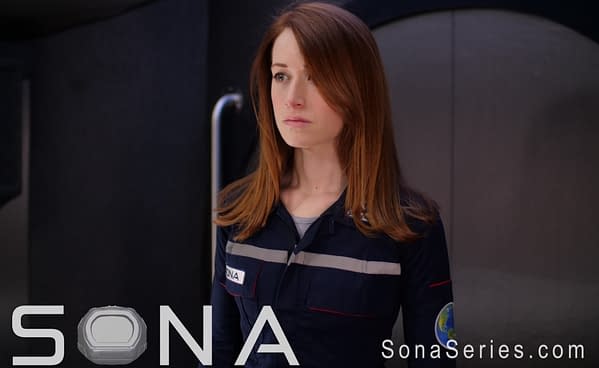 [Editor's note: At the time of this interview, the author had seen the first eight episodes of SONA, but not the finale.]
Bleeding Cool: Where did the idea for SONA come from?
Ashley Clements: It started with my deep love of Star Trek and my desire to do my own sci-fi, but I knew I'd have to do it really small scale. So the first idea I had was "what if I were alone, in an escape pod", and then I figured out the story from there. Sometimes having a smaller sandbox helps you figure out your story.
BC: And in this case, sandbox also equals your kitchen?
AC: (both laugh) Dining room, actually, and I'm sitting in it right now, the scene of the crime.
BC: Has it changed your normal daily routine at all, knowing that you filmed in that space?
AC: It's funny, it's been restored so well that I sometimes forget, and I'll do something for the show, and I'll go "OOOOOH, this was the spaceship, this was… right here, that's weird." It's a strange thing to have done, I realize, but [it] also feels completely normal to me, as someone who just wants to tell stories.
BC: I had no idea watching the series that the space was a dining room.
AC: I certainly hope that's the experience of the viewer, and that anyone who DOES know has that moment of "how can that possibly be someones dining room?" My apartment was very much transformed during that time period — a little cramped, a little stressful, but now that the dust has settled, I'm so glad we did it.
BC: What was it like filming the scenes with your alien husband — since he had no spoken dialogue in those moments, was someone reading you his lines off camera?
AC: Nope. And also keep in mind, that's our director and the DP [Brendan Bradley], so it was really just the two of us. A lot of it was just setting up the shot, using a bluetooth iPad as our monitor so we could make sure we were both in frame, and then setting the iPad down and shooting.
But when it came to dialogue, I actually didn't have anyone reading his lines, or the computer's lines. When I say I was doing a solo space show, I was REALLY doing a solo space show. I kind of forgot I was doing it until I watched it. I did write it, so I was at least familiar with the material, and I could just say the other person's lines in my head and know to leave a pause there. It was a very experimental process — the entire thing was, really. And because we had unlimited time in the space, both I and Brendan were able to try new things. Some of those things made it into the show, some didn't.
BC: Everything came across very natural, so perhaps knowing everything like you did, like Brendan did, helped that. It didn't feel like scene work.
AC: Thank you, that's a huge compliment. I was really exploring that as an actor.
BC: Was there anything else you really wanted to put in these episodes that didn't make it into the final cut?
AC: I think if we got to tell more of the story, I would expand more of what we see of Earth. That was one of the places where budget was an issue, because it was easy enough to build a sci-fi set, but to go out and build a sci-fi city?
We found this incredible retro kitchen that's like a '50s restaurant thing that we loved, and then we shot in a park — it's a very large backyard — because nature wouldn't have necessarily changed. I would have liked to show more of what she did for work, what she did on earth. If we get a second season, I'd want to show more of what Space Core is about.
BC: Have you written stuff for possible second season?
AC: I mean, *I* have LOTS of plans for season 2, but as with any show in this town, we're at the mercy of the show's reception.
BC: I'm hoping for you, that the show's reception is as good if not better than the Kickstarter campaign went, because that was CRAAAAAZY.
AC: That was very very exciting. I've been a part of a lot of shows that were Kickstarted, but that was the first time I'd run my own. Luckily I knew what to expect with the first day having a burst, and then it usually has a lull. But I was afraid to ask for stuff for just me and Brendan, and so we set the bar low, and hit it in four hours! And we used every bit of that budget, so thank you to everyone who helped with that.
BC: The only thing I am slightly disappointed about is the length of episodes. I would have gladly watched more.
AC: Oh, well, if all goes well, perhaps there will be a second season!
BC: I'll keep all my extremities crossed for that, because it seems like we're finally starting to get it, that thing where strong female protagonists are making a bigger comeback in the genre, and thank you for creating this entry into that company.
AC: Thank you so much. I've always loved sci-fi, I grew up on the Star Treks of the '90s like TNG and DS9, my brother got me into it. We've seen the women in sci-fi get stronger and stronger in my lifetime, and the growth from when I started watching where there were maybe one or two female characters but they were never the Captain, to what we're seeing today is really exciting. I'm very happy to be a part of that.
BC: What would you like to tell everyone who will be watching this show on Geek & Sundry and Alpha?
AC: Uh, thank you, first of all! I would like to say to them… don't give up hope, because the character's journey is about that, so is the experience of making independent content.
***
Thanks again so much to the fine folks over at Legendary Digital Networks for organizing the interview, to Ashley Clements for her time and her candor, and to the team behind SONA, which released today on Legendary Digital Networks streaming service Alpha.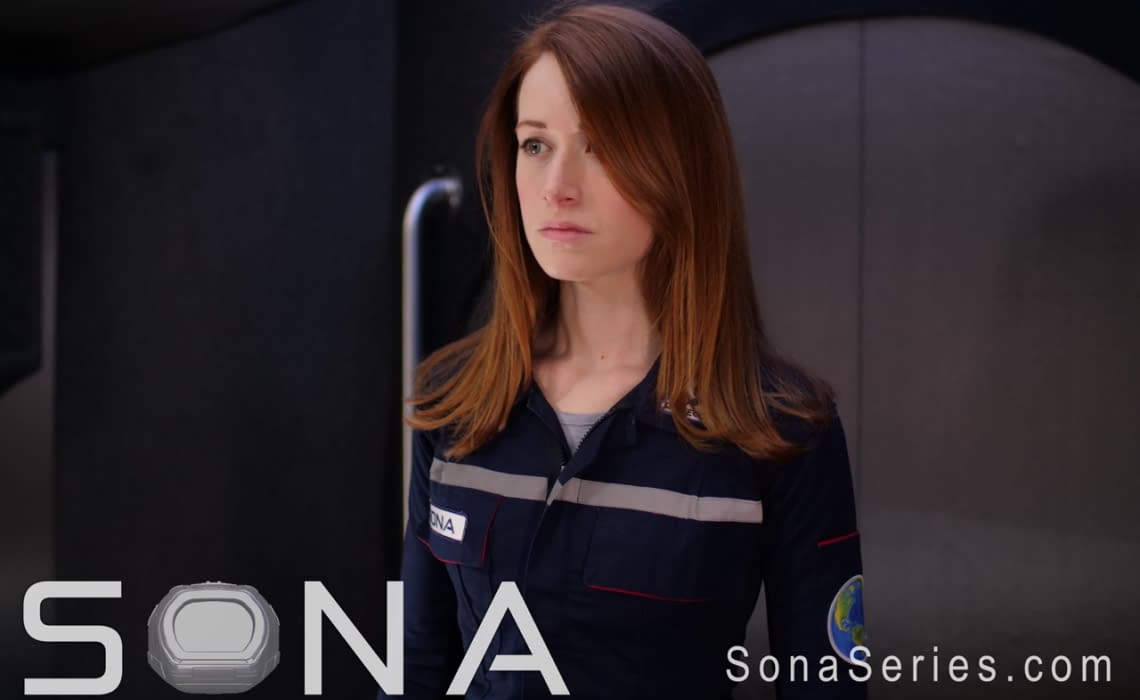 New members can use the promo code (SPACE) for a 60-day free trial of Alpha at projectalpha.com to watch the show!
[Also, if you end up loving the show, you can get merch for it, too!]
Enjoyed this article? Share it!