'Battlestar Galactica' Podcast Hosted by Caprica Six Coming to SYFY Wire
Perhaps one of the single best examples of when a reboot goes well, Ronald D. Moore's reimagined Battlestar Galactica is about to celebrate a big milestone. It's been 15 years since the mini series (later deemed "the pilot" for nuBSG) aired, and SYFY Wire is launching a new podcast for the occasion.
The podcast will be hosted by Battlestar Galactica actress Tricia Helfer, who played character Caprica Six in the series, as well as journalist/Castle Rock writer Marc Bernardin.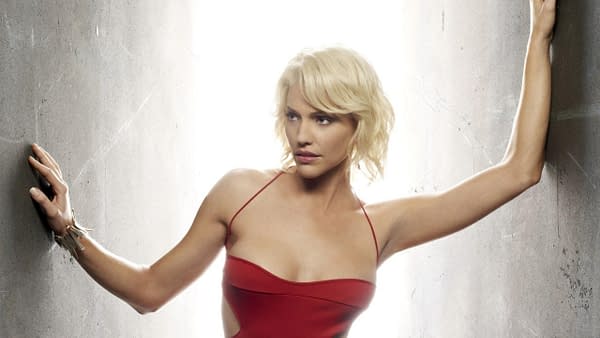 Helfer told Entertainment Weekly:
"I'm excited to delve back into the BSG universe after so many years. To watch each episode and break it down like the viewers experienced it is a totally new experience for me as I never sat down and watched it simply from start to finish. Watching it now with Marc, who covered the series at the time for Entertainment Weekly, is giving me a whole new appreciation."
EW says the pair will rewatch the miniseries (that originally aired December 8th 2003, but December 11th is listed by EW as the anniversary date), and then each future installment will focus on one specific episode from the first season.
This is not the first, nor probably the last time a Cylon has hosted a podcast about the series, as there was also a podcast hosted by RDM during the series, which was featured on scifi.com (yes, that's how long ago that was, four SYFY rebrandings ago).
We're pretty excited about the possibility of guests and stories that'll come up during this new podcast, and you can bet we'll be listening.
So say we all.