It would have been Spike Milligan's hundredth birthday today. One of the most influential writers and performers of the 20th century, his work was one of the biggest influences on everyone from The Beatles to Peter Cook to Monty Python to Douglas Adams to Eddie Izzard to Ricky Gervais. Great Britain today shares much of its cultural outlook DNA with Spike.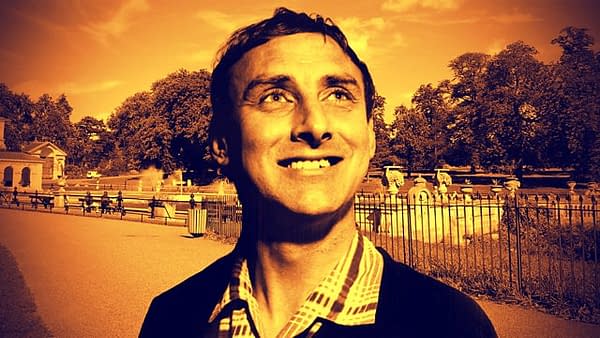 A surreal comedian, he wrote and starred in The Goon Show for BBC Radio in the fifties and sixties, a cultural milestone for a generation that bred comedians, musicians and artists both then and courtesy of repeats through the years. His Q5 TV series that followed ripped up the rules of television comedy long before Monty Python got to them.
And his books and poetry continue to be reprinted, revived and re-enjoyed by subsequent generations.
For me, it was listening to BBC Radio 2 repeats of the Goon Show on Sundays that got me addicted and opened my eyes to a world of possibilities.
And it's always a good excuse to see his acceptance speech for a Lifetime Achievement Award again. 'I'm not going to thank anybody because I did it all on my own.'
This bit of lip-synching from Q5 literally caused a university friend to injure himself, laughing.
And 'What Time Is It Eccles' from The Goon Show with Spike Milligan alongside Peter Sellers remains one of the most beautiful pieces of circular logic.
For the centenary, BBC Radio 4 has two shows, the first, Spike Milligan Inside Out in half an hour with Michael Palin and Spike's daughter Jane Milligan presenting previously unbroadcast material of Spike talking with his biographer, from the early eighties, alongside clips of his work, in two shows.. Later this afternoon, actor David Threlfall will star in Spike And The Elfin Oak, a fantasy inspired by Spike's attempts to preserve a carved tree stump in Kensington Gardens, by Ian Billings.
Spike Milligan died in 2002. He is buried, his graveyard inscription being a translation into Gaelic of the words ' I told you I was ill'.
If you know Spike's work, it's a chance to revisit some of his best. If Spike Milligan is new to you, a chance to realise how much everything you love came down to the work of one man.
Thank you Spike.