"Better Call Saul" Season 5: Goodbye, Jimmy & Hello, Saul… and Hank [OFFICIAL TRAILER]
Fans of Vince Gilligan and Peter Gould's Breaking Bad prequel/sequel/parallel series Better Call Saul have been waiting patiently to find out when Bob Odenkirk's Jimmy McGill/Saul Goodman would be hanging out his shingle for a fifth season – and now they know to save Monday, February 23, and Monday, February 24, for the show's two-night premiere return.
The faithful found themselves on the good news / bad vibe coming out of the Television Critics Association (TCA) winter press event, with Better Call Saul renewed for a 13-episode sixth-but-final season. Also at TCA, it was confirmed that Dean Norris and Steven Quezada would reprise their roles as DEA agents Hank Schrader and Steven Gomez. In addition, the late Robert Forster's Ed Galbraith aka The Extractor will make an appearance via footage shot during production of El Camino: A Breaking Bad Movie.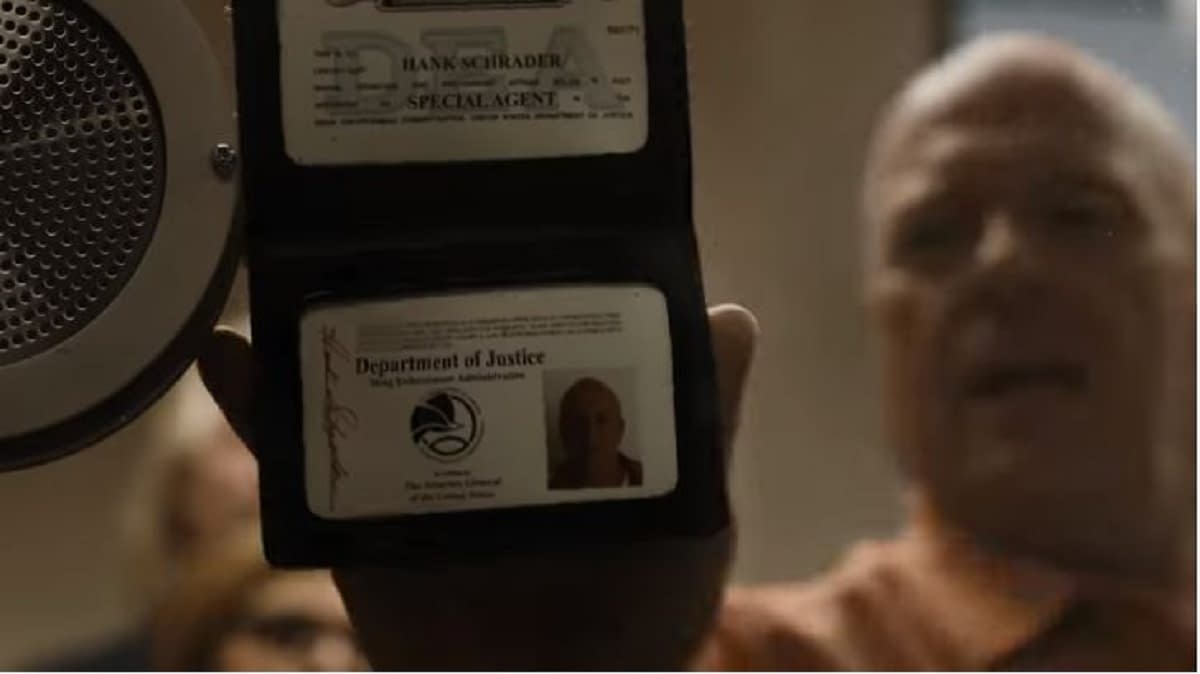 Now we're getting our first look at Hank's return in the following official trailer for Better Call Saul season 5 – as Jimmy's world begins to take on some very obviousand understandable Breaking Bad vibes:
https://youtu.be/qLbdg4WM8qc
Over the past several weeks, we've gotten a number of teasers and previews – as well as some very interesting "How To" videos from some very (in)famous faces. We mini-lessons on tying ties, making tacos, and ironing a proper shirt from Odenkirk's Saul Goodman, Tony Dalton's Lalo Salamanca, and Giancarlo Esposito's Gus – followed up by a video that helps with any Breaking Bad easter eggs you may have missed from last season.
But here's a not-so-friendly reminder of something we should never forget: Better Call Saul is a bad, bad show. People think they know what to expect from Jimmy – but they have no idea what "Saul Goodman" is "Capable Of":
Gilligan, Gould, Odenkirk, executive producer Melissa Bernstein, and more take us behind the scenes to show how Jimmy's final transformation into "Saul Goodman" escalates the dangers around him – and those still close to him. From Mike's (Jonathan Banks) new role in Gus' operations and the ascent of Lalo Salamanca to Jimmy reassuring Kim (Rhea Seehorn) "This is the way! It's gonna work!" (even though she knows in her head and heart it won't) – here's a closer look at what's ahead:
The following teaser (followed by preview images) has us concerned about Jimmy/Saul and Kim's (Rhea Seehorn) future. Because it's not that she's not going to like what she's about to hear – she's not liking what he's become: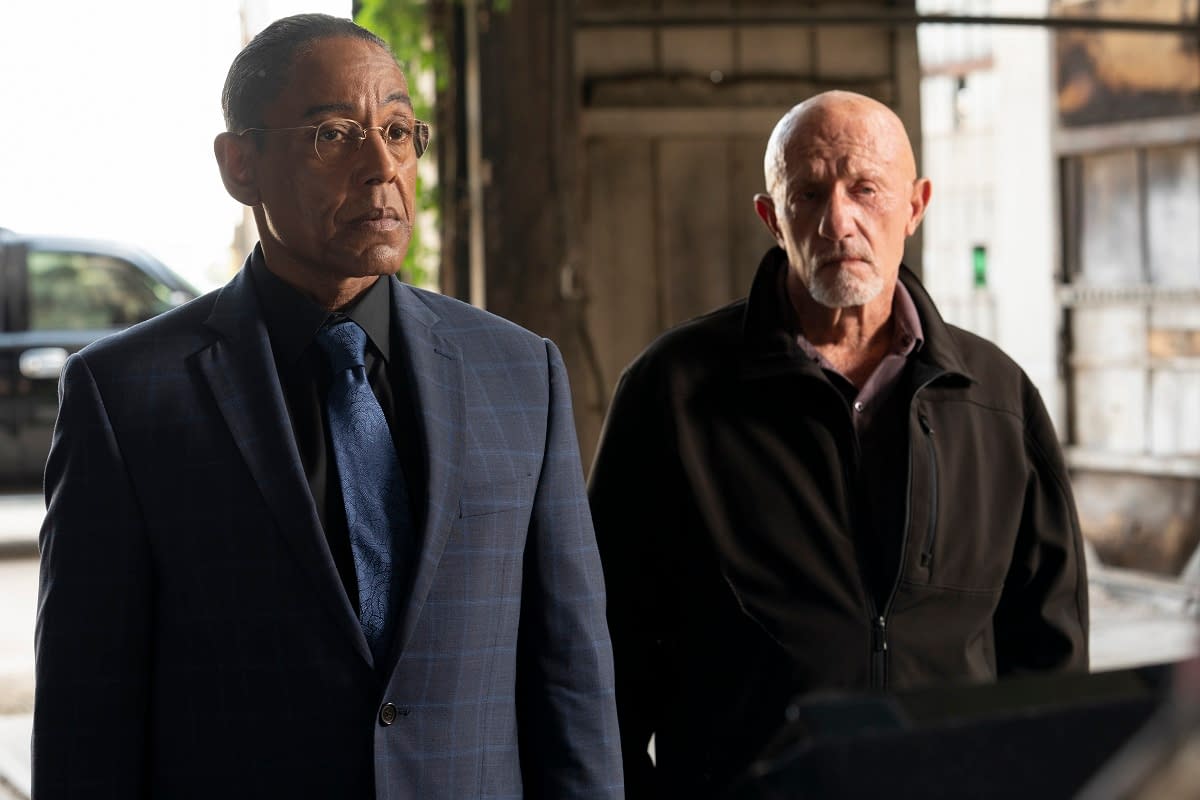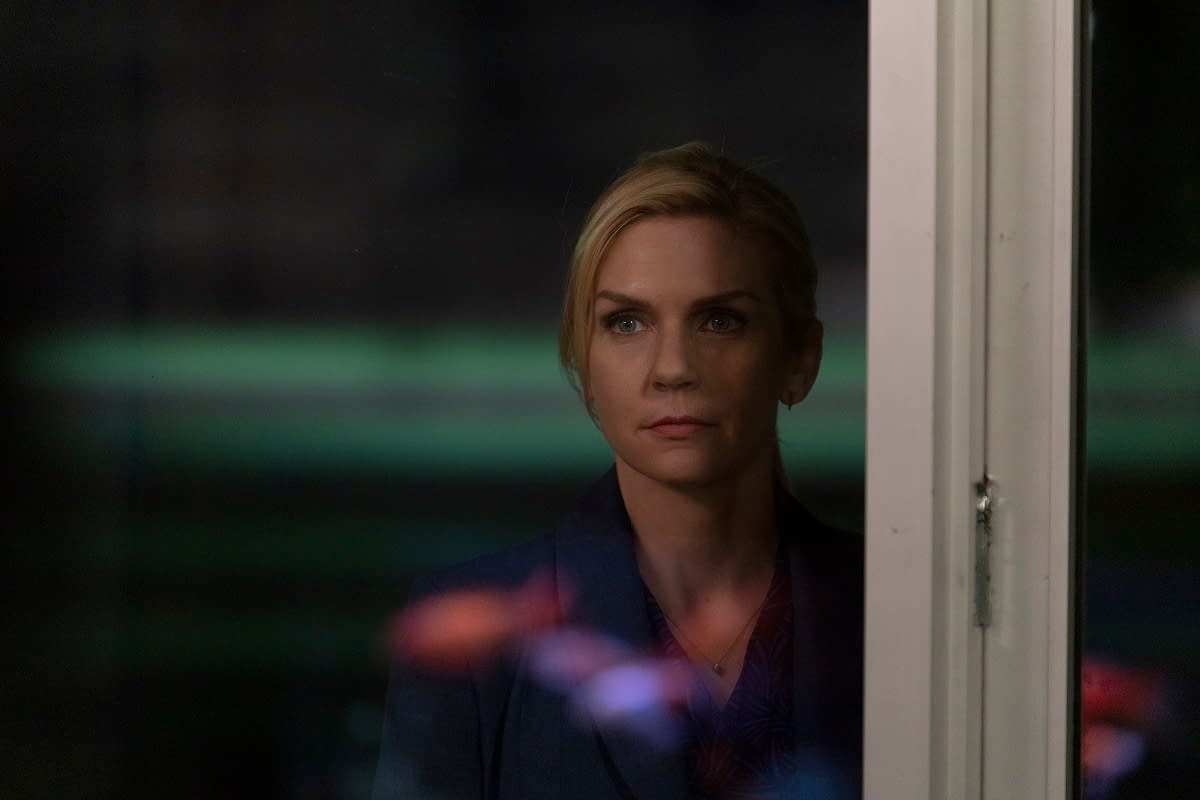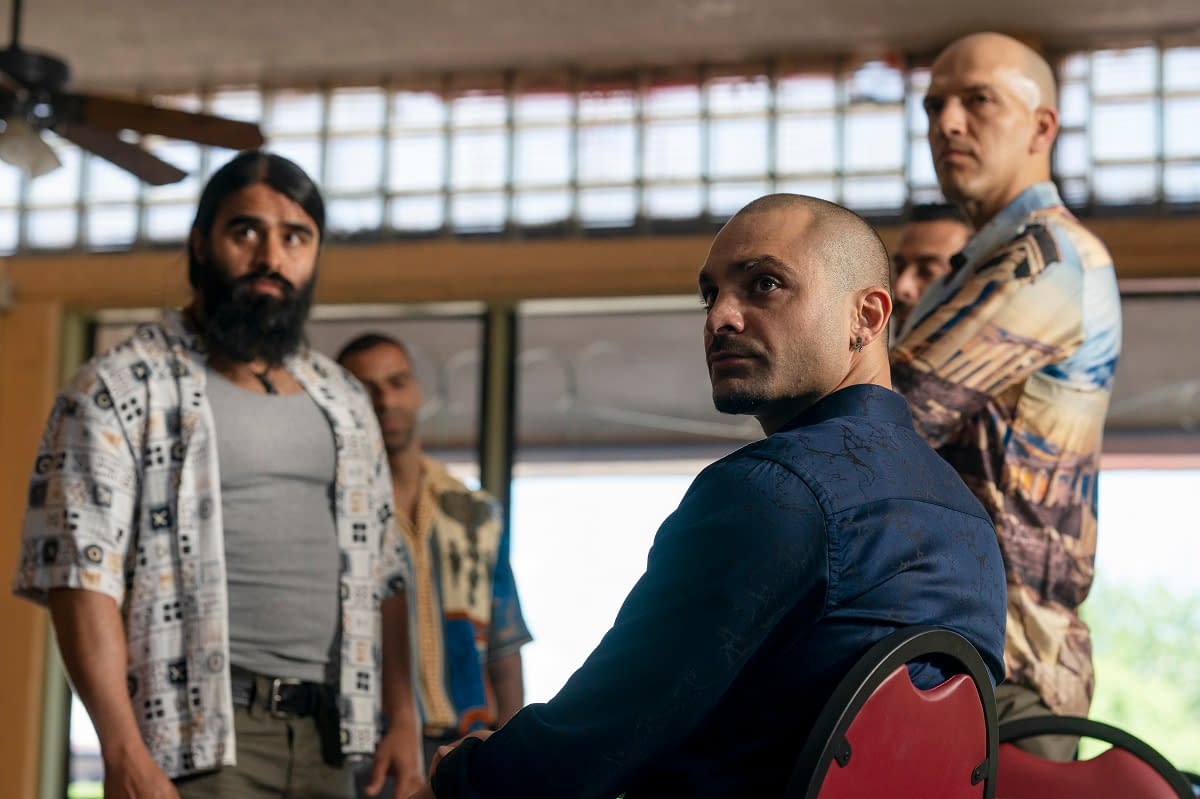 In the following behind-the-scenes video, Odenkirk and the rest of the cast and crew discuss what it was like returning as well as how the series is beginning to merge more and more with the main Breaking Bad narrative:
So how does a proper Better Call Saul fan get themselves ready for the series' return? By taking part in AMC's upcoming five-week ultimate Breaking Bad marathon – leading to the world television premiere of sequel film El Camino: A Breaking Bad Movie on Sunday, February 16 and helping usher in the return of Saul/Jimmy the following week. The marathon features all of the episodes from all five critically- acclaimed original seasons, kicking off on Sunday, January 19, and airing over five consecutive Sundays.
"The world of Breaking Bad remains iconic and AMC is the destination for all of its brilliant stories – from the place where it all began, Breaking Bad, to the gripping tale of Jesse Pinkman's continued journey in the feature film El Camino and the next chapter of 'criminal' attorney Jimmy McGill's transformation in Better Call Saul's upcoming fifth season. We are beyond proud to be the home for Vince Gilligan and Peter Gould's incredible vision and are endlessly in awe of the insanely talented actors that bring the vision to life."

– Sarah Barnett, President, AMC Networks' Entertainment Group and AMC Studios
Here's a look at how the calendar plays out for AMC's ultimate Breaking Bad/Better Call Saul marathon:
https://www.youtube.com/watch?v=aR3zRzAC3eU
Sunday, January 19
Breaking Bad season one (4 p.m. ET/3 p.m. CT)
Sunday, January 26
Breaking Bad season two (8 p.m. ET/7 p.m. CT)
Sunday, February 2
Breaking Bad season three (8 p.m. ET/7 p.m. CT)
Sunday, February 9
Breaking Bad season four (8 p.m. ET/7 p.m. CT)
Sunday, February 16
Breaking Bad season five (1:30 a.m. ET/12:30 a.m. CT)
El Camino: A Breaking Bad Movie (world television premiere – 8 p.m. ET/7 p.m. CT)
Sunday, February 23
Better Call Saul season five (10 p.m. ET/9 p.m. CT)
Monday, February 24
Better Call Saul season five premiere (encore – 7:45 p.m. ET/6:45 p.m. CT)
Better Call Saul season five, episode two (9 p.m. ET/8 p.m. CT)
With the new year upon us, the fine folks at Better Call Saul gave viewers a glimpse at what's to come – and if the adage "the clothes make the man" is true, than it's pretty clear Jimmy's just about finished his one-way journey to "Saul Goodman". But as the series begins heading into some very familiar territory, it's not just Jimmy/Saul who's finding himself facing some life-changing decisions.
Except there are no heroes here to "save the day"… they're on their own:
In the following premiere announcement video "Speedy Justice", it's pretty clear: Jimmy's taking a back seat to "Saul Goodman" – and as we know, once Jimmy flips that switch for real?
There's no going back… and as the teaser "Joyide" that follows show us, "no going back" might require a little murder on the mind of someone:
Odenkirk spoke with Deadline Hollywood's Matt Grobar to offer a few more insights into the previous season as well as why he sees the upcoming season as "the best season we've ever done."
If you're a fan of the Breaking Bad universe, the interview is an excellent use of your time (and you can find it here) – but our biggest takeaway/highlight definitely fell in the "Still to Come" category:
● Odenkirk isn't exactly shy when asked what he can say about the new season. Let's just say he's pretty pleased…
"It's the best season we've ever done, it's going to blow your mind, and I'm not kidding about either of those things. It's f*cking awesome. I can't wait for people to see it. It's just shattering in every direction, and I love it."
● Though he's promised Kim (Rhea Seehorn) that he would go the straight-n-narrow – considering most of us have seen Breaking Bad, we know how well that's going to go this season. What is it about Jimmy that keeps sending him down the path to "Saul"?
"Listen, I think he's impatient. He's a restless soul. A lot of people are, and it's almost considered a plus, or a positive, in our modern society. "You should be wanting more, and if you're not wanting more, I'm sure you feel like there's something wrong with you." But he does have a restlessness about him that he cannot calm down—and that, I think, causes a lot of his behavior, and choices that cause all kinds of trouble for him."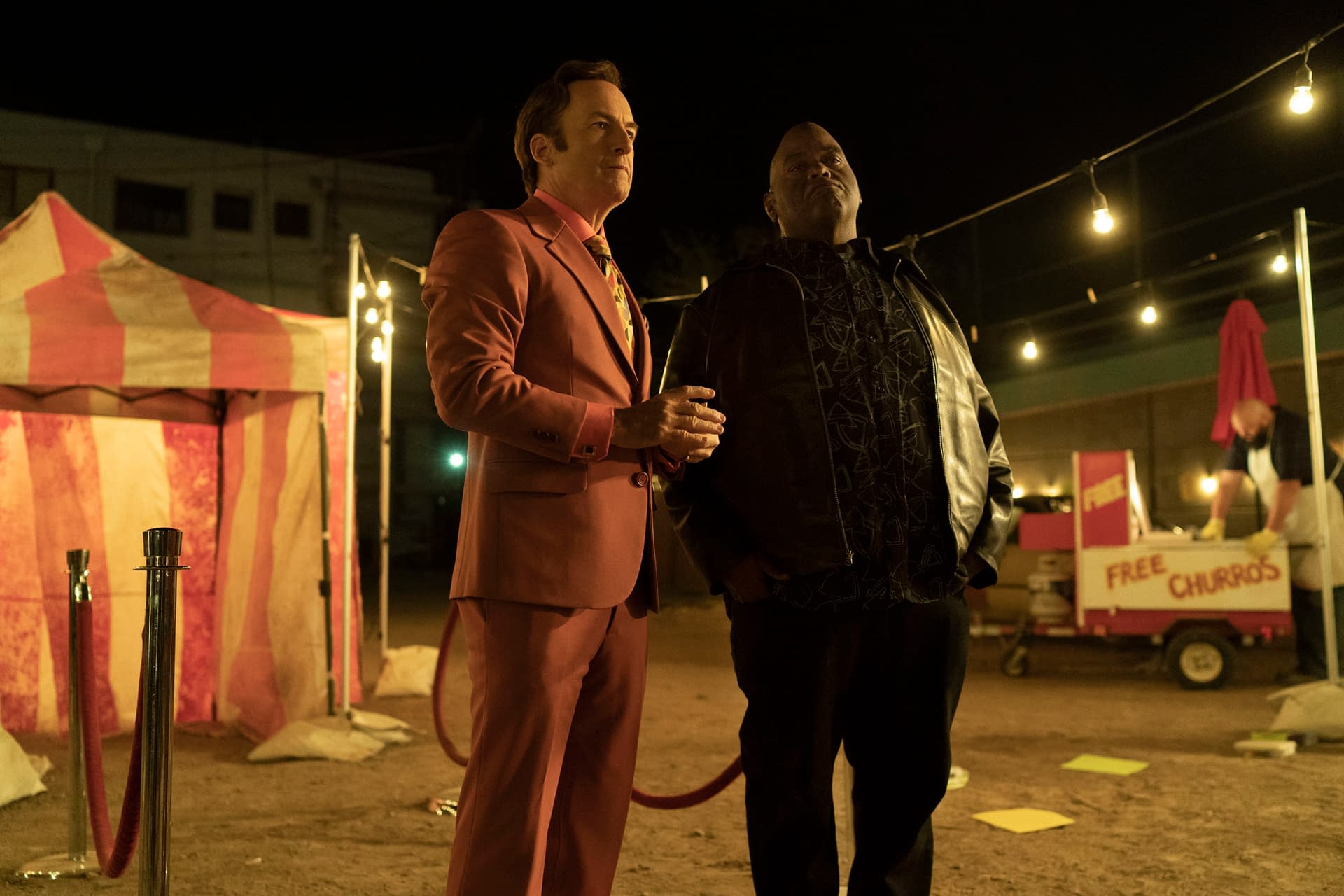 Gould offered more insights into what viewers can expect when the series returns. Sitting down with Variety to discuss his approach to risky storytelling and season/series finales, Gould made two particularly interesting reveals:
● When asked about narrative ideas that "scare him" and how to make sure storylines stay true to the characters, Gould pointed out that it's the characters themselves that will sometimes dictate where a story goes – then revealing that an episode during the upcoming fifth season that will best represent what they've always wanted the show to be:
"And the greatest thing is when the characters surprise you — when you go, "Wait a minute!" This season, Jimmy's lost his brother, he's pulled into himself and is almost affect-less, but then what gets him going is a job interview, is conflict, and you start to dig in, but we didn't know that. We have ideas about where things are going but 99% of the time we're wrong.

Right now we're towards the end of shooting Season 5, and we have an episode which is pretty much what I pictured the show to be before we started, and it took us more than 40 some-odd episodes to get there. I think the great thing is you have to have faith in the characters. I personally save the fear for after the thing is done, so that's why the screening is scary to me, but actually, when we're writing and we're on the set, that feels right and that feels good."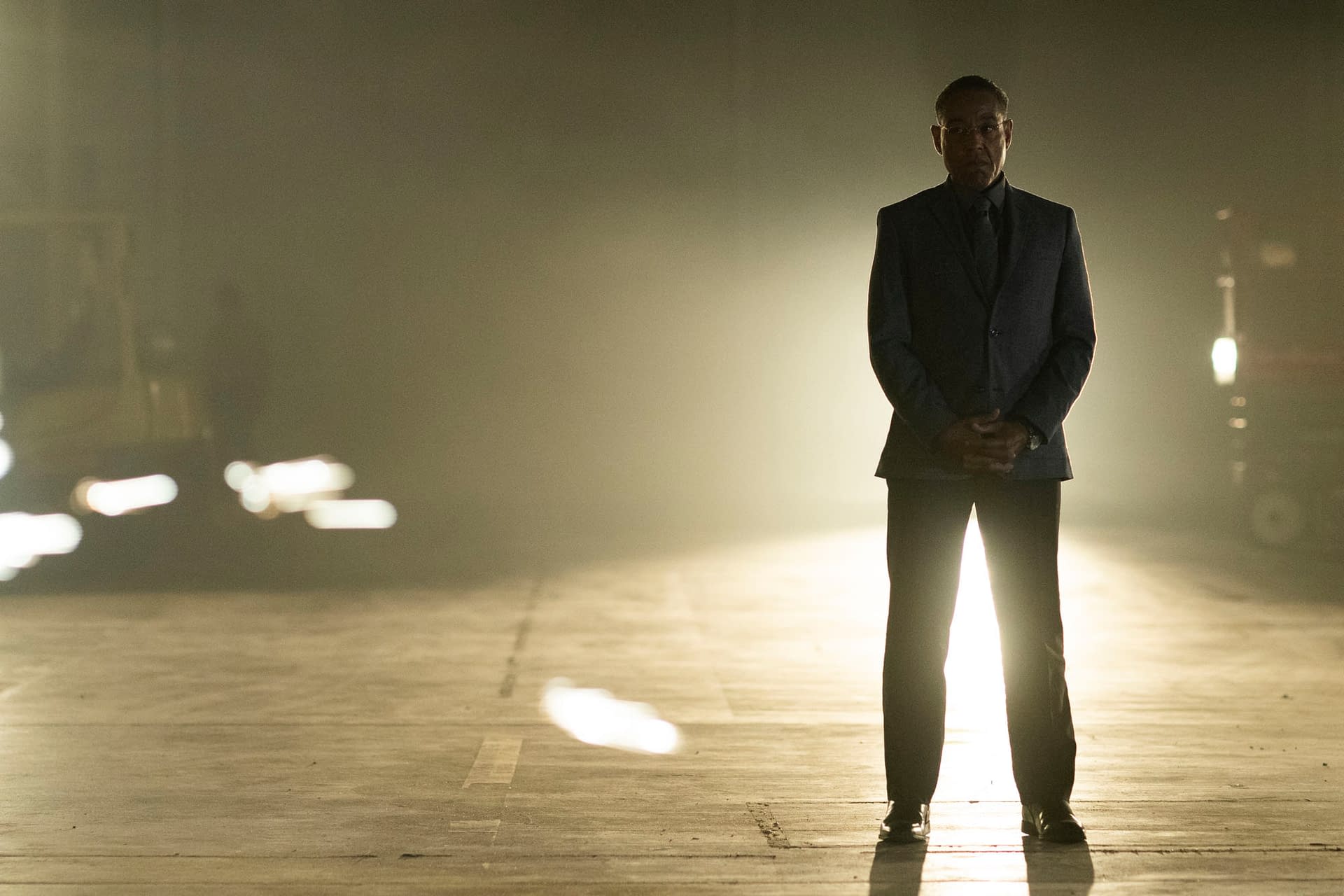 ● When asked how he balances bringing Better Call Saul to a satisfying ending that stays true to the series while also bridging nicely into Breaking Bad, Gould admitted that it can be a bit of balancing act – but as work progressed on the fifth season, "the fog cleared a little bit" on how the series will end:
"It's like the devil's Rubik's cube because we not only have 40-something episodes of this show, but we also have 62 episodes of "Breaking Bad," all of which have to make sense together. We have a list of "got to pay off stuff," and the trick is we have to honor who these people are, but at the same time, we want the whole thing to be a coherent, internally consistent story, and that is really, really tough. Interestingly, we sort of had the same problem on "Breaking Bad," and I remember Vince saying over and over again, "What if we hadn't put that machine gun in the trunk?" Eventually we figured out why there was a machine gun in the trunk. This whole show is one giant machine gun in the trunk!

There are so many things we have to honor and pay off before the end, and at this point we are closer to the end than the beginning, so hopefully we'll figure it out; we do have a lot of really smart people. I will say that the ending was really unclear to me but then as we were working on Season 5, it's possible the fog cleared a little bit, but it's possible it may end up not being true."