"Big Little Lies" Season 2: So What's Left for "The Monterey Five"? [SPOILER REVIEW]
Whoa! HBO's Big Little Lies usually delivers pretty intense episodes, but "The Bad Mother" and "I Want to Know" took viewers on one helluva roller coaster ride. After Celeste's (Nicole Kidman) character is brutally attacked in the courtroom, she turns the tables and interrogates Mary Louise (Meryl Streep) in open court. Confrontations, revelations, confessions and reconciliations wrap-up an illuminating sophomore season. We've already thrown all the awards at this brilliant cast and won't stop singing their praises – no matter how long Big Little Lies lasts.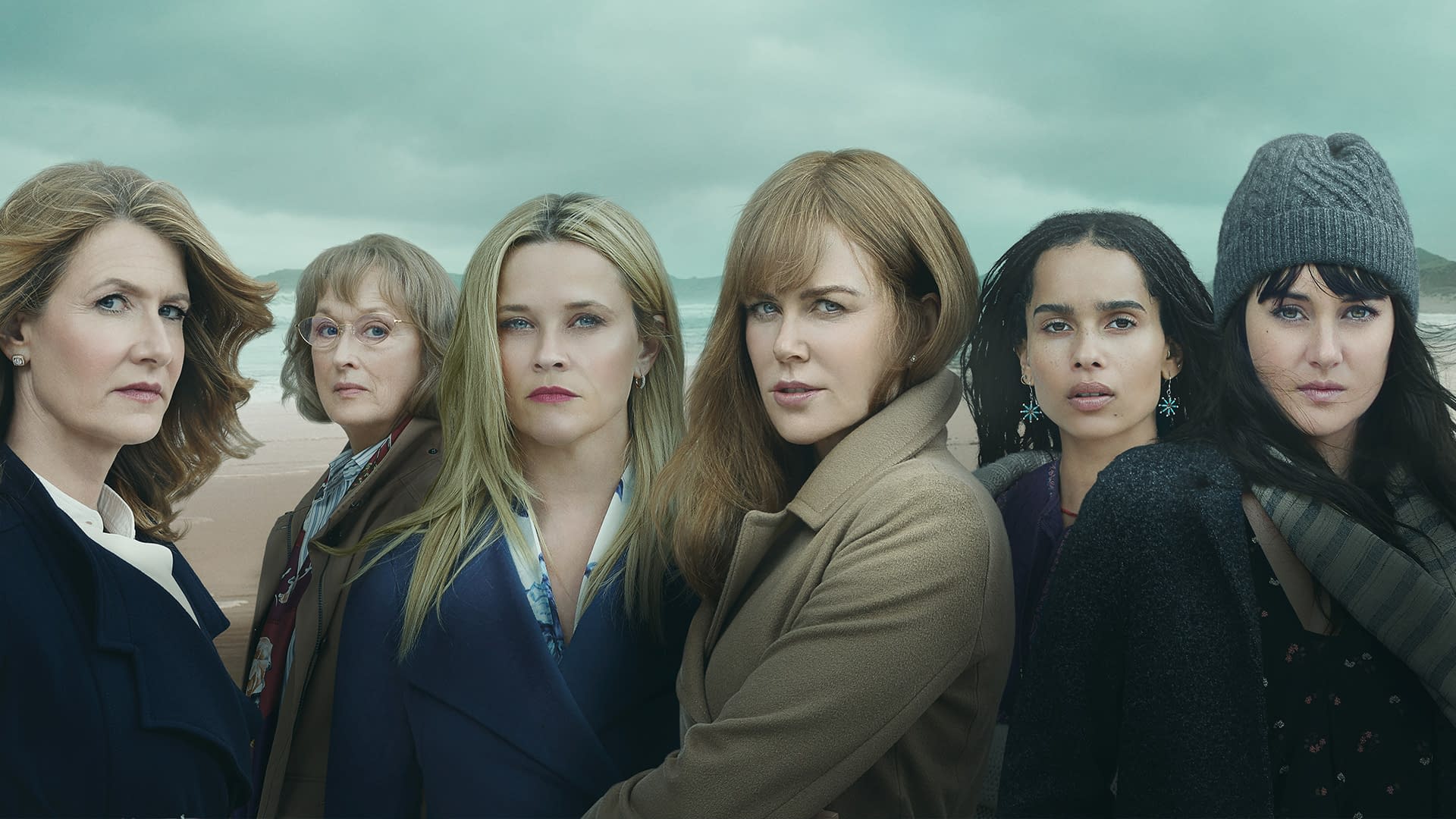 Before diving into Celeste's courtroom drama, let's rehash the other juicy storylines that get some titillating attention. For starters, I love how Jane (Shailene Woodley) immediately confronts Corey (Douglas Smith) after Bonnie (Zoë Kravitz) sees him at the police station. She jumps to the same conclusion we reach – is he an undercover cop?!? Nope.
Corey insists he was simply called in for questioning and warns that Detective Quinlan (Merrin Dungey) is determined to catch the Monterey Five. Dun, dun dun…
However much we'd like to believe him, we're totally on Jane's side and understand why she's ghosting him. She already has trust issues and she barely started making progress with Corey, then this happens. Poor Jane!
I remained mildly suspicious between episodes. Is Corey pursuing Jane because he genuinely cares? I hope he really is just a good guy caught in a messy situation. He's so wonderful with her and Ziggy. I want to believe he's being earnest and will see this through. It would be a shame to think the relationship they established is all a – wait for it – lie.
Thankfully, Corey proves to be the real deal. In the end, Jane feels safe enough to share an intimate and loving relationship with him. Yay! Jane deserves happiness after the hell Perry (Alexander Skarsgård), Mary Louise and this case put her through. Unfortunately, all of the ladies aren't so lucky in love.
Gordon (Jeffrey Nordling) keeps digging a deeper ditch for himself with each new disclosure. As if these bankruptcy hearings aren't humiliating enough, Renata (Laura Dern) learns about her husband's cliched affair with their au pair in open court. Are you effing kidding me, Gordon?!? What Renata is going through royally sucks, especially since she works so hard to establish a high society life for her family and give Amabella the kind of childhood she dreamed of having.
Renata's reactions under these heartbreaking circumstances are absolutely hilarious! Dern must be having so much fun playing her this season. Some actors chew scenery while others excel at chewing out their scene partners. Gordon and his "twerp mouth" reside in the doghouse until he pulls the final thread that completely unravels Renata's understanding and patience.
Their world is falling apart and this imbecile is obsessing over his toys. He had a buddy buy his collection under the condition that Gordon continues to keep them in pristine condition.
Basically, Renata loses everything and the jerk that caused this whole mess gets to keep his prized possessions. Who wouldn't be livid? Honestly, I'd be disappointed if Renata didn't grab the bat and bash everything to pieces. Gordon is lucky she didn't pummel him. I think it is safe to assume their marriage officially over at this point. As we know, several relationships have been in question this season.
There is a lot of hostility going around. While Jane and Renata's confrontations merit a response from their partners, Bonnie's tirade falls on presumably deaf ears. We've learned that she harbors a great deal of justified resentment against Elizabeth (Crystal Fox), but we didn't realize how bad it truly is until she reads her painstaking letter.
Bonnie has a lot of baggage to unload and Elizabeth needs to hear everything before she enters the next life. Neither will find peace without this confrontation and absolution of sorts. As Bonnie tearfully releases years of harbored resentments, we begin to realize that this may be the cause of her foreshadowed drowning.
Everything she's done in her life has been a result of her mother's abuse. Her pent up rage against unpunished bullies is unleashed on Perry . She even settled for Nathan (James Tupper) and doomed herself to a loveless marriage in order to escape her mother. She's been suppressed her whole life and can't take it anymore.
https://youtu.be/zQbjDEWZ_t4
After Elizabeth dies, Bonnie decides to truly live her own life. She begins by breaking up with Nathan. Of course he's shocked by this, despite the fact that she's been pulling away from him for months. Nathan has been a tool from Day One, so I'm glad Bonnie is leaving him. Here's to new beginnings!
Catharsis is contagious as the Monterey Five come to terms with the consequences for their actions. Madeline (Reese Witherspoon) miraculously remains fairly unscathed as Ed (Adam Scott) gives her another chance. He made her sweat it out briefly before laying out some ground-rules for their marriage. They get a fresh start and sweetly renew their vows surrounded by their children. Awwww. Maddie better not let him down again. Nathan is a d-bag, but Ed is a good man and deserves respect. She has the best spouse of them all!
https://youtu.be/20pgvDbPxS8
And now for the piece de resistance…Celeste and Mary Louise courtroom showdown. Celeste has been mercilessly humiliated as every intimate detail of her shattered life is brought into question before an audience of dear friends and judgmental strangers. Her questionable one-night stands, the one time she loses her temper with the boys, and her open struggle with mourning Perry's loss are all used against her. Surely, the sum of the minor and happenstance shortcomings do not merit losing custody of her children. After all, everyone has secrets that can be exposed if you know where and when to dig them up.
In Round Two, Celeste brilliantly acts as her own lawyer and questions Mary Louise on the stand. She uses years of pillow talk confessions from Perry to unearth his mother's emotional and psychological abuse over the years. In a quick flashback, we see how Mary Louise blamed Perry for causing the car accident and, consequently, his brother's death. That is a lot to put on a little boy. Now that Perry is dead, all we hear Mary Louise say is how her perfect boy was taken from her. But while he was alive, she endlessly berated him.
Celeste solidifies her case by presenting video the of one her horrendous beatings. Despite her greatest efforts, the boys still saw how their father treated her. Why they filmed it is beyond me, but it's a good thing they did. There is no denying Celeste's pain and the lengths she's gone to in an attempt to protect her boys.
https://youtu.be/pkm5NIfGQ8s
By the end of Big Little Lies, Mary Louise is devastated and publicly shamed. Although she deserves a taste of her own bitter medicine, Celeste still takes pity on her. After winning the case, she has the boys comfort their grandma. Mary Louise can still be a part of their lives, but now she knows her place. This was one gratifying and soap operatic examination of the "cast the first stone" parable. Lesson learned.
Although it seems like these ladies have gotten their lives back on track, the Monterey Five will not find peace or move on until their big little lie is put behind them – once and for all. In an act of solidarity and sisterhood, these courageous, empowered, independent, strong-willed, and flawed tribe of women walk into the police station. Setting the real story straight is the only way they can find solace. Plus, it is the right thing to do.
As Season 2 concludes, we assume the truth sets them free. There is a satisfying sense of closure to the Monterey Five's journey. They lived on edge with the big lie and harbored intimate secrets – all of which have been unearthed throughout this tumultuous season. Or so we think.
Does this confession complete their story? Are our hopes for BLL3 lost? Nope!
HBO Programming President Casey Bloys remains open to more episodes of Big Little Lies exploring the Monterey Five's future together. During the network's summer Television Critics Association (TCA) press tour last month, Bloys said they are happy with the closure provided by Season 2, but keeps hope alive for more with this simple tease: "Never say never."