Not all Cyberman have handles… that may be the most chilling line in today's Doctor Who Lockdown special episode, The Best Of Days, written by Steven Moffat and starring as Bill Potts played by Pearl Mackie and Matt Lucas as Nardole, directed and creatively supervised by Rachel Talalay with new music from Murray Gold, and visuals from Ben Pickles of John Smith VFX. Working as a sequel to their finale on Doctor Who, it sees Nardole orbiting a black hole, still in the colony ship from World Enough and Time and The Doctor Falls, keeping the colonists safe from Cybermen. But keeping his spirits up by sending messages to Bill Potts.
Bill Potts was saved in that episode by an alien godlike being – and girlfriend – Heather. They are on a break at the moment, and Bill is back at home on Earth in lockdown, going on socially distanced dates, but also reveals she is attended a Black Lives Matter march in London. No specifics are mentioned, there's only so much Nardole would understand after all, but 'not all Cyberman have handles' seems to travel.
Cybermen are a fascist species who seek to transform all life into versions of themselves or, if unwilling, wipe them out. In the process, destroying all vestiges of emotion. And, yes, they often have handles on their heads. Bill Potts herself as transformed into one before being rescued by Heather…
It all makes for a relevant but also timeless mini-episode, a coda for Moffat's Doctor Who. With a few moments that show that Bill is unaware of the Doctor's current form… but she could be on her way as well.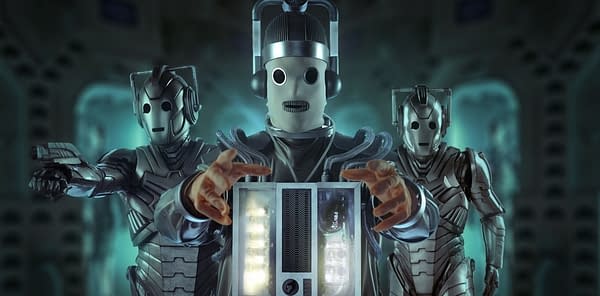 After the terrible events of World Enough and Time/The Doctor Falls, Bill Potts and Nardole are trying to keep their spirits up… Written by Steven Moffat and starring Pearl Mackie as Bill Potts and Matt Lucas as Nardole, this video was home-produced remotely during the 'lockdown' period of the COVID-19 outbreak in June 2020. All involved in the making of this video contributed their time and talent for free. If you enjoyed it, it would great if you could consider making a donation to support one of the Black Lives Matter organisations chosen by Pearl Mackie… 1) The BLACK LIVES MATTER movement in the UK. Donate here: https://www.gofundme.com/f/ukblm-fund
2) THE BLACK CURRICULUM, which aims to get accurate Black history on the curriculum in the UK as soon as next year. Support this initative by donating here: https://www.theblackcurriculum.com/do…
3) CAMPAIGN ZERO in the US, which has a brilliant, clear strategy called '8cantwait' consisting of 8 policies which will, if passed, decrease police violence by 72%. Donate via their homepage here: https://www.joincampaignzero.org/
4) BLACK VISIONS COLLECTIVE, a black, LGBTQ+ led organisation that is committed to dismantling systems of oppression and violence and shifting the public narrative to create long-term change. Donate via their homepage here: https://www.blackvisionsmn.org/
5) And finally, the BLACK LIVES MATTER fund in the US. Donate here: https://secure.actblue.com/donate/ms_…
THE BEST OF DAYS Nardole – MATT LUCAS Bill Potts – PEARL MACKIE Written by STEVEN MOFFAT Music by MURRAY GOLD Creative Supervisor RACHEL TALALAY Visuals by BEN PICKLES Thanks to BENJI CLIFFORD Produced by EMILY COOK #DoctorWho is licensed by the BBC. All rights belong to the rightful copyright holders.
Enjoyed this article? Share it!