Billions: Asia Kate Dillon Calls for Ending Gender-Specific Categories
Billions star Asia Kate Dillon (Taylor Amber Mason on the hit Showtime series) isn't new to the fight to eliminate gender-specific categories. In 2017, the first gender nonbinary performer to play a nonbinary character on a major television went public with their request for the TV Academy to clarify its gender distinctions. Dillon would go on to be entered in the Best Supporting Actor category and then nominated as Best Supporting Actor in a Drama Series for the Critics' Choice Awards. Flash ahead to 2020, with Dillon selected to be a member of the Screen Actors Guild (SAG) Awards' motion picture nominating committee.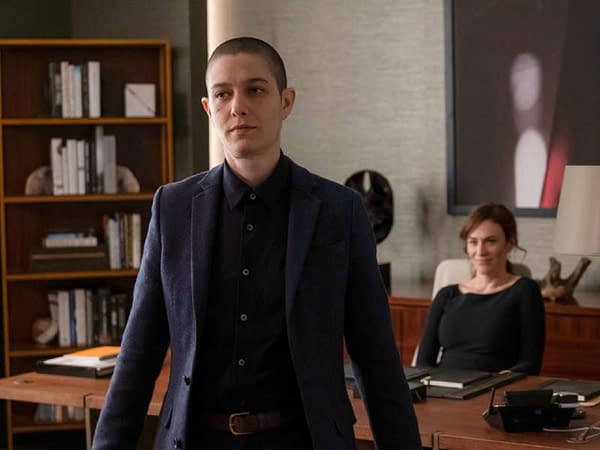 Seizing the opportunity to pursue the issue further, Dillon penned a letter to SAG-AFRTA's SAG Awards committee members JoBeth Williams, Daryl Anderson, Jason George, Elizabeth McLaughlin, and Woody Schultz requesting that the committee moves to permanently eliminate gender-based awards categories. Here's a look at a few excerpts from the letter (first reported by Variety here), beginning with Dillon offering some backstory before getting to the heart of their letter:
"In late 2016, I publicly came out as non-binary, meaning I'm not male or female, or man or womxn. I use they, them, their pronouns. If you google my name and "acting award categories," you will find I have been calling for an end to segregated acting categories. Separating people based on their assigned sex, and/or their gender identity, is not only irrelevant when it comes to how an acting performance should be judged, it is also a form of discrimination. Not only do your current categories erase non-binary identities by limiting performers to identifying as male or female / man or womxn ( which not all SAG members, like myself, do), they also serve as an endorsement of the gender binary at large, which actively upholds other forms of discrimination, including racism, the patriarchy, and gender violence."
The Billions actor goes on to give an example of how non-gender specific acting awards have already been in play: "Not only is it possible to combine all of your leading and supporting nominees into the same gender-neutral categories, there is precedent: On May 7, 2017, I presented the first gender-neutral acting award, to Emma Watson, at the MTV Movie & TV Awards, noting, 'It's so cool to be here presenting the first acting award ever that celebrates performance free of any gender distinctions. Tonight we celebrate portrayals of the human experience, because the only distinction we should be making when it comes to awards is between each outstanding performance.'"