'Black Lightning' Season 2, Episode 15 "The Book of the Apocalypse: The Alpha" – The Beginning of The End [PREVIEW]
We only have two new episodes of the CW's Black Lightning left for this sophomore season, which feels like a weird time to start "chapter one" of a new "book" of episodes… but whatever. No one at the network asks for my opinion on how to name these episodes, so what do I know? But if they did, we would also need to discuss how long these episode titles have been this season.
Anyhow… here's the promo and overview for this season's penultimate episode of Black Lightning, "The Book of the Apocalypse: Chapter One: The Alpha":
Black Lightning s02e15 "The Book of the Apocalypse: Chapter One: The Alpha": SEASON FINALE PART ONE – Lynn (Christine Adams) counsels former pod kid, Wendy (guest star Madison Bailey), in how to live in a world that's new to her but the fate of the other pod kids remains in doubt. Meanwhile, Anissa (Nafessa Williams) figures out Grace's (guest star Chantel Thuy) secret. Lastly, Jefferson (Cress Williams) tries to install a superhero code for his metahuman offspring, but Jennifer (China Anne McClain) insists on taking revenge on Tobias (Marvin Jones III) for her boyfriend's death. Damon Gupton and James Remar also star. Salim Akil directed the episode written by Jan Nash.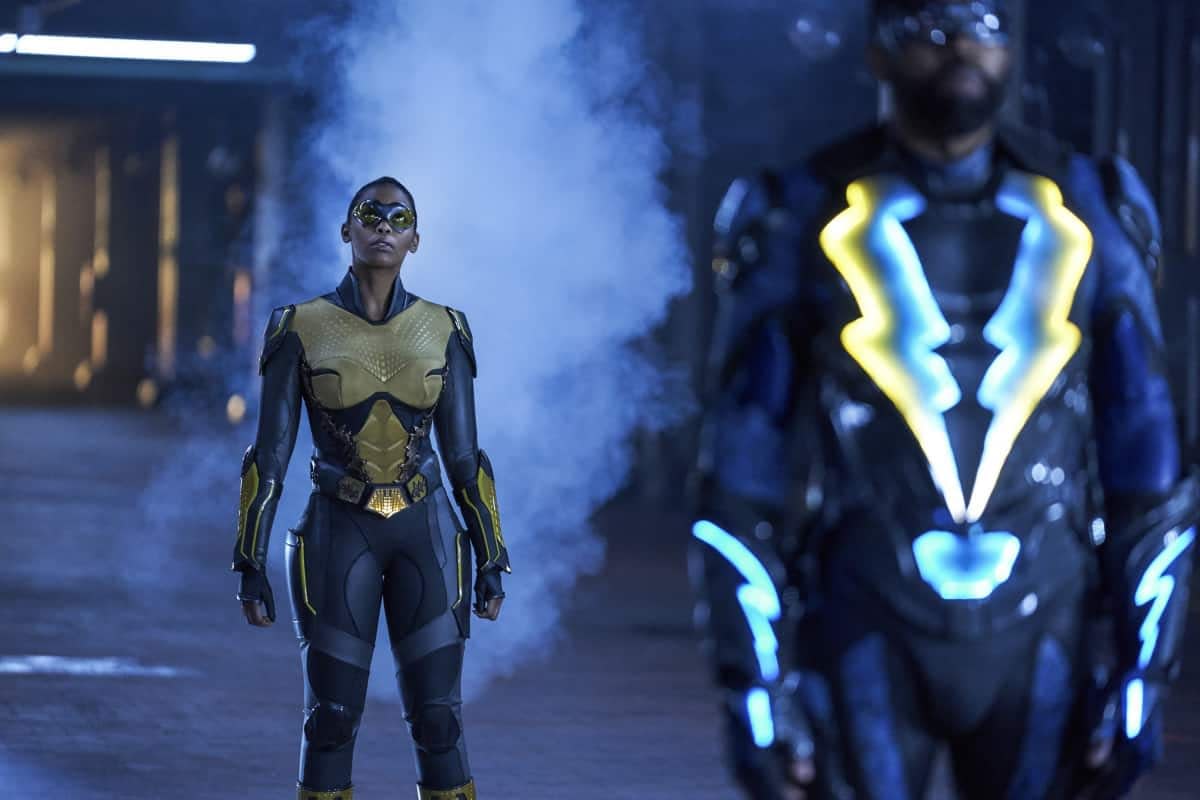 It sounds like Lynn and Jeff are in full mentor role in this week's episode.
Will Lynn's care and concern for Wendy rankle Agent Odell? Yes.
Is it a bit hypocritical of Jeff to try and lay some superhero ground rules for the girls after his past of trying to take out Tobias, too? Yes.
Is that what parenting is? Caring for your kids – even if they're not biologically yours but still in your care – and trying to teach them so they don't make the same mistakes you've made?
Yes.
The CW's Black Lightning airs Monday nights at 9 p.m. ET / 8 p.m. CT., with the season 2 finale airing Monday, March 18.
CW's Black Lightning stars Cress Williams as Jefferson Pierce/Black Lightning, Nafessa Williams as Anissa Pierce, China Anne McClain as Jennifer Pierce, James Remar as Peter Gambi, Damon Gupton as Inspector Henderson, Christine Adamsas Lynn Pierce, Marvin Jones III as Tobias Whale, and Jordan Calloway as Khalil Payne. Greg Berlanti, Salim Akil, Mara Brock Akil, and Sarah Schechter serve as executive producers.