Black Lightning Season 1: What is the A.S.A. that Gambi was Talking About?
There were a lot of revelations in this weeks Back Lightning, aptly titled The Book of Revelations. The biggest one has to do with Peter Gambi (Jame Remar) and his past. I'm going to mention some spoilers, so of your not caught up… go watch and come back. Otherwise scroll down to learn about the A.S.A.
.
.
.
.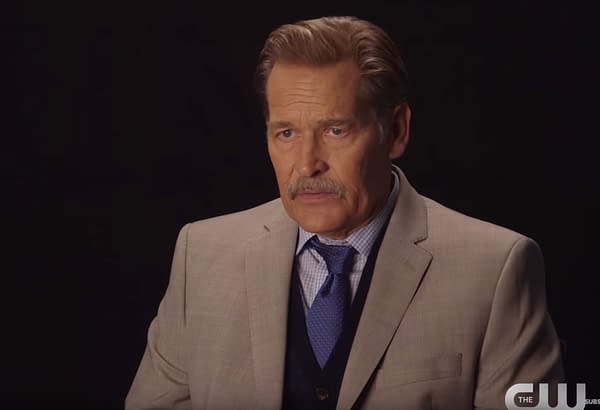 Remar's portrayal of Gambi has been brilliant. We meet him as a simple tailor and friend to Jefferson (Cress Williams), but then we learn of his computer skills, his tech building and then finally we watch stroll through a night club and kill three guys while dressed like the Shadow. But with the death of Lady Eve (Jill Scott), everything has come unraveled. Gambi can no longer protect Black Lightning from Martin Porter (Gregg Henry) and the American Security Agency (A.S.A.). And then Lynn (Christine Adams) makes a connection between Green Light, the new drug on the street, and a mysterious powder that was found in Alvin Williams locker. Gambi has to come clean, letting Jefferson know his real name is Peter Espisito and that he worked for the A.S.A. Twenty years back they were experimenting on the people of Freeland, giving them drugs that were meant to keep them docile. But a side effect for some was they got super powers. Gambi was sent to find those with powers, but when he learned that children were dying, he leaked the information and the powder to Alvin in hopes he would get the word out. Instead it got Alvin killed. We'll find out the fall out from the truth next episode.
Meanwhile, what exactly is the A.S.A.? It is from the comics, a U.S. Government organization that put together a team of super-agents that they called Force of July. It was run by corrupt people including Abraham Lincoln Carlyle who tried to use Psycho Pirate's Medusa Mask to get himself elected president. The Force of July was made up of highly patriotic looking costumed characters including Lady Liberty, Major Victory, Mayflower, Silent Majority and Sparkler. They went up against the Suicide Squad and the Outsiders… the latter having Black Lightning as a member. Carlyle and most of the Force of July were killed in battle. The American Security Agency was disbanded.
This could easily be them just borrowing the agency name and that's it. Or… it could be the start of a bigger story since both Anissa (Nafessa Williams) and Jennifer (China Ann McClain) have tapped into their powers, putting them up against a super team would make sense and they could easily make them the people that got powers that Gambi found for the A.S.A. It will be interesting to see how that works out going forward.