Bob's Burgers, Family Guy & The Simpsons Cook Up a New Crossover
In FOX's The Simpsons/Family Guy/Bob's Burgers crossover moment, Peter's plan to avoid Lois finds him joining Homer at Bob's restaurant.
---
It's not like Peter Griffin, Homer Simpson & Bob Belcher don't have more than enough reasons to hang out together. Along with sharing the same Sunday night neighborhood on FOX, their three shows were recently given two-season renewal orders that will run them through the 2024-2025 broadcast cycle. For The Simpsons (the longest-running scripted series in television history), that means Seasons 35 & 36, with Family Guy picking up Seasons 22 & 23 and Bob's Burgers returning for Seasons 14 & 15. Now, nearly ten years after they appeared together on the same screen (in the 2014 Family Guy episode "The Simpsons Guy"), the trio are reuniting at Bob's restaurant during the March 12th episode of Family Guy.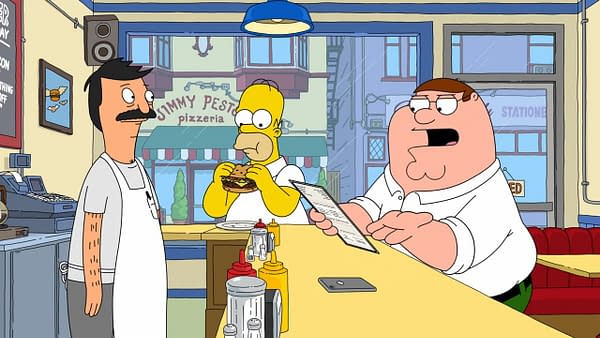 While we don't want to spoil too much (what with the clip waiting below and all), we can say that it begins with Peter's efforts to avoid having to listen to Lois' dream and ends up with Peter at – you guessed it – Bob's Burgers. Inside, we see Homer clearly enjoying his burger as Peter asks Bob why the menu's running two sets of prices. We'll leave it there because the punchline deserves respect – take a look:
"With this trio of renewals, we celebrate excellence in animation on Fox, our wonderful, longtime partnership with 20th Television, and the brilliant creators and incredible voices behind these forever favorites," said Michael Thorn, President of Scripted Programming for Fox Entertainment. "Three-plus decades of 'The Simpsons,' more than two decades of 'Family Guy,' and over a decade of 'Bob's Burgers' proves the enduring power of the animation genre on our network and the infinite fan affinity for these outrageously funny comedy classics." Marci Proietto, EVP of 20th Television Animation, added, "Across 750 episodes of The Simpsons, 400 episodes of Family Guy, and 250 episodes of Bob's Burgers, we couldn't be more proud to continue delivering these three animated hits with the most brilliant teams in animation. Our relationship with Fox over the past three decades has allowed this trio of shows to thrive, grow and deliver immeasurable moments of hilarious and irreverent entertainment for fans, and we are absolutely thrilled that Fox is doubling down on each of these iconic shows."