Brandi Rhodes Says Jake the Snake Will Answer For His Actions
Last night on AEW Dynamite, the world witnessed the most important pro wrestling return in the past decade. Of course, we're talking about the return of Jake The Snake Roberts putting a snake on defeated opponents. It all went down after the match between Lance Archer and QT Marshall, but it started before the match when Brandi Rhodes called out Roberts in a video package. Here's what she had to say:
Hello Mr. Roberts. I decided to take a moment to respond to your advances. Lance Archer's brutal attack on my brother-in-law, your constant name-calling of me on national television, those were all messages clearly received. And I've studied you long enough, I think I know what happens next: a confrontation. You'll confront me in the ring, your Murder Hawk muscle in tow. Maybe you guys back me into a corner, make me feel real small, scare me. And just as I begin to perfectly personify the damsel in distress, here comes my hero: my husband, running to my rescue and right into your trap. Textbook stuff, really, I mean in your heyday, that would be perfect. But today? There's a hole in that plot. It's not 1991 anymore, Jake, and I remember what you did. But you're not gonna slap me in my face and have it go unanswered. If you slap me in my face, I'm gonna hit you back. My husband is the good guy, side of the company, shaking hands and kissing babies, and me, well, I'm more challenging to pin down. My mother told me something a long, lomg time ago and it really resonated with me. She said: 'don't f**k with people you don't know.' You might know my family, our history, you know most of the people that I do business with today and you've known them for longer than me, but you don't know me. I'm not Caesar's Cleopatra or Samson's Delilah. I'm not Bill's Monica. I'm Brandi Rhodes. I am the Chief Brand Officer of All Elite Wrestling, and from now on, you will keep my name out of your dirty old mouth.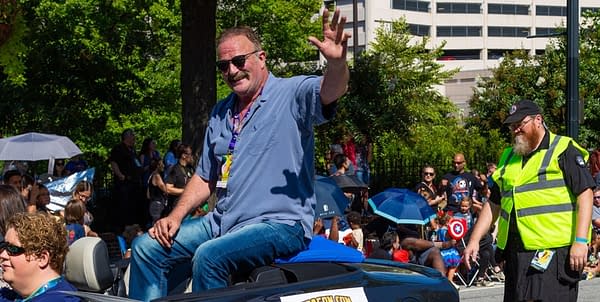 During the match, when the action spilled outside, Dr. Britt Baker, who was in the audience, hit Marshall with her shoe. Rhodes took the shoe from Baker and threw it into the crowd. After the match, which Marshall lost, of course, Baker got her revenge, hitting Rhodes with a DDT at ringside. Baker threw her into the ring (which took some effort), and Archer dragged Brandi to the middle of the ring as if he was going to do something to her. But it was Jake the Snake who took over, entering the ring and with a snake, which he laid across Brandi's body. Jake then climbed on top of the Snake and Brandi just to add insult to injury.
On Twitter today, Rhodes responded, tweeting, "I'm alright. …but Jake, everything I said about you, was true. And you will answer for your actions. I've never been afraid of snakes." Archer, with Roberts in his corner, will face off against Brandi's husband, Cody Rhodes, at Double or Nothing in just a few weeks. Differences will be settled, but who will walk away on top remains to be seen.