Brooklyn Nine-Nine: Terry Crews On Protests, "Black Supremacy" Tweet
Brooklyn Nine-Nine star Terry Crews was Seth Meyers' virtual guest on NBC's Late Night with Seth Meyers, and he used the opportunity to address two important topics. In wake of the protests that resulted from the killing of George Floyd by four Minneapolis police officers, Crews was asked how the national spotlight on and protests over police brutality would be addressed by the series moving forward. While it was still too early for specific details, he did reveal that the team discussed the matter during an online meeting: "We actually all got on a Zoom call just the other day because of what's happening in this country. We were witnessing so many abuses of power. We had some somber talks and some really, really eye-opening conversation about how to handle this new season."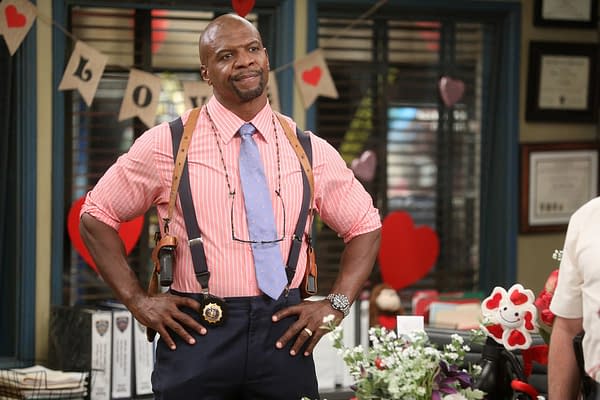 The other issue Crews wanted to address was the backlash he received over the weekend for the tweet below, which was "said out of love in an effort for reconciliation" and to help be a part of "the solution." While Crews says he was trying to emphasize the importance of having everyone involved in defeating white supremacy so that another majority (who he referred to with the phrase "Black supremacy") doesn't take over, it was his use of that phrase that received the most pushback: "One of the big things I tweeted was the fact that I felt that defeating white supremacy without the help of white people could create a black supremacy. Now, the term 'black supremacy' was just destroyed."
Crews took some time to attempt to clarify what he meant by his post: "What I was trying to say is: I, as a member of the black community, there have been so-called gatekeepers who decide who's black and who's not. In this effort to really push equality and to end white supremacy and systemic racism, there are certain black people who have determined that what I'm doing has no bearing. I have been rendered moot because I'm 'successful.' My point is just the fact that we need all of us." The actor used the fight for women's rights as an example: "Women's rights without men, nothing changes. If men don't understand how to treat women, we're going to have a problem. And it's the same thing with white people. If white people don't understand how to treat us as a community, we're going to have a problem. But also, in our own community, we have to know how to treat each other." For Crews, change can't happen without a willingness to consider all perspectives, even the ones we might not like: "We have to allow ourselves to agree, to disagree, to have different viewpoints. Because right now, in the words of Joe Biden, if you don't vote for me, 'you ain't black.'"