Buffalo Bills QB Jake Fromm Responds to "Elite White People" Text
Following in the footsteps of New Orleans Saints quarterback Drew Brees "never agree with anybody disrespecting the flag or our country" and then attempting to walk it back, and New England Patriots kicker Justin Rohrwasser finally clarifying that he's getting his Three Percenters (right-wing "militia" group) tattoo removed, it appears we have our next installment of "This Week in White NFL Dudes Being Called Out for Being Stupid." Buffalo Bills rookie quarterback Jake Fromm has apologized for his use of the phrase "elite white people" in a text message that was released online on Thursday.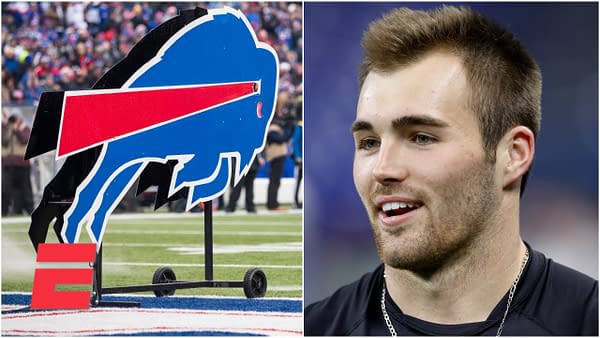 In the tweet below posted by someone named AP (@ashleymp20), screenshots show the conversation took place in March 2019 with the line in question being: "But no guns are good. They need to let me get suppressors. Just make them very expensive so only elite white people can get them haha." Later in the back-n-forth, he texts "I'm not I'm just saying" when asked if he considers himself one of those "elite white people." Following AP's initial tweet is one in which AP gives their reason for waiting so long to post the text: "I was afraid of the backlash. I didn't have the courage. I've thought about posting it every now and then for the past year and I prayed on it!"
It was a denial he hung his hat on by reminding readers of it in his tweet apology, asking that he be judged by his heart and not his words: "There's no excuse for that word choice and sentiment. While it was poor, my heart is not." Bleeding Cool reached out to representatives for Fromm's heart for a comment or official statement from their client, but there was no response at the time of writing. Reps from the Buffalo Bills have not officially responded, and Fromm states in his message that he apologized to his teammates and coaches during a team meeting. Selected in the fifth round of the draft as the 167th pick back in April, Fromm is expected to compete against Matt Barkley for the backup quarterback position. Josh Allen is the Bills' starting QB, with David Webb the third backup.