Buffy Star Sarah Michelle Gellar's All Dressed Up with No Prom To Go
As the world slowly (and questionably) begins to crawl out of its self-isolating hibernation, Buffy the Vampire Slayer star Sarah Michelle Gellar has been using her social media to connect with her fans with some Buffy-themed posts that. While the posts have us see-sawing between feeling nostalgic for the series and wanting her to return for the is-is-still-happening-and-is-Joss-Whedon-still-involved Buffy reboot/restart/reimagining, the overall goal was clear and accomplished: distract us from the "cabin fever" or our existence. Her recent post was a perfect example: underneath a modern-looking leather jacket, Geller rocked the original prom dress from the first season finale (1997's "Prophecy Girl") that she wore to take on the Master (Mark Metcalf), along with a very fashionable crossbow. Here's a look at the actress' post, which includes a well-phrased nod to a popular Buffy line: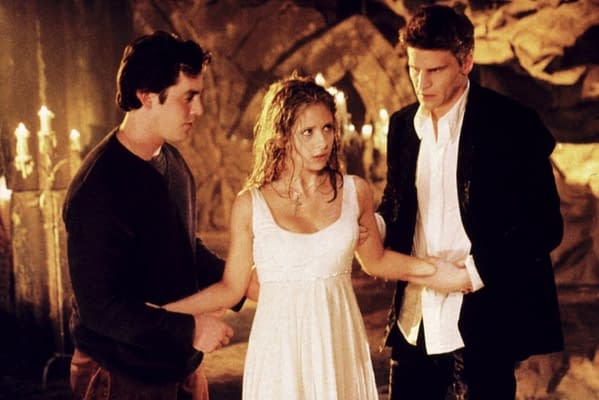 As we mentioned above, that wasn't Gellar's first trip down Buffy memory lane. In early March, the actress shared a look at something very familiar while out for a walk. While it was found on her way and not premeditated in any way, it still looked natural in her hands. Following that, Gellar posted a great "before/after" meme that shows how she expected herself to be during the pandemic followed by an image of her in full-on Buffy mode – while the other has her rocking sushi-print pajamas.