Want to own a piece of Star Trek: The Original Series history? Thanks to PropStore's upcoming TV Treasures live auction, you can.
In the classic Star Trek TOS episode "Plato's Stepchildren", the main crew of the Enterprise ends up in Grecian-style togas, iconic garments that you have a change to own!  Check out William Shatner's Captain James T. Kirk red toga: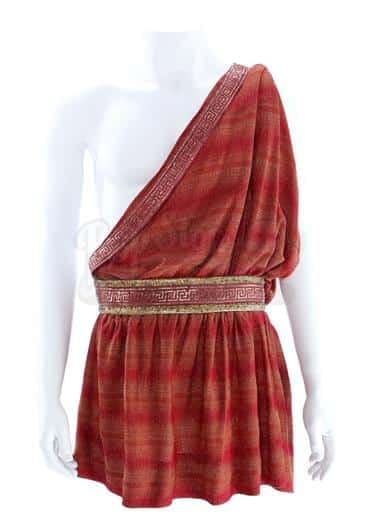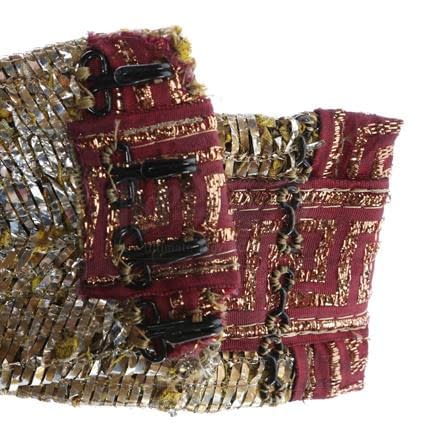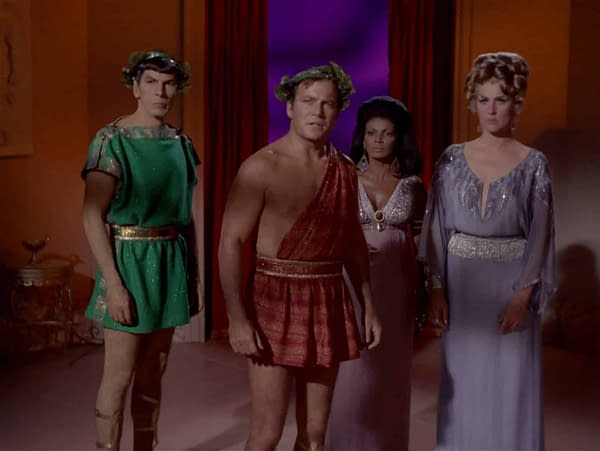 The auction catalog entry for Captain Kirk's tunic (lot #302) reads:
Captain Kirk's (William Shatner) Grecian costume from Gene Roddenberry's space adventure Star Trek: The Original Series. This custom-made ancient Greek-style costume consists of a one-piece striped chiton and a maroon baldric. The chiton is made of red and gold metallic polyester fabric used on the 'wrong' side, which has a subtler stripe pattern and metallic sparkle. Gathered at the left shoulder and waist with drawstrings, the asymmetrical top drapes and reveals the right side of his chest. The maroon baldric both encircles the waist and passes diagonally over the shoulder, has a metallic Greek key pattern, and is thickly accented at the waist with gold painted foil trim. This costume comes from series costume designer William Ware Theiss' personal collection, and immediately following production was stored away from the damaging conditions often seen with traditional studio storage. Thereafter, archived by the Comisar Collection, it has been meticulously cared for and stored in a light, climate and humidity controlled fine art warehouse. The ensemble is in excellent, production-used, vintage condition overall, indicative of its provenance.

Captain Kirk wears this costume in the episode 'Plato's Stepchildren' (310) in which the USS Enterprise answers a distress call from the Platonians, who dress in the styles of ancient Greece and use their telekinetic powers to control Spock (Leonard Nimoy) and Kirk. Due to production budget constraints, 'doubles' (duplicates) of episode-specific costumes were seldom constructed for the series, and most likely, this is the only such Grecian ensemble utilized by Captain Kirk in the episode.

Significantly, this historic episode includes the first on-screen interracial kiss broadcast on scripted television between between African American Lieutenant Uhura (Nichelle Nichols) and Caucasian Kirk, who wears this costume. In more recent years, Nichols reminisced: "There was this buzz around the studio, they were concerned how the South was going to take it…we had more mail on that episode than any other episode in all of the time of Star Trek. But Gene [Roddenberry] said to me over a letter from the fan mail, 'This is the extent of the negative mail that we've received.' And it was from a man in the South who said, 'I don't believe in the integration of races and the fraternization of the races, but anytime a red-blooded American boy like Captain Kirk gets a girl in his arms that looks like Lieutenant Uhura, he ain't gonna fight it.' So much for the worries and the concerns about whether people can handle it."

Provenance: Mr. William Ware Theiss

Estimate: $40,000 – 60,000
And, you can bid on Spock's tunic from the episode as well.
PropStore's TV Treasures auction begins on December 1st 2018, you can check out the full catalog here.
Enjoyed this article? Share it!