"Castlevania" Team Talks Season 3, Favorite Scenes, Vampire Mythology & More
Saturday night of New York Comic Con (NYCC), VIZ Media held its panel for Netflix's Castlevania. The first two seasons are currently available, with a third season of ten episodes on its way.
The panel was moderated by Urian Brown of VIZ Media and featured Warren Ellis, creator and writer of the show; Sam Deats, director; Adam Deats, assistant director; and voice actors James Callis (Alucard), Graham McTavish (Dracula), Alejandra Reynoso (Sypha); and Ade M'Cormack (Isaac).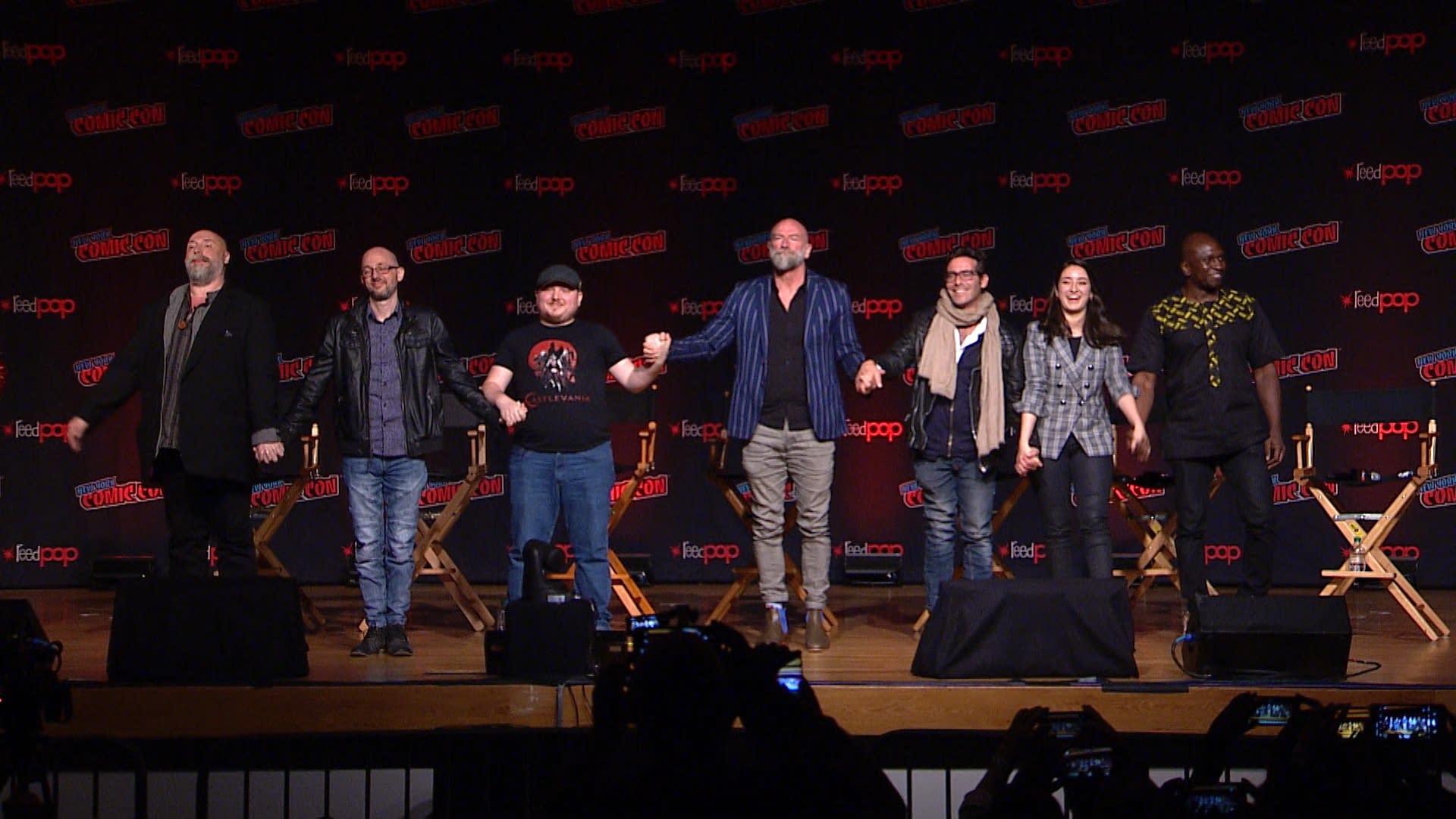 Ellis began the panel by asking the crowd "was there nothing else to go to tonight?" A clip of previously available footage was shown.
Brown had each panelist put in fake vampire teeth and read a long, complicated message of gratitude to the audience. Ellis refused, over the crowd shouting "do it," and threatened to have Brown "found face down dead in the Bowery tomorrow."
After the message was read Ellis recommended throwing the now used teeth to the audience. Some fans cheered, prompting him to add that he "knows what his people want."
The panel took the form of a question and answer session using questions previously submitted on-line. First up was why is this one of the best video game adaptations? Everyone agreed that it was due to the writing with Callis adding about the scripts "there's some meat on these bones" and that he found the animation to be "arresting." McTavish said that it was a "show of moral complexity."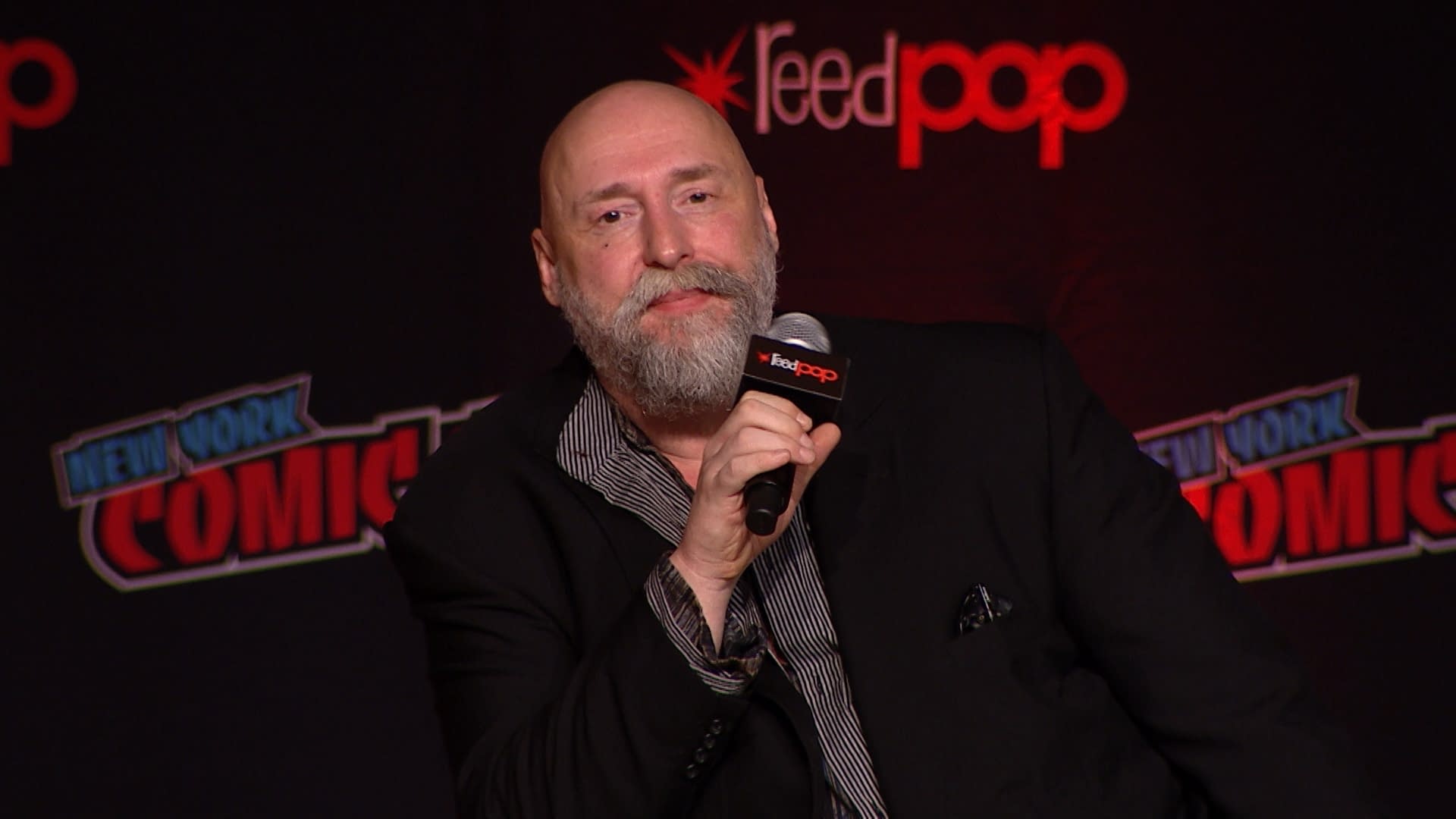 Ellis said that he has not played any of the video games in the series though he had found things, via research, that even the other producers were not aware of concerning the lore. He added that he was not beholden to anything in particular and has never seen any other video game adaptations. He credits producer Kevin Kolde with holding the show together, addressing him as "you tyrannical bastard" with "unerring creative instinct."
One panelist added that "we didn't set out to do the best video game adaptation, necessarily, but to make a good show" and said that the primary influences are from film and not other games or their adaptations.
McTavish said that his favorite scene was Dracula's death at the hands of his son, Alucard. He said that has a father himself he found the scene to be particularly resonant. He added that it was about sacrifice and brought Dracula's arc full-circle. When the show opens Dracula is married, having finally let someone into his immortal life. Upon losing her he goes to a dark place, one he is only brought out of when he stops himself from killing his son even though he understands that doing so will result in his own death. It was Kolde who decided to not have music played over this scene.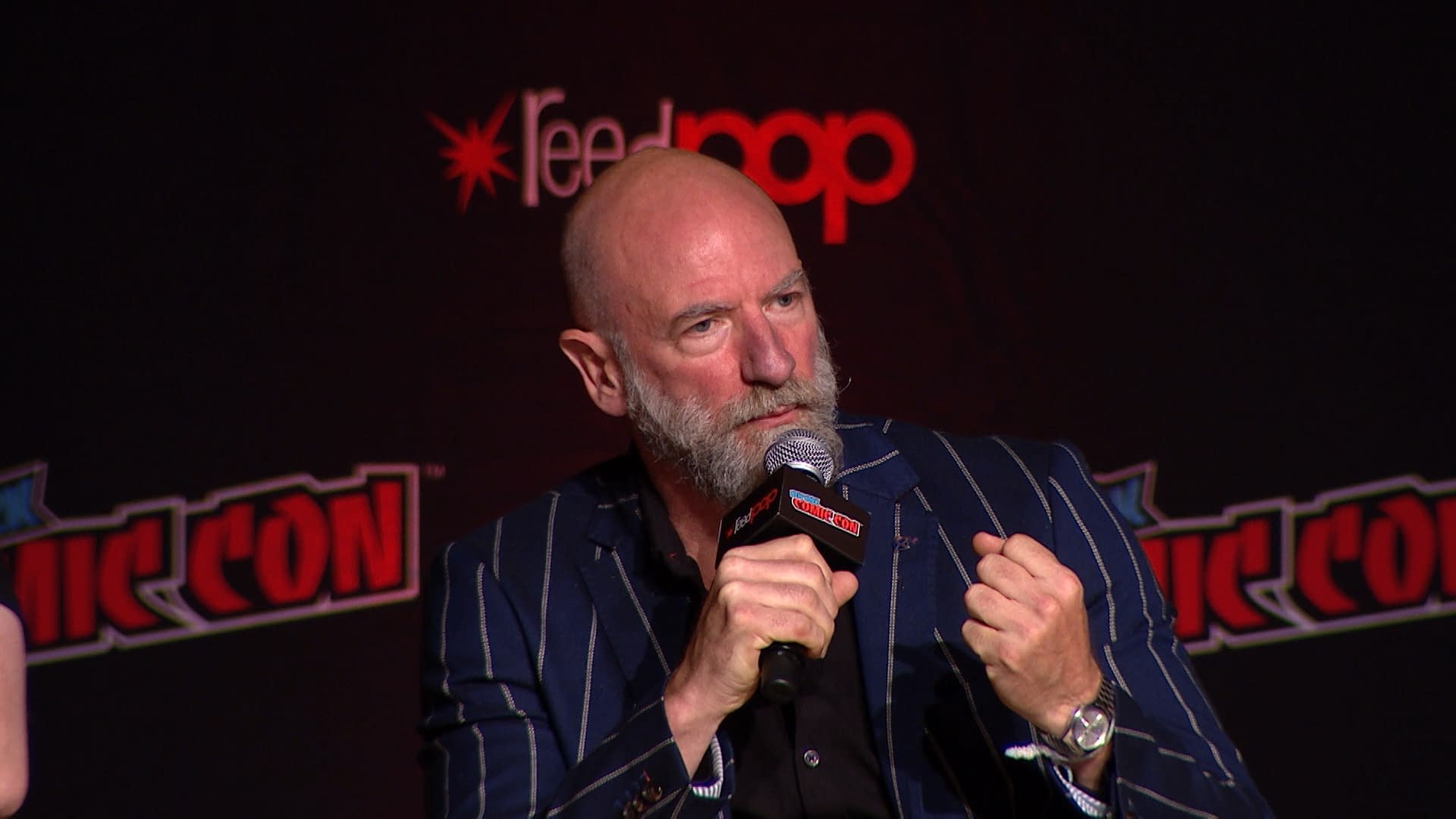 Ellis does not like to answer the question of what his favorite scene is because, as a writer, he feels that it equates to to him saying "let me tell you about all of the times I was brilliant." He added that he was fond of the scene in Season 2 where Carmilla is beating on Hector. This is due in part to her voice actress acting out parts, including stabbing eyes and other acts that made Ellis cross his legs just remembering them. She did this all while giggling.
Castlevania III: Dracula's Curse is the game that the show is primarily based on. Ellis claimed that during the 1980s when these games came out he was living "in a converted dark room… with a single light bulb." He took the job of what was originally writing a Castlevania animated movie because it was offered and he was staring at a pile of bills.
He remembers promptly asking himself "what a Castlevania was." He said that Wikis are incredibly detailed and helpful. He sees them as an act of love to the game series from the fans. The show, in part, exists because of that impassioned love from the fan community. He concluded by saying that "I was born in the wrong era to be a gamer."
When asked how he even directs a cartoon, Deats said that he was very hands-on in designing every character and working with the storyboards. In many cases these storyboards have literally been traced by the animators.
It was Adam who pushed for their company to produce the show in the first place due to his love of the franchise. He has played every game and even written strategy guides for some. Before working on the show he had been doing post-production work on different anime trailers and felt that moving over to being assistant director was "natural fit."
In response to a question, McTavish said that he believed that Dracula was "not dead inside" and is actually morally complex. He watched legendary actor Christopher Lee in his portrayal of the character and said of it that it was "not complicated, but scary."
Callis said that it was not easy to play Alucard as he is too dispassionate. At one point he tried to portray him by raising his voice but it did not feel right. Alucard is too powerful and gives nothing away. He is not bothered by anything so he has no reason to yell or scream.
Reynoso said that Sypha is the character that she has put the most of herself in to. Of all the roles she has had she believes that this one has the most agency. She confirmed that she does not act out the character's magic hand movements while recording.
M'Cormack said that he was proud to see Isaac stand up against oppression and racism. Isaac is not what anyone expected from this time period. M'Cormack, when he was a child, prayed for a character like this, one who looked like him, and represented who he is. He believes that Isaac and Dracula see past each other's differences.
A discussion arose about why the vampire mythology has such an enduring legacy and the findings were summed up by Ellis as "people like vampires because they're gorgeous and they kill people."
In response to being asked what he credits the success of the show to, Ellis said that adult-oriented animation is relatively new in the West and so, as with comics, there are relatively few filters between creators and fans.
When asked how the intricate fights are planned out, the directors responded that their approach is to consider what the abilities are that everyone in the room has and what the room itself is like. They consider what the interesting events are that should be played out. Their focus with each is to have the "hero beat the villain not just by being strong but clever."
McTavish was asked why he always plays tough characters, and if he would like to try a different type of role. Ellis' suggestions for what the actor should play included "Graham McTavish, Death Smurf," "The Saint of Killer Ponies," and "Incredibly violent Papa Smurf." McTavish said that he would like to play a funny role but that no one has asked him to do so.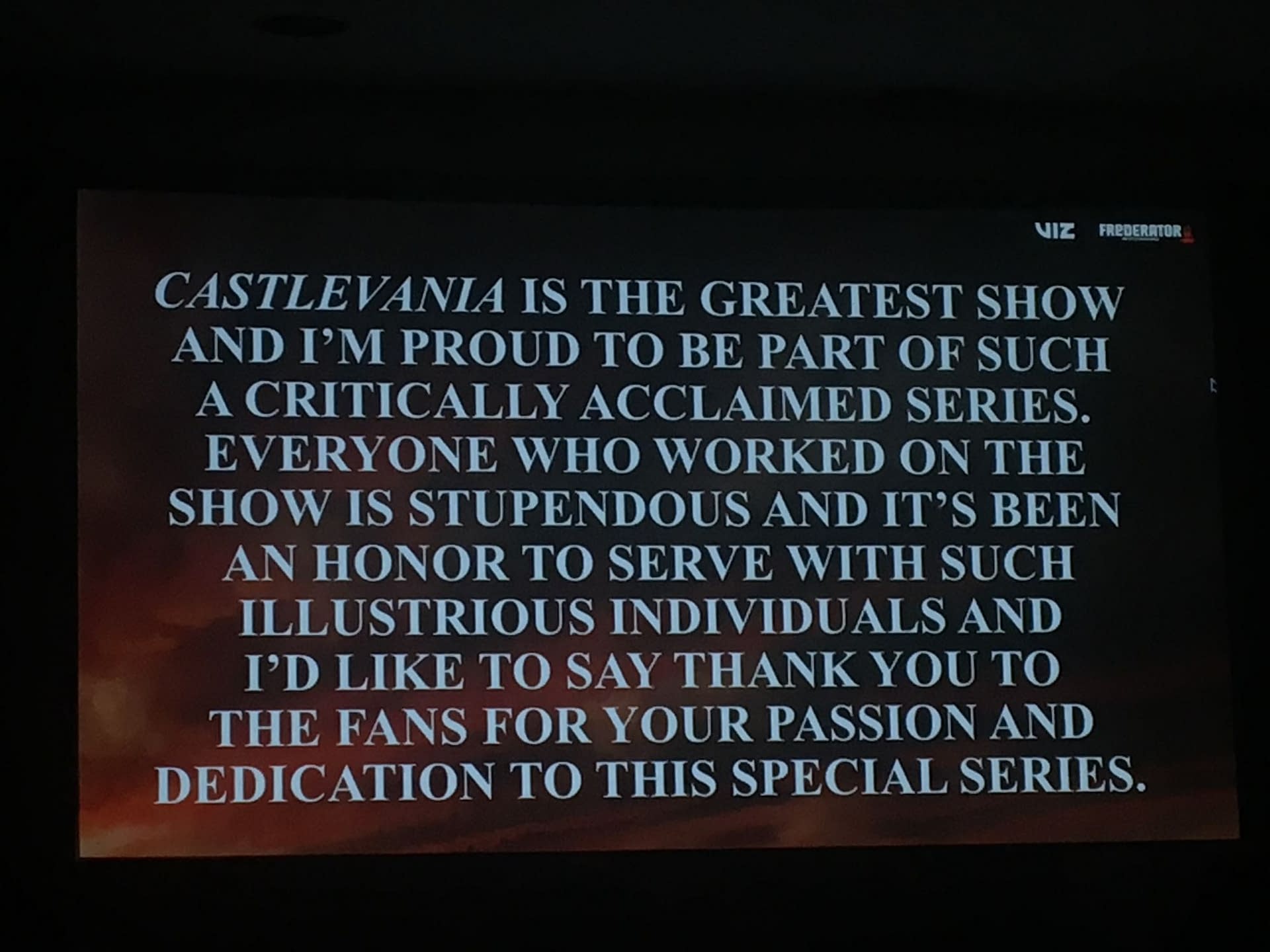 Some of the panelists admitted that they are not generally fans of horror films. McTavish recommended the original version of The Wicker Man and the Dutch version of The Vanishing. Callis enjoys The Shining and Ellis admitted his fondness for David Cronenberg's Videodrome.
Ellis said that he "approach[s] every single job differently, not just each project. You can't just start at the beginning and go ahead. You need to start where it feels right. The end, the middle, one scene." He added that he has heard that famed novelist William Gibson once wrote a novel by beginning with an image he had about a shipping container.
Ellis admitted that the cute zombie dog in the show was his idea.
McTavish said that he does not carry the negativity of any of his roles with him once the work is over. He believes that the relationship between Dracula and Alucard is complex and that Dracula allowed Alucard to kill him. Alucard is "just not powerful enough and [Dracula] only allows him to do so when he realizes he's going to kill his son. So brilliant and so tragic."
Ellis says he "grifted his way into the gig" and that the Hammer Horror films he watched growing-up were an inspiration to him and that Castlevania is his way of writing one for himself.
The Season 3 trailer was played featuring a humorous scene of Sypha and Trevor tricking a group of monsters to attack them in the woods.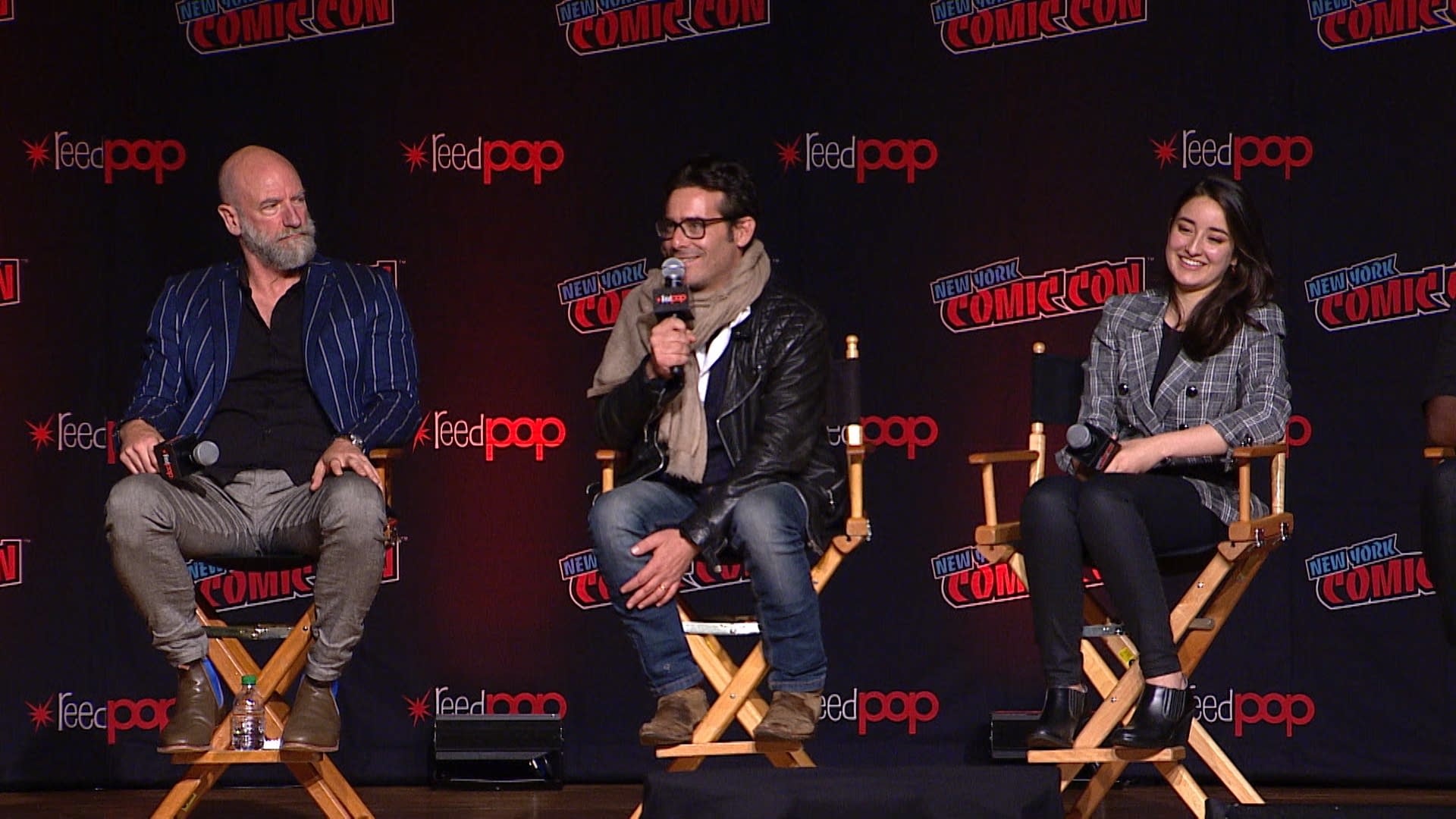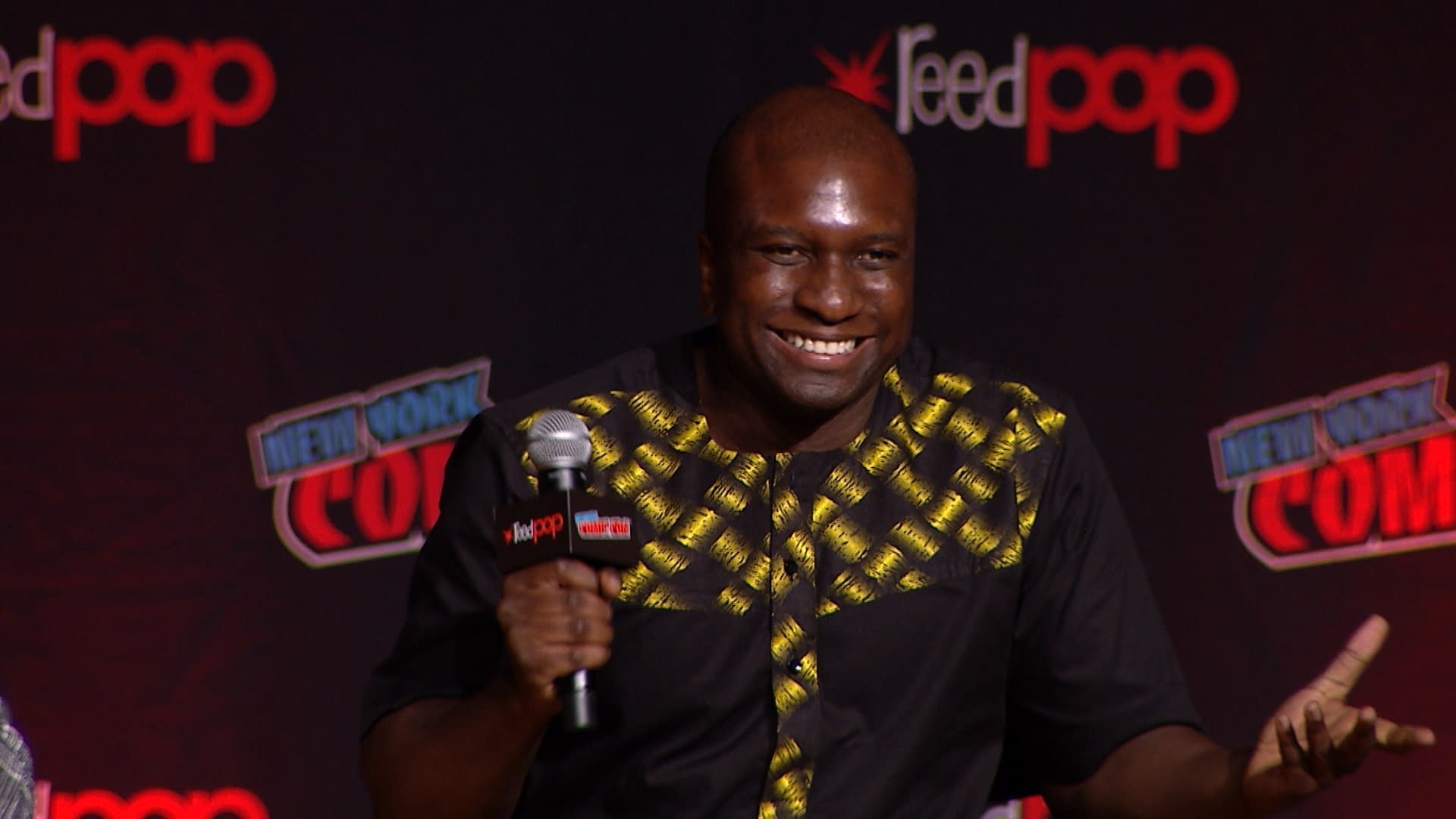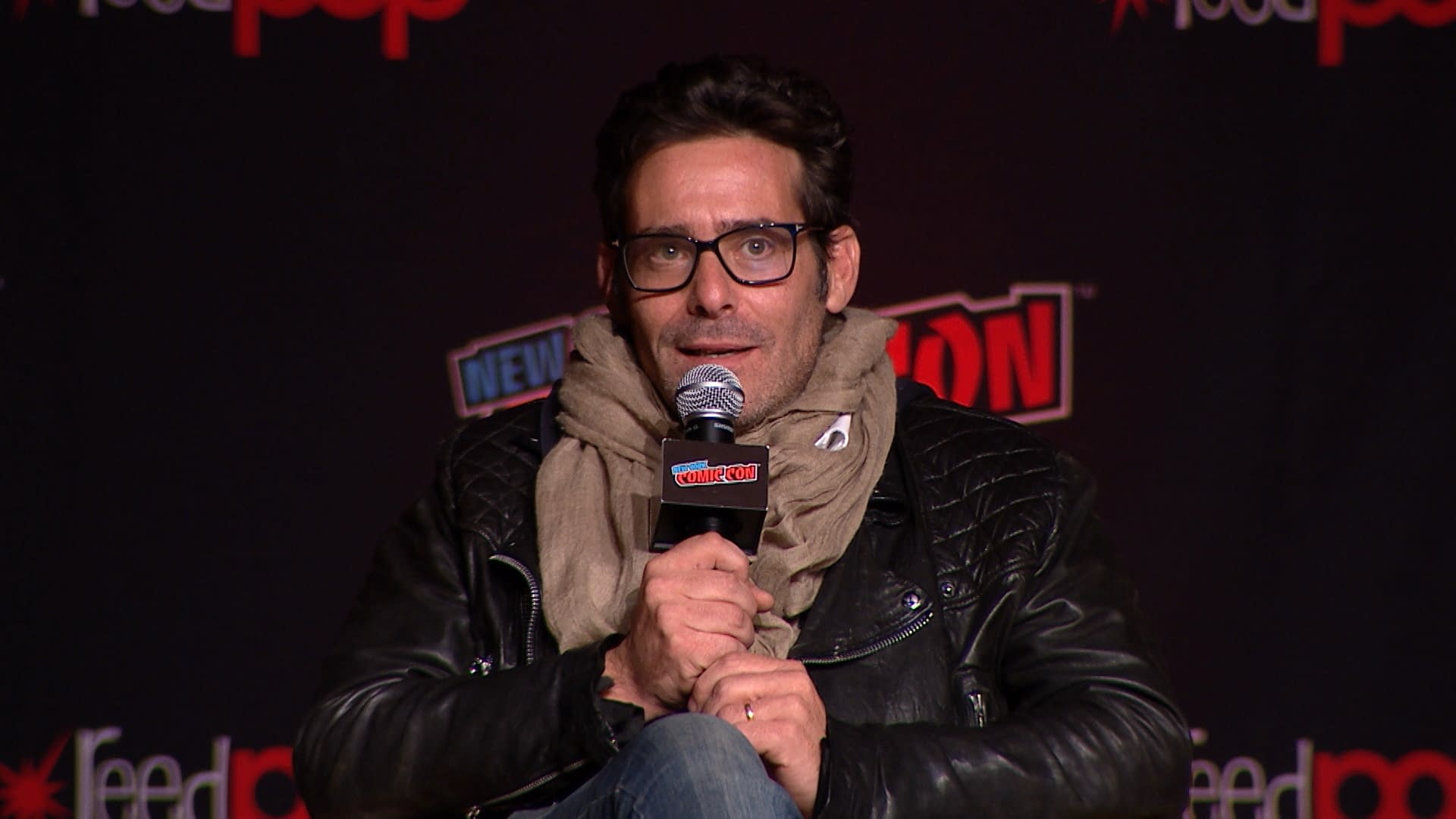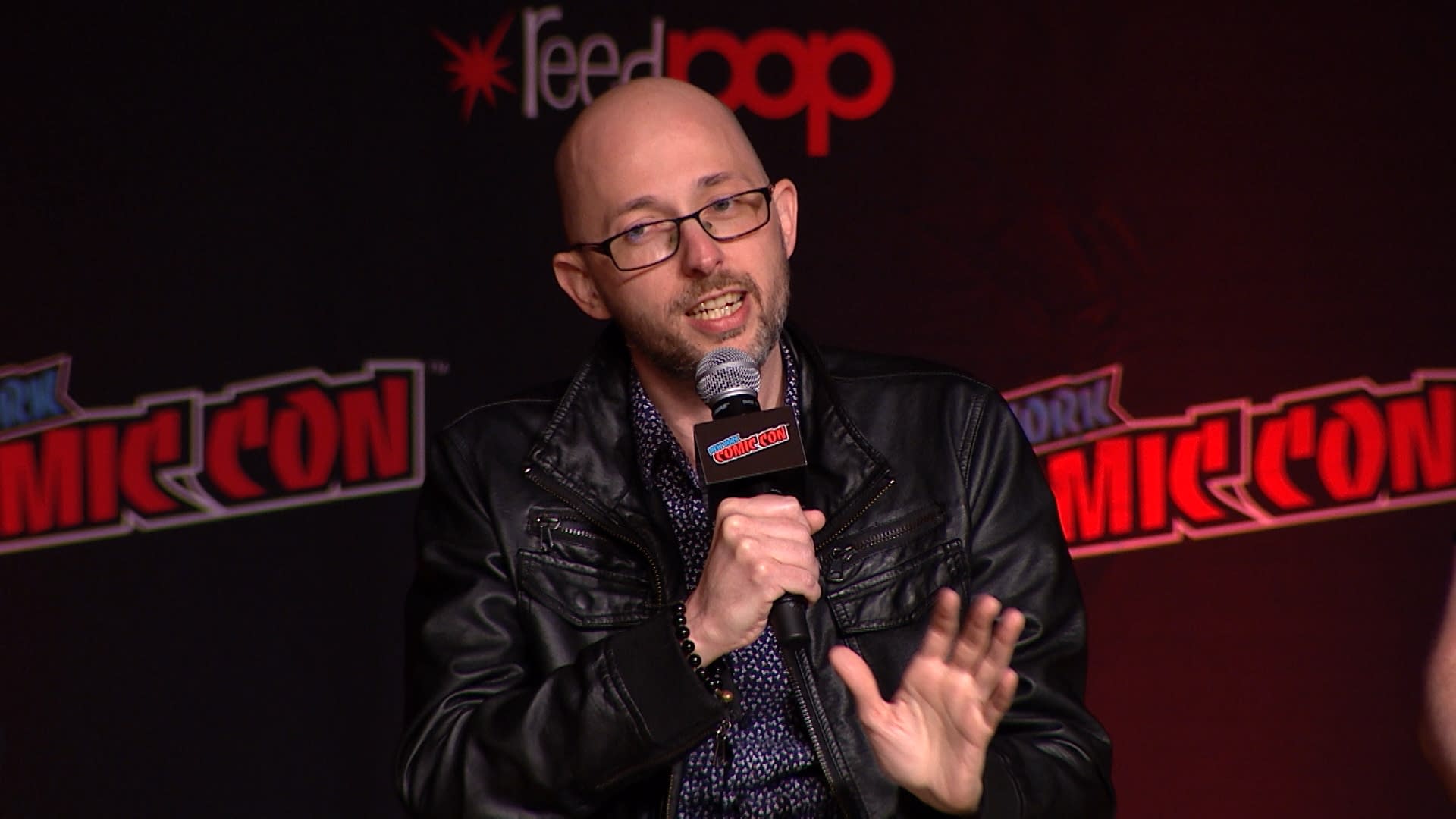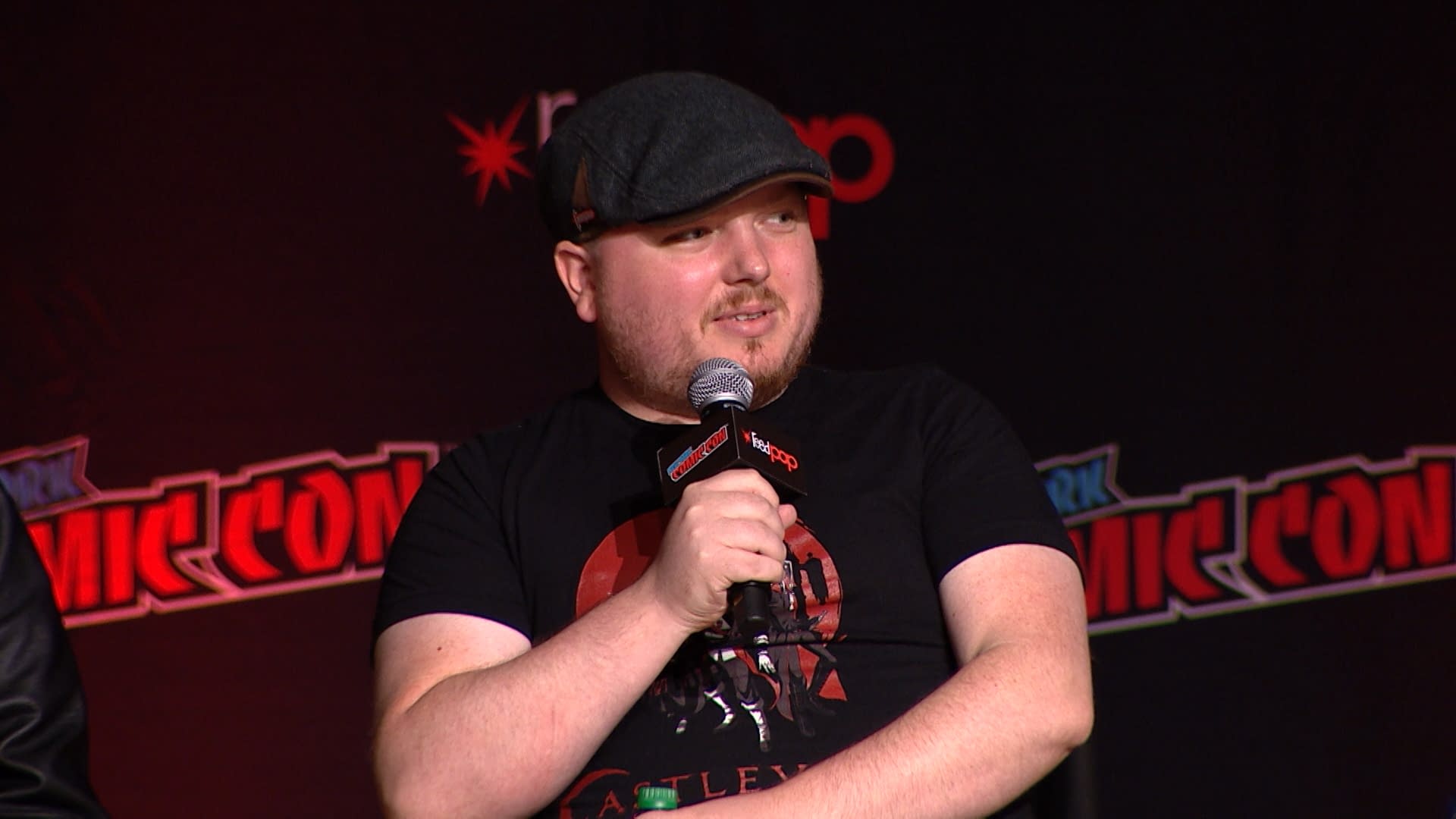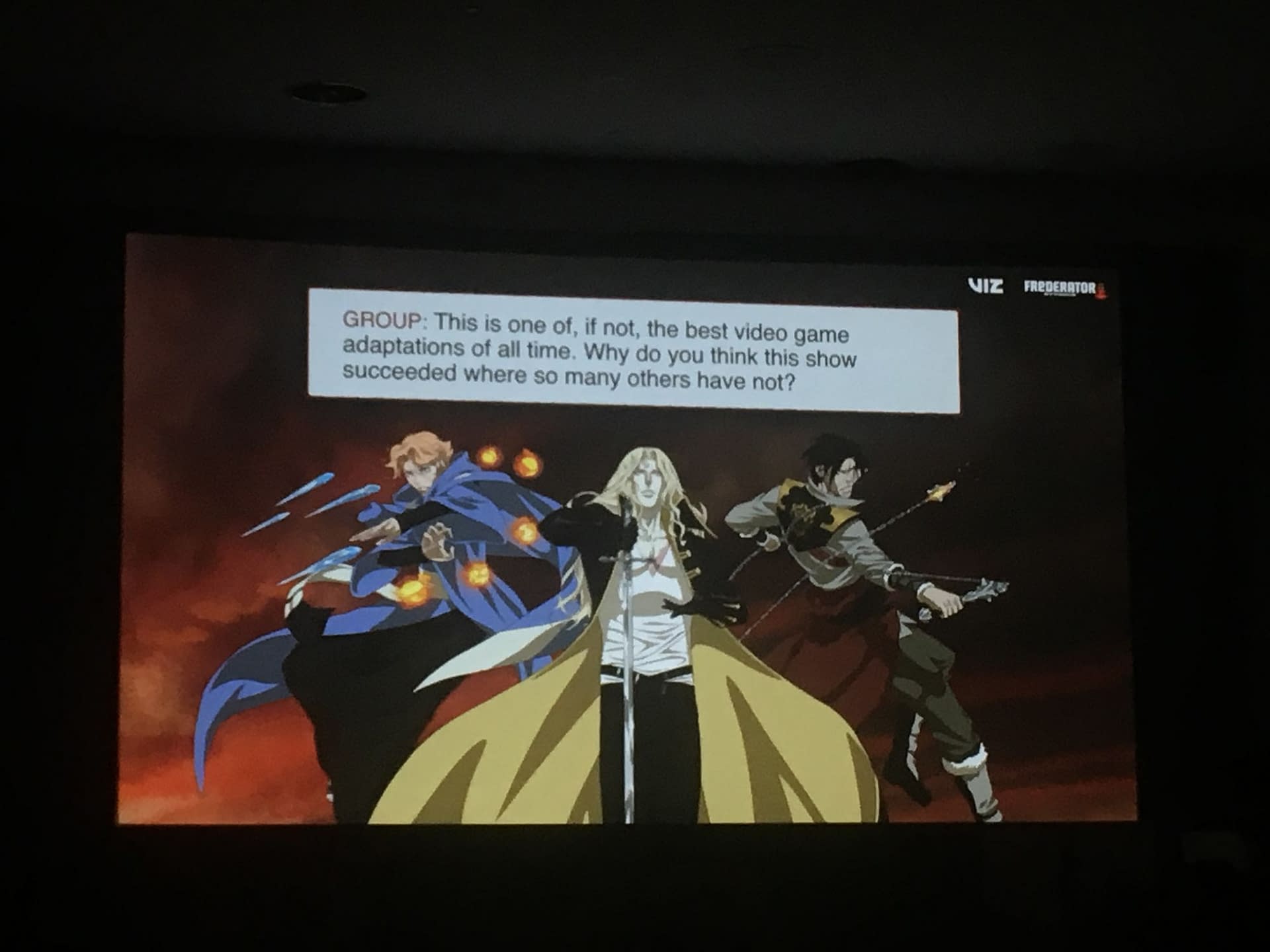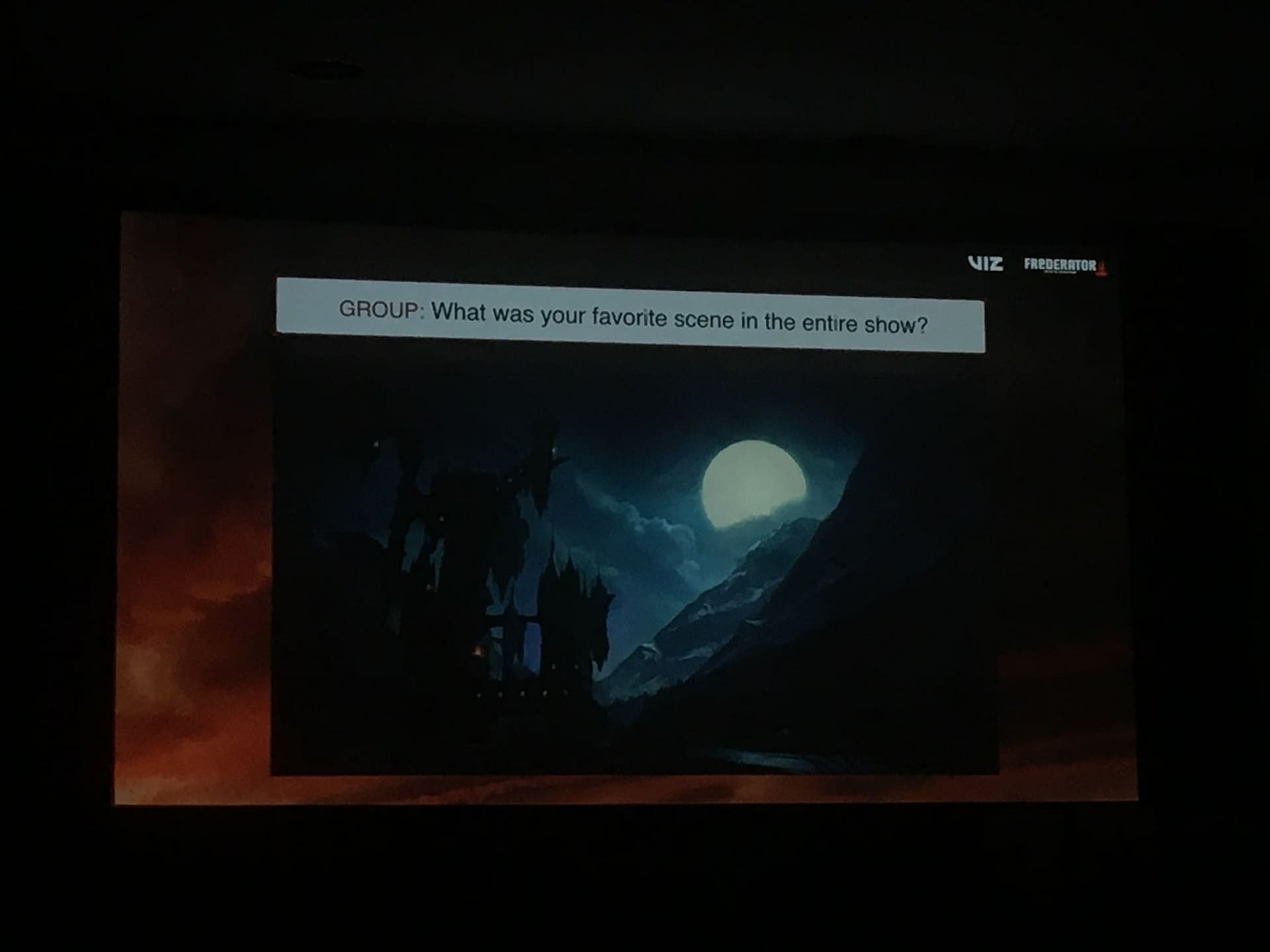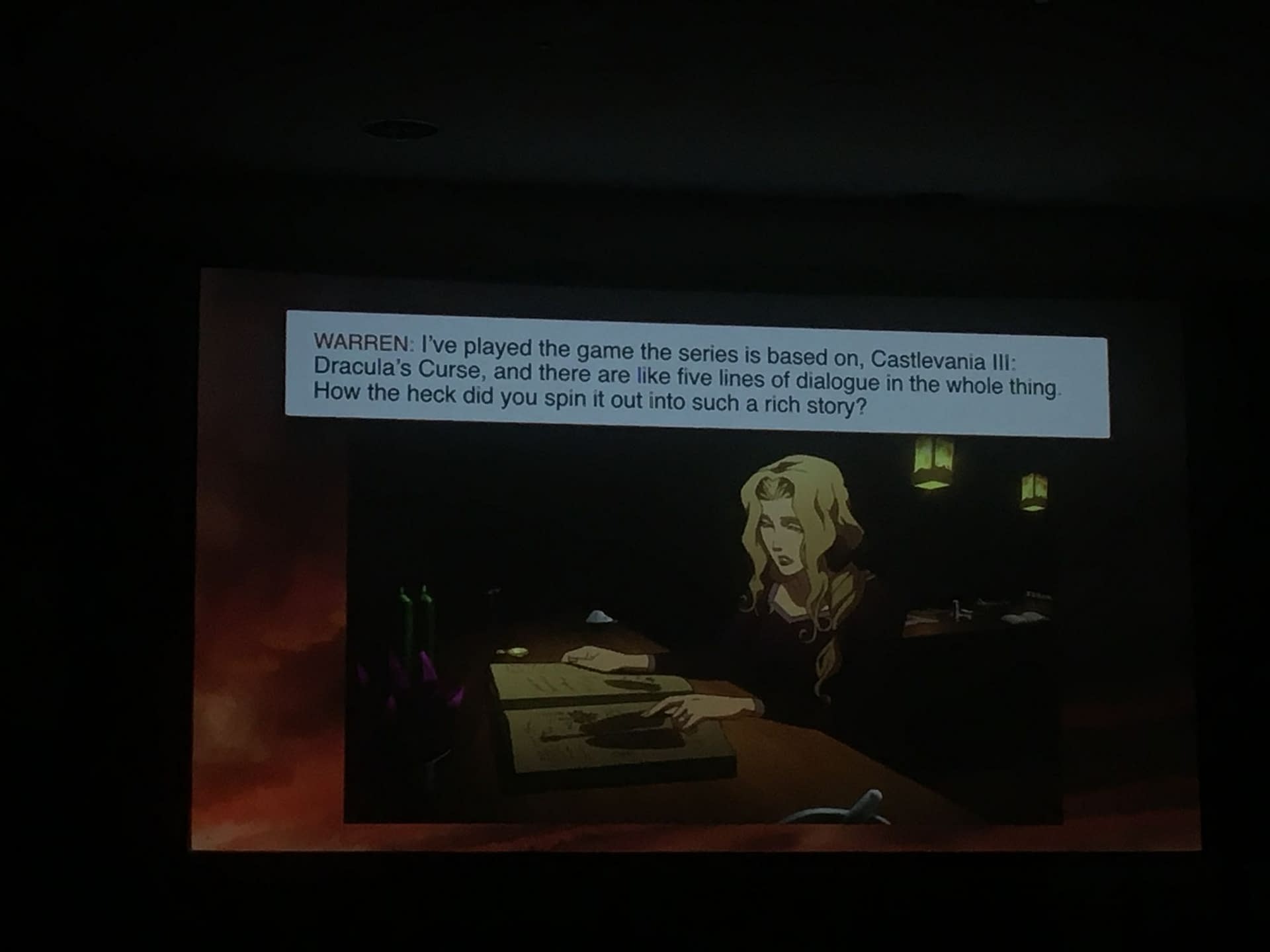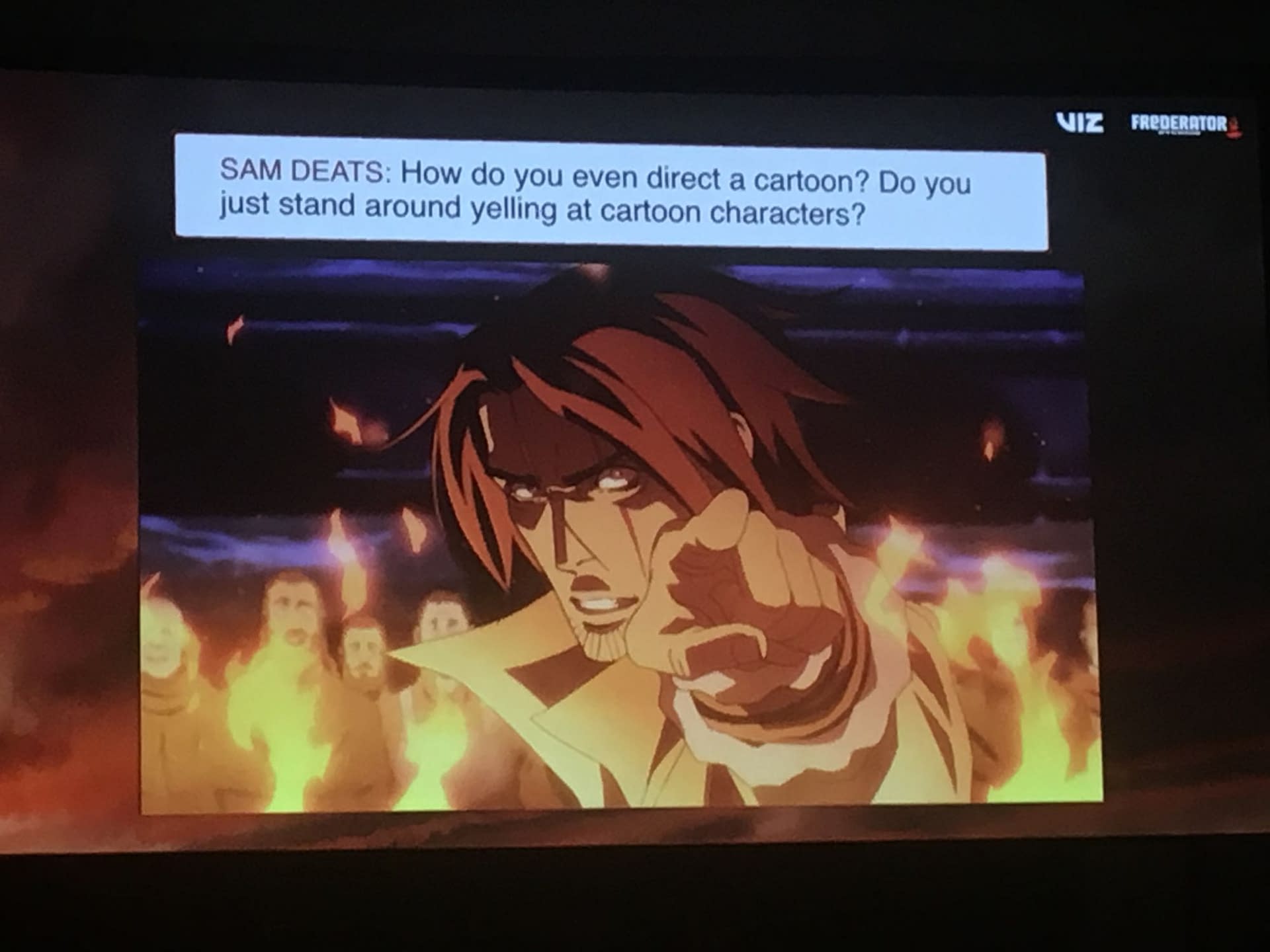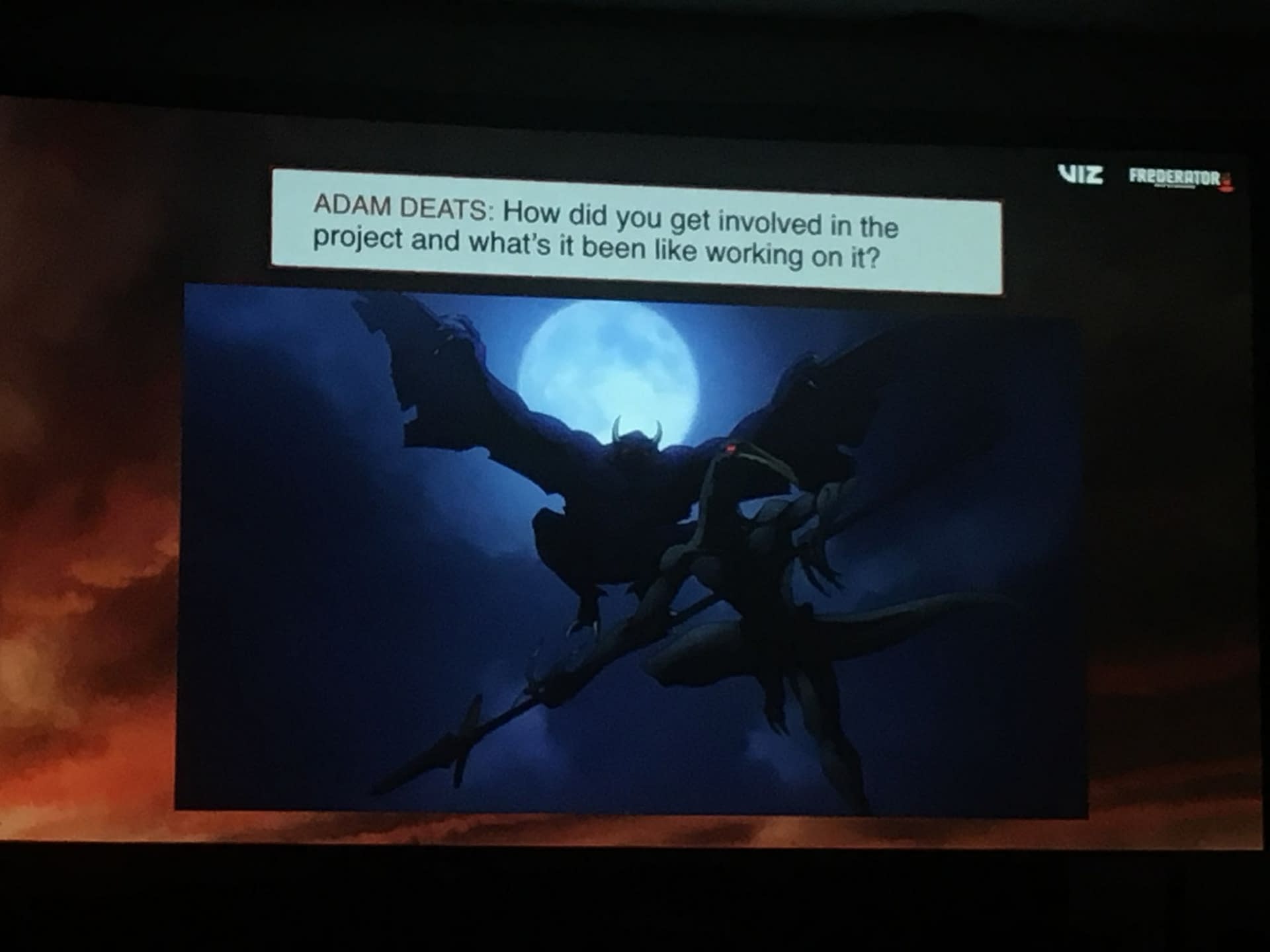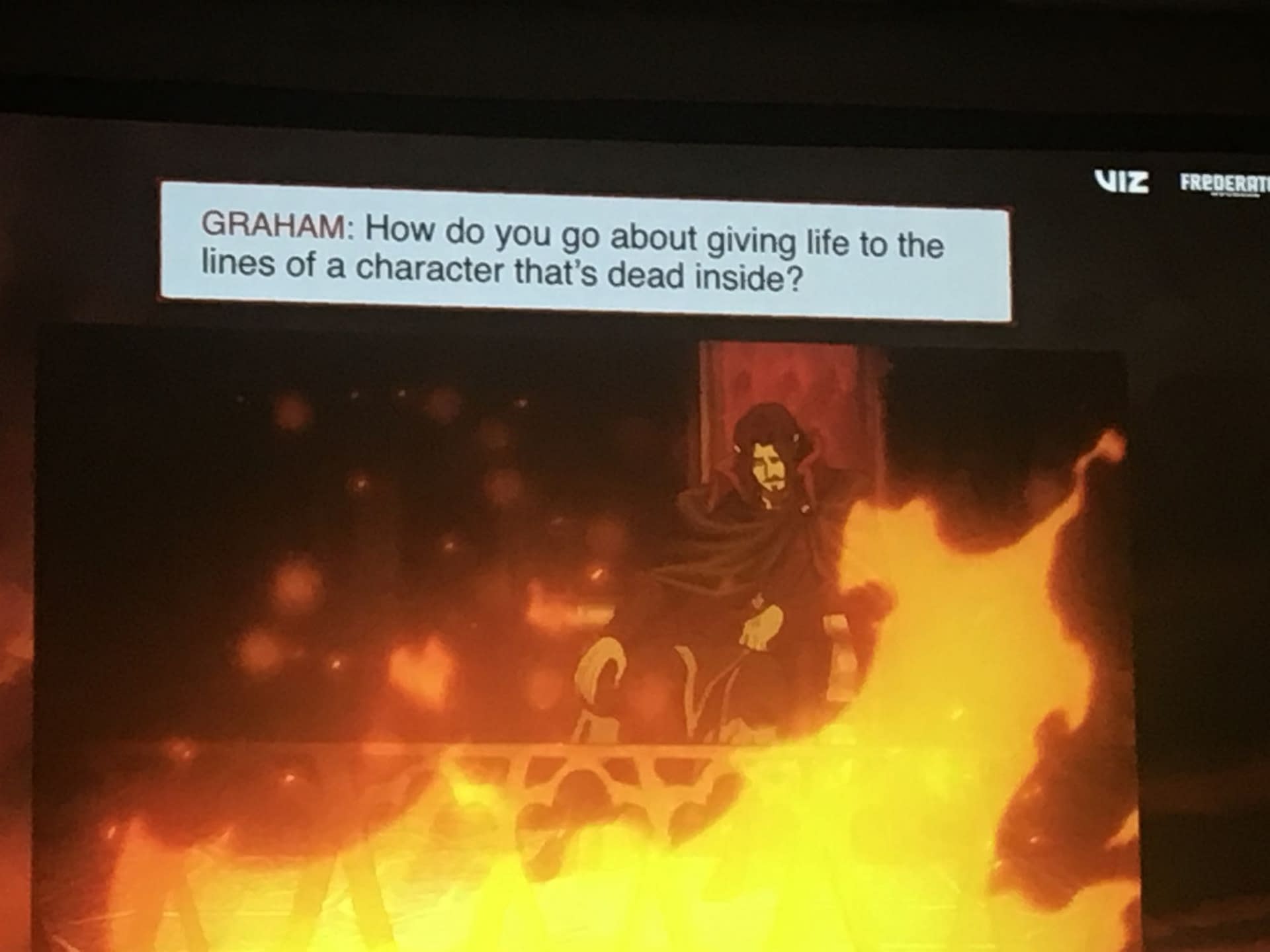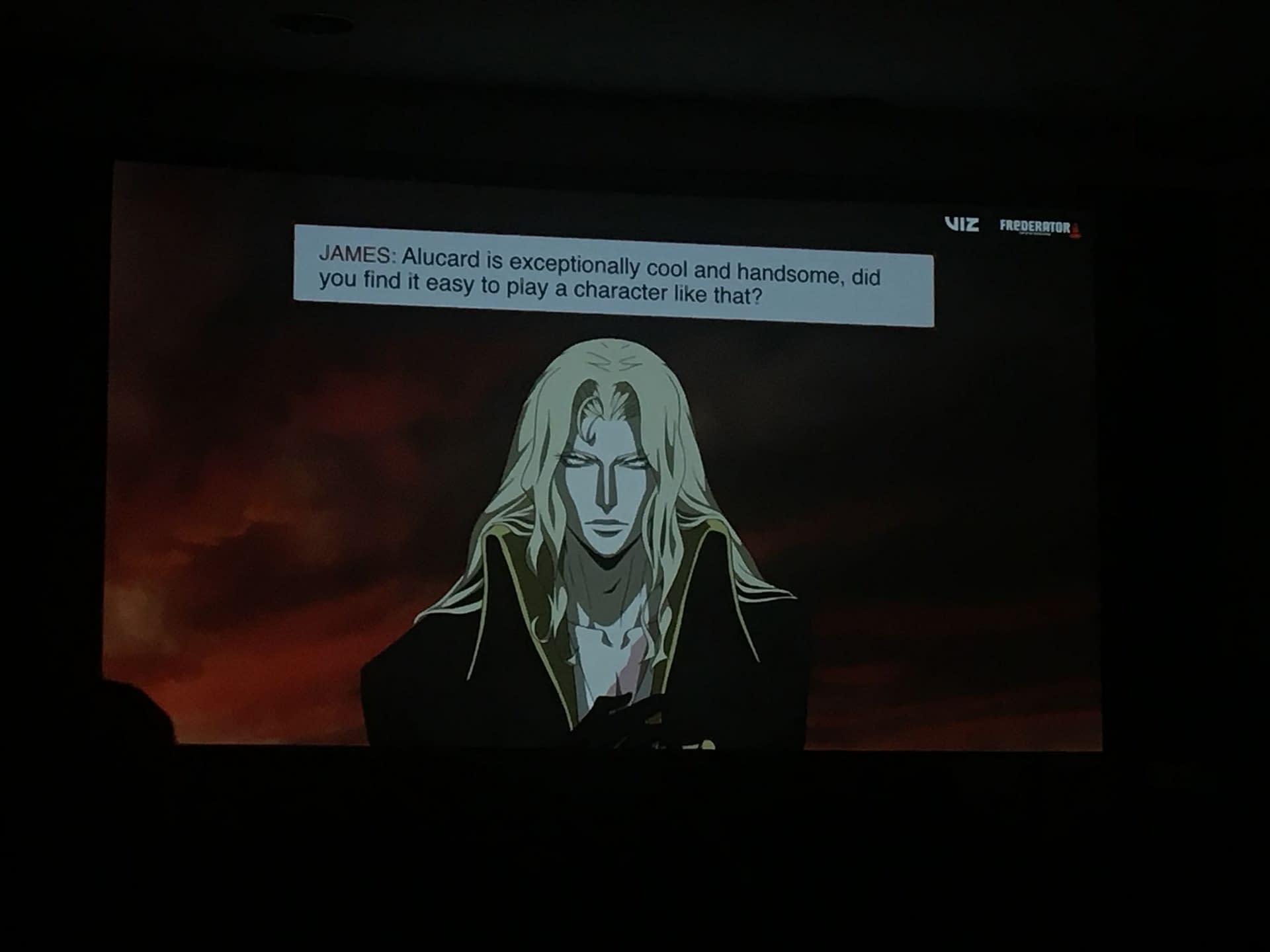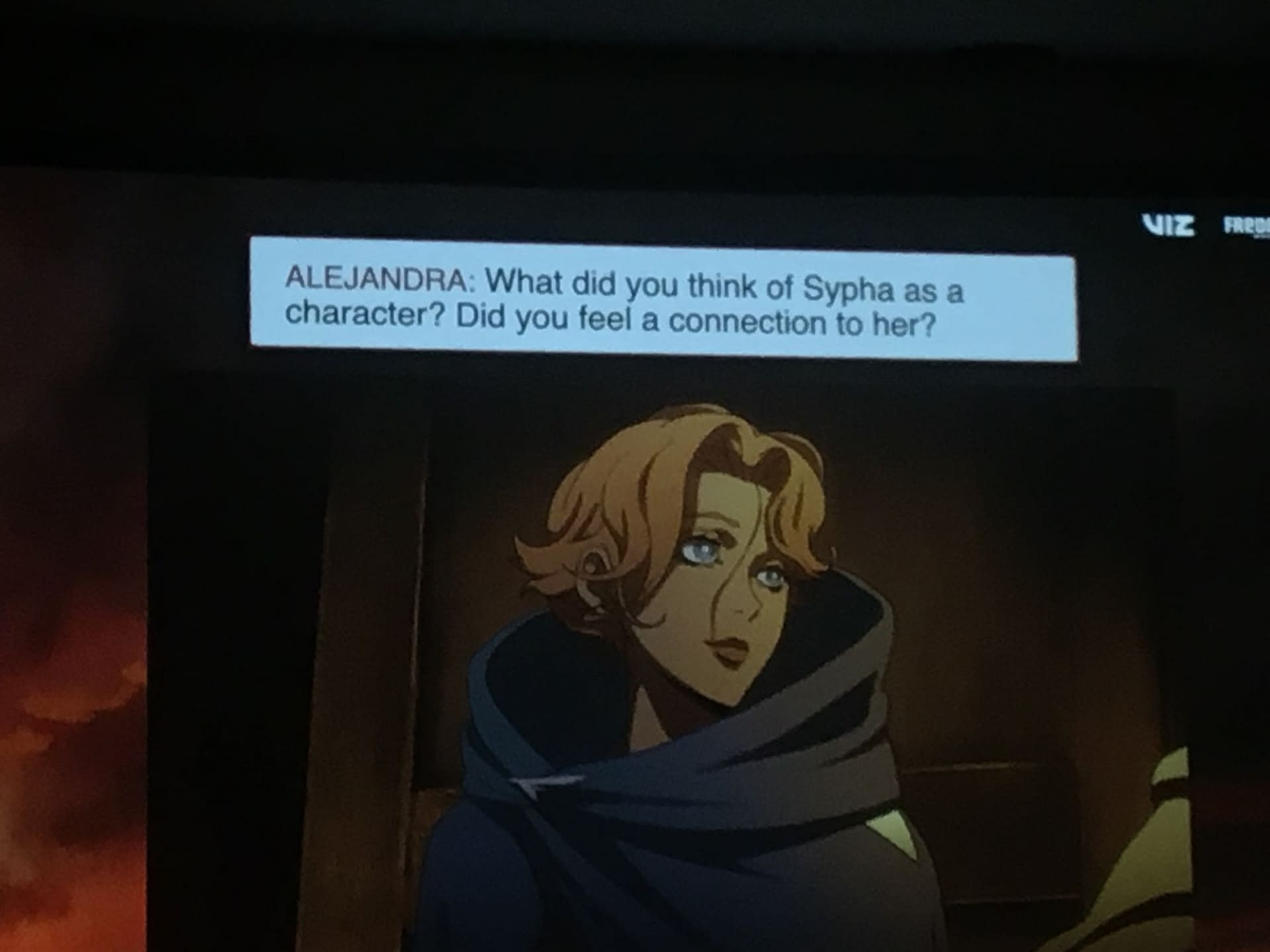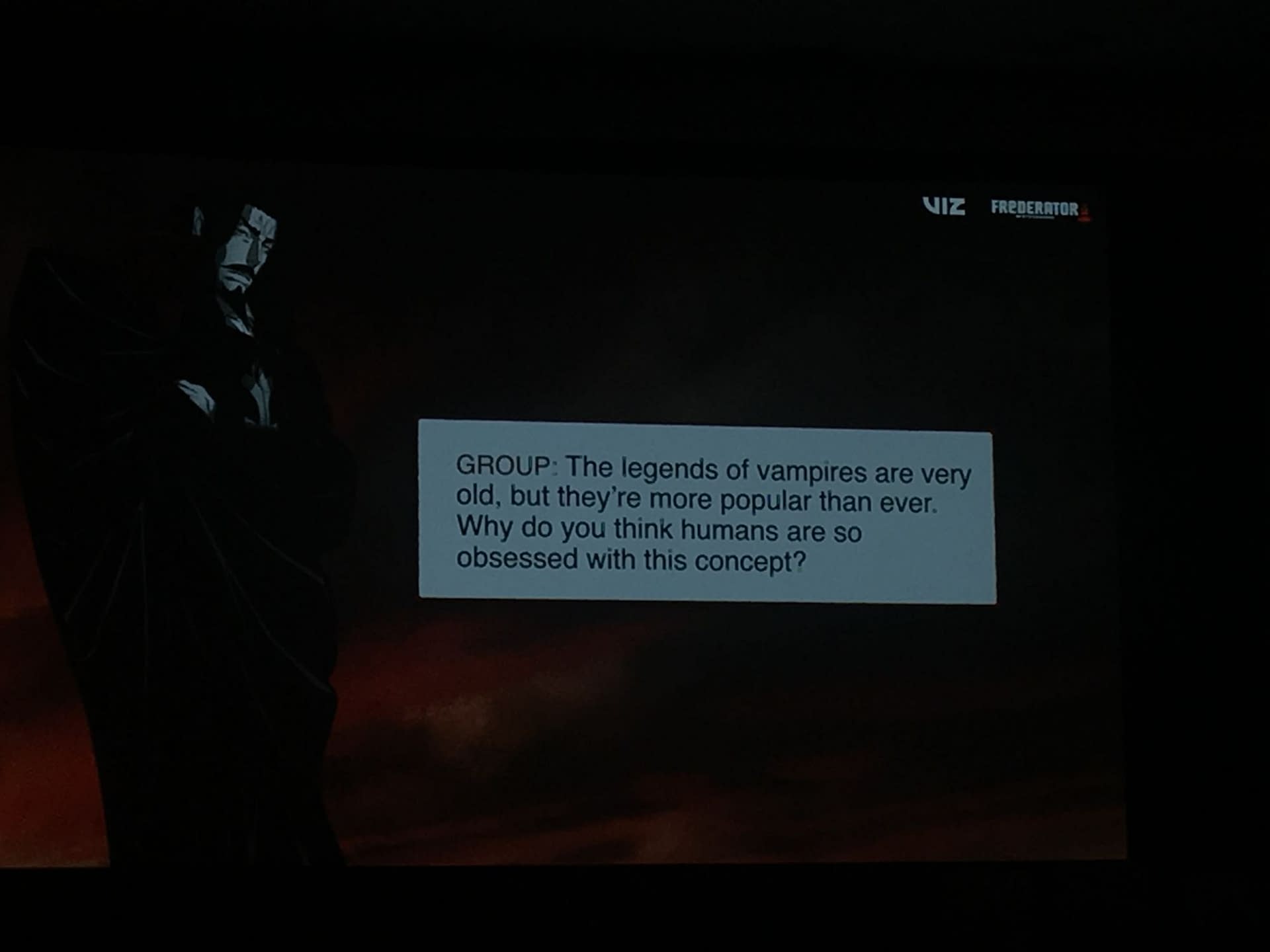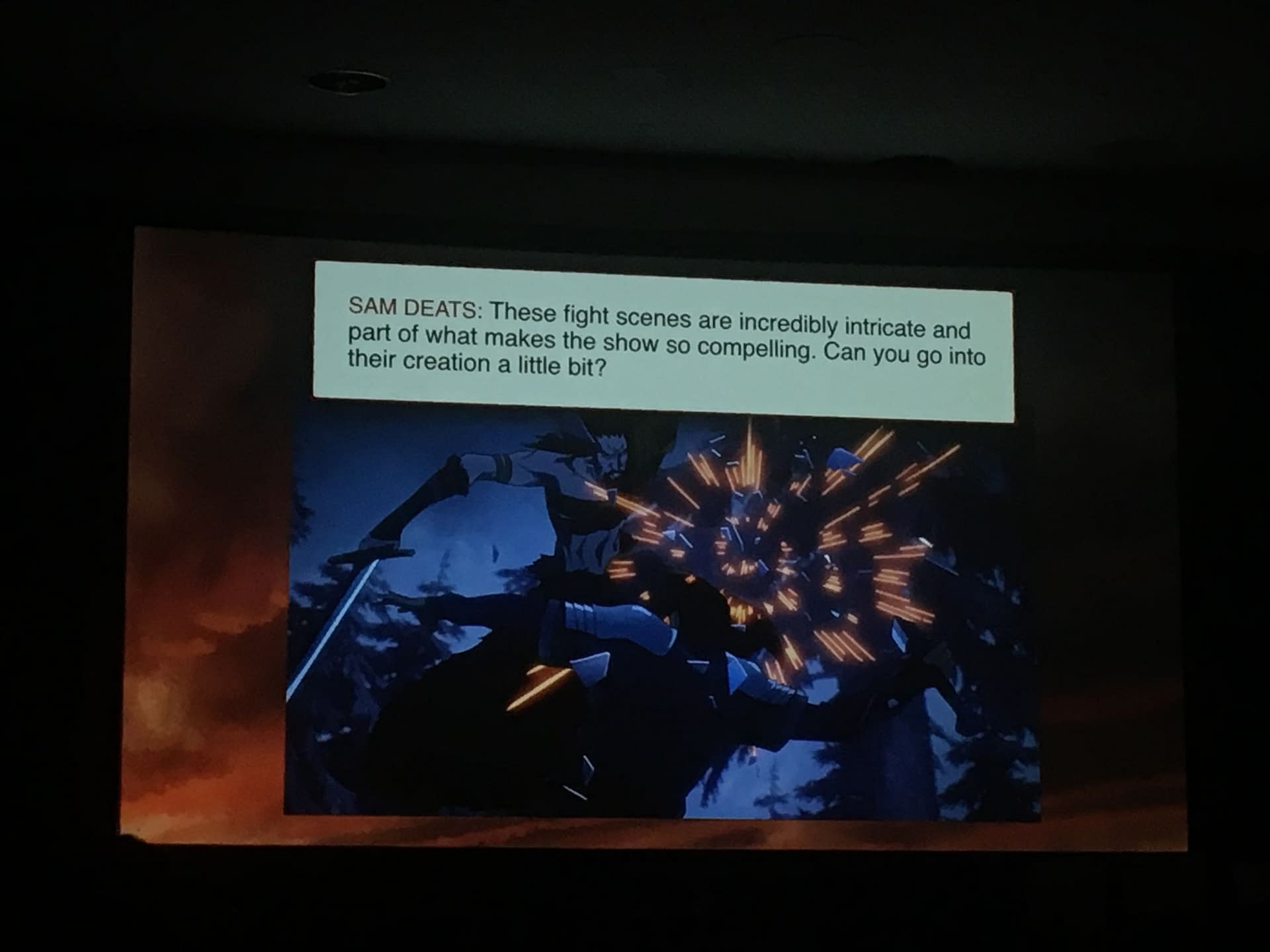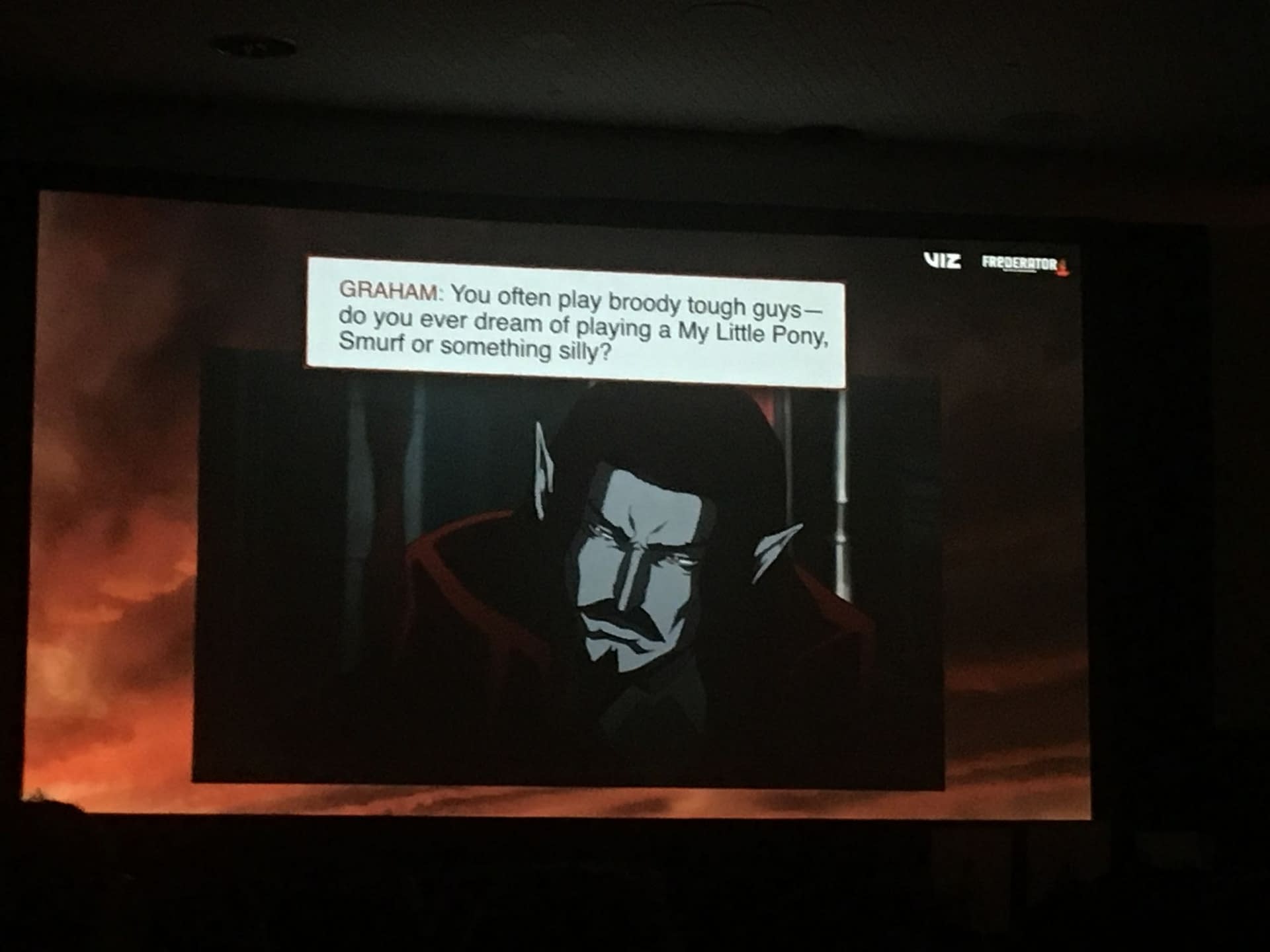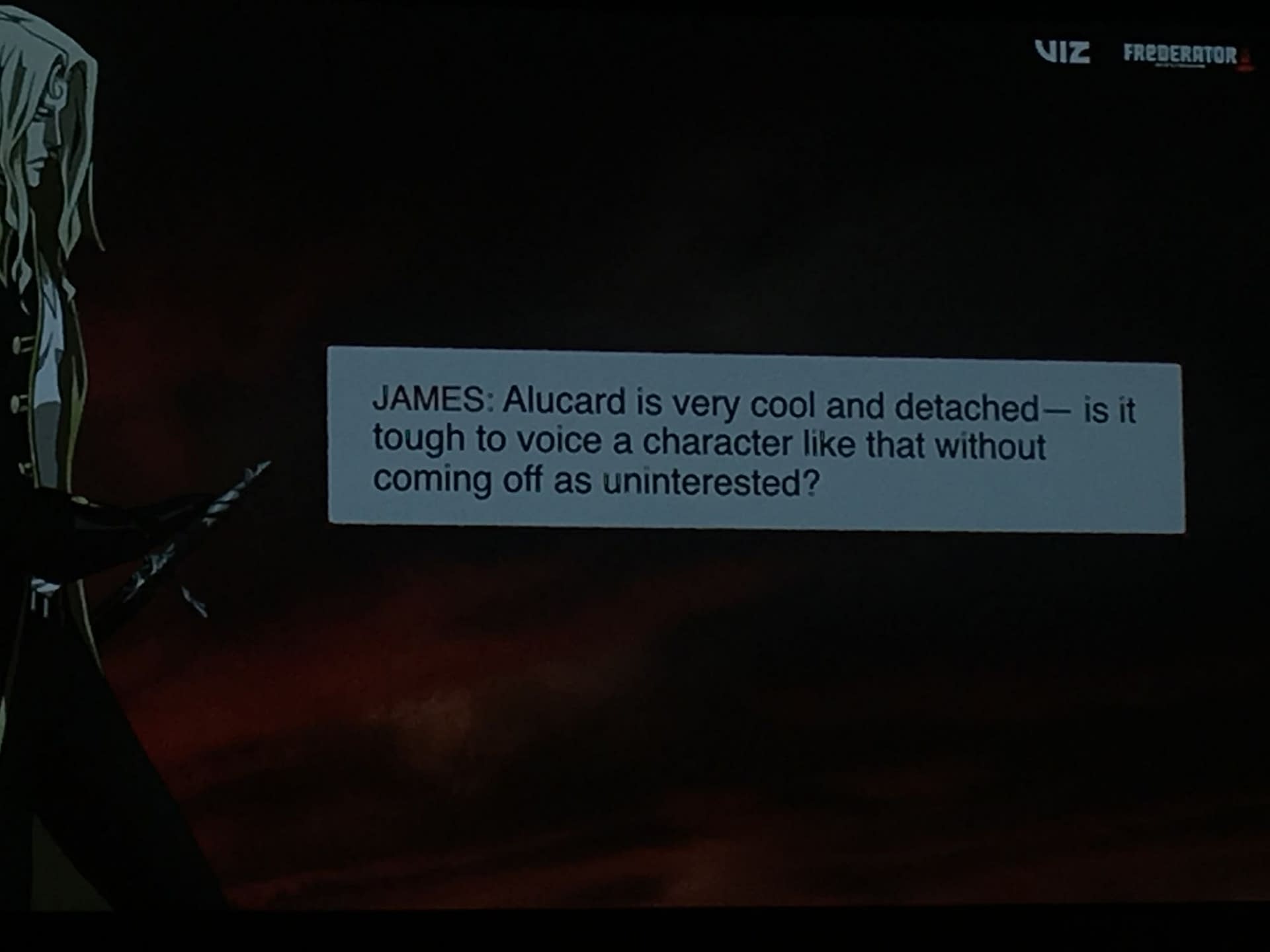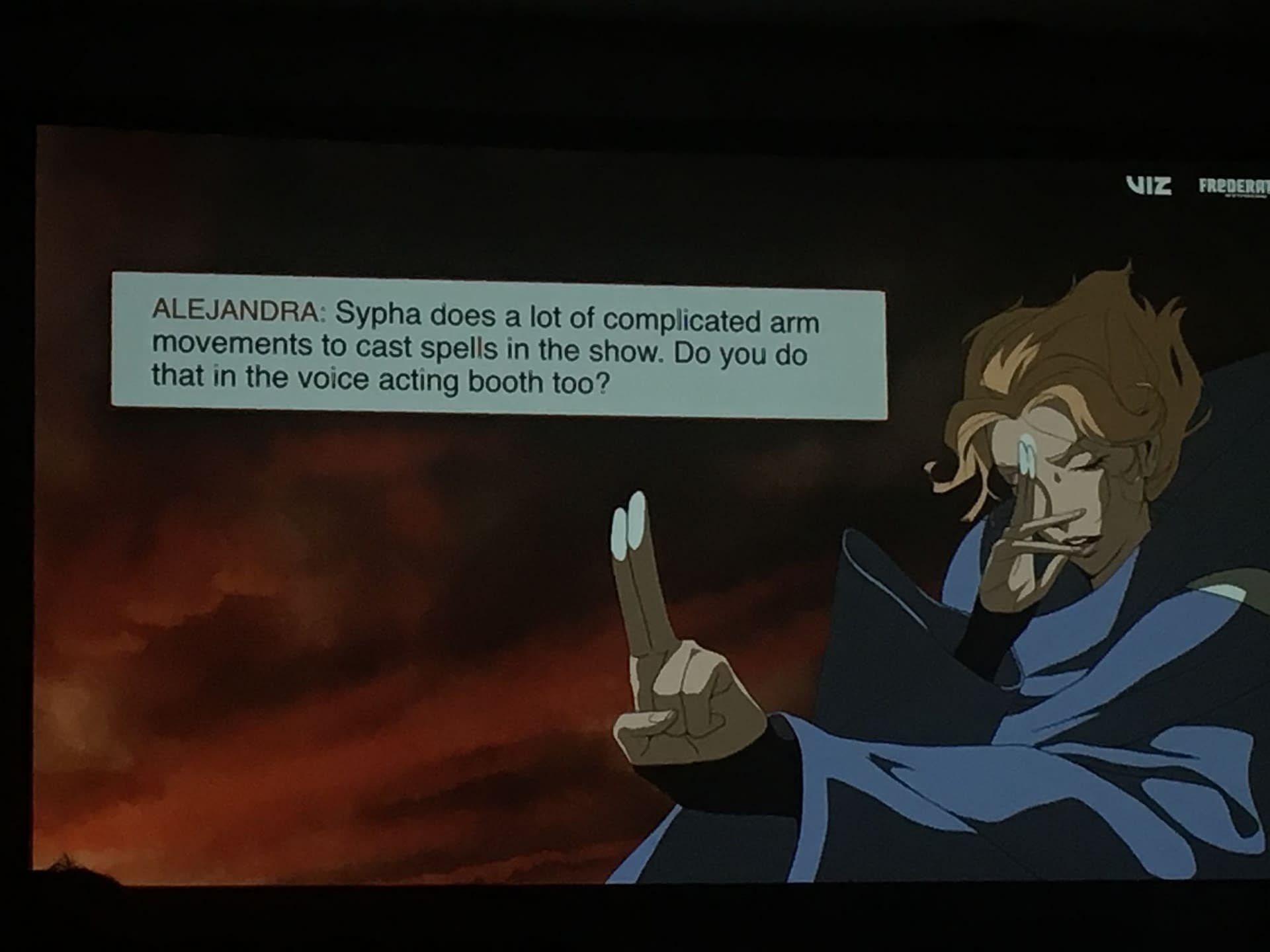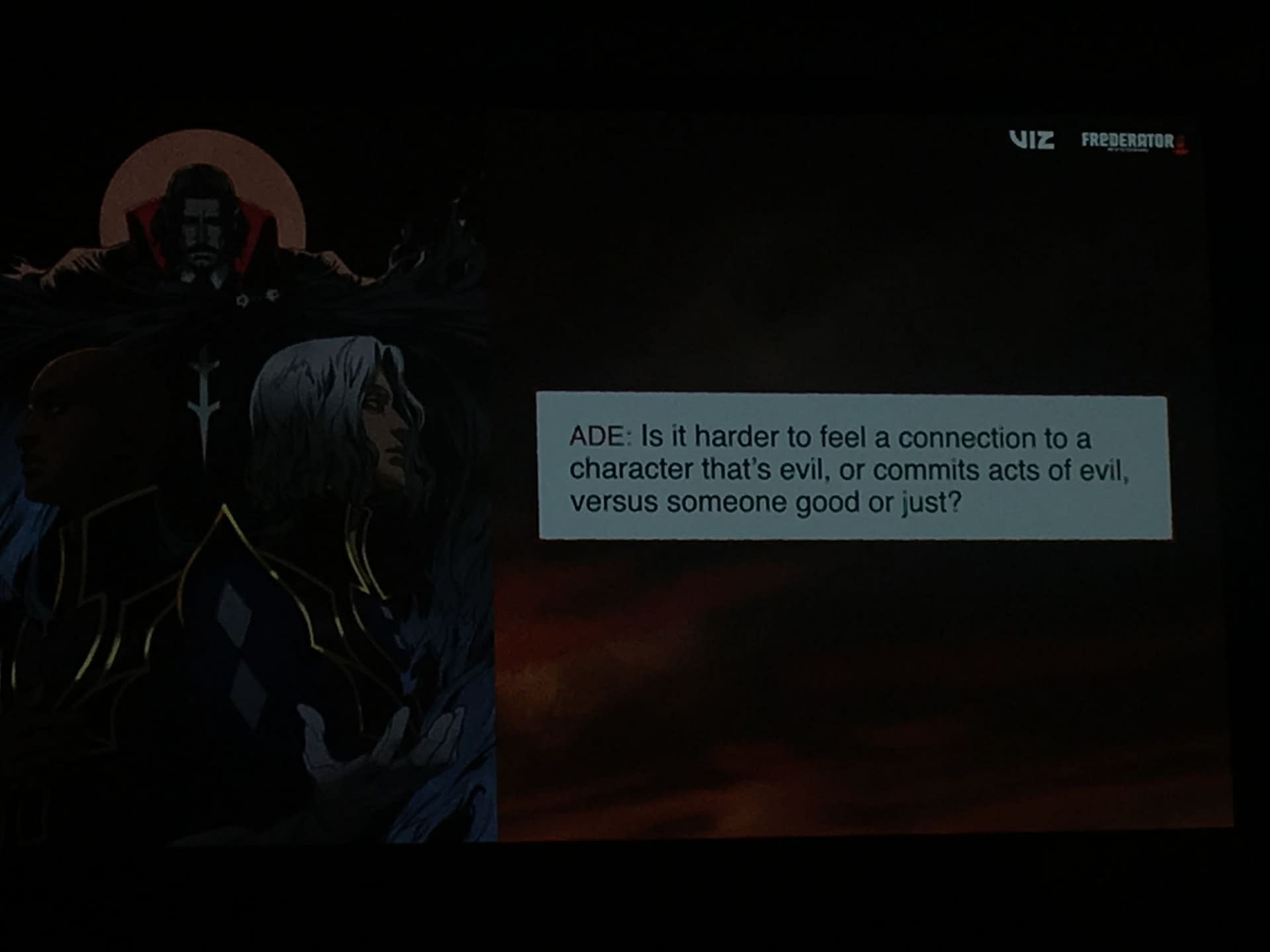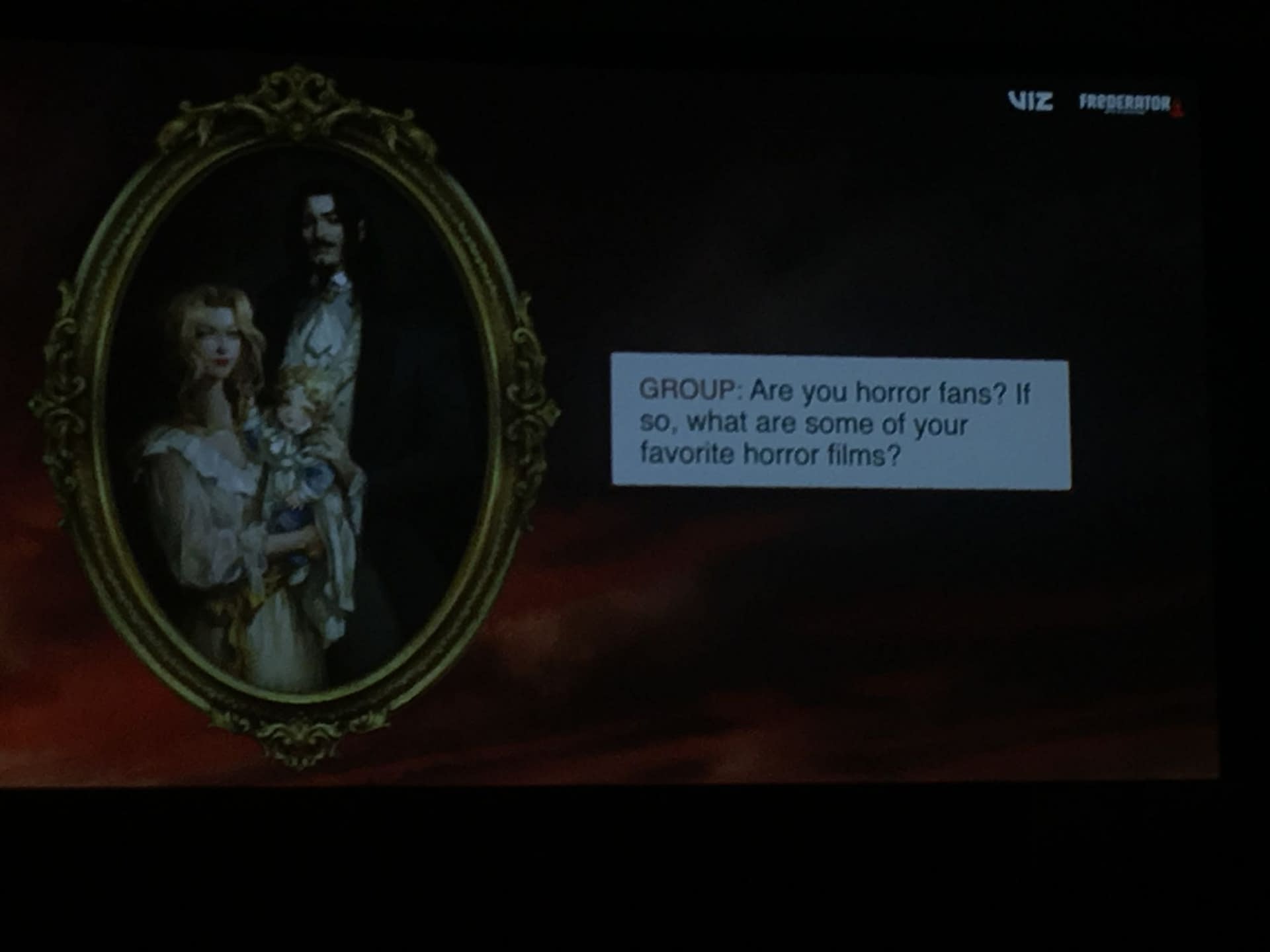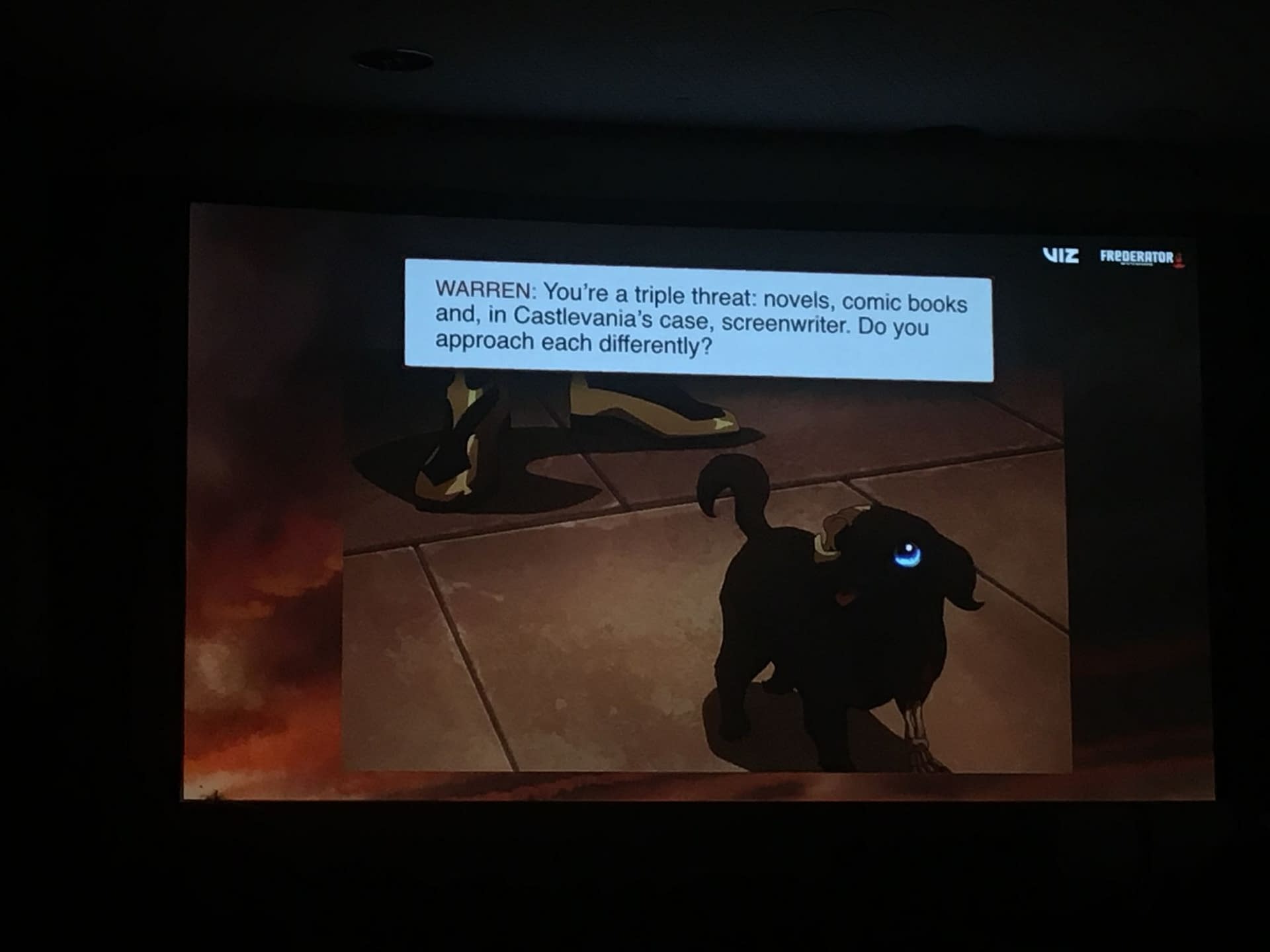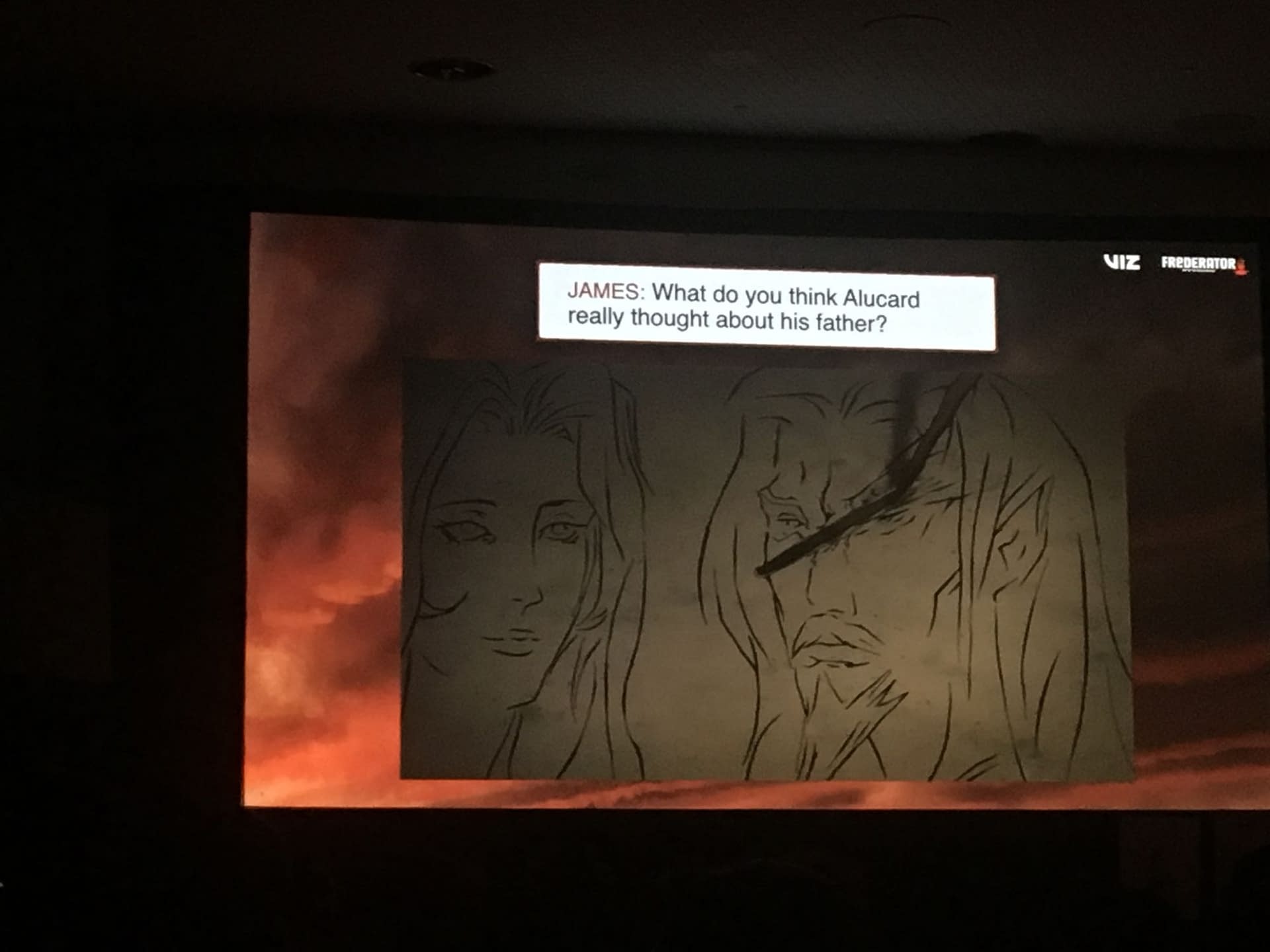 (Photos by Luke Roth. Additional photos provided by Viz Media)