Cobra Kai Season 4: Josh Heald on Evolution of Johnny/Daniel Dynamic
Sorry, not sorry about the pun, but the hits keep coming for the Netflix (Comedy?) series Cobra Kai. One of those responsible is co-creator and co-showrunner Josh Heald along with Jon Hurwitz and Hayden Schlossberg created the series far beyond anything imagined set in the world of the Karate Kid expanding the stories of its central characters Daniel LaRusso (Ralph Macchio) and Johnny Lawrence (William Zabka). Speaking to The Hollywood Reporter, Heald opened up about what's next for Daniel and Johnny.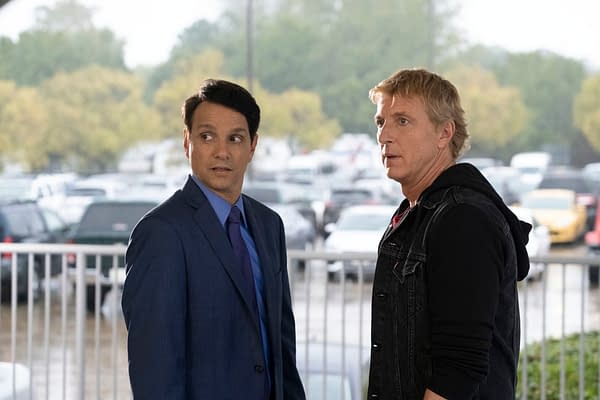 The creator credits the sound and stunt teams for their constant recognition and hard work on the series with their multiple Emmy nods. When we last left Daniel and Johnny in season three, they came off fighting the latter's former sensei John Kreese (Martin Kove) with his current control of Cobra Kai. The dojo was originally resurrected by Johnny to give himself renewed purpose before Kreese hijacked and stealing his students. After regaining his vigor, Johnny created a new dojo called Eagle Fang Karate made up of former Cobra Kai students cast out by Kreese. Following the trio's anti-climactic fight, Daniel and Johnny set aside their differences and trained their dojos together not only to protect themselves against Kreese and his dojo but also to for the upcoming All Valley Karate Tournament.
We asked a lot of everybody in the cast, but this show from its inception, from the pitch, was "Let's dig into the lives of these two characters who we knew only as teenagers and we're dropping into their lives 30-plus years later." For both of them, it's a role reversal. We're not only asking Ralph to play different colors with Daniel [LaRusso] later in life, after conquering the demons and moving on and having a great family, and then getting sucked back into this karate war. But he's doing it all without Mr. Miyagi.

The offscreen element of Mr. Miyagi is almost the most important on-screen element of Ralph's performance, in terms of Daniel coming to terms with wishing he had answers and discovering what it means to be a sensei, to be a mentor, to not only be a good father and a good businessman but to all of a sudden feel the responsibility of hundreds of years of tradition.

And likewise, for Billy, this feels in real time like watching an actor exorcise the demons of having been remembered and typecast in certain ways of being an '80s villain. It's a way of accepting that there is trauma in the past with John Lawrence and it's the trauma that Johnny carried with him through life.

I can just say, without giving away any spoilers, season four delivers on the premise of the series, which is what happens when these guys get into each other's lives and get under each other's skin. We've watched arguments, we've watched consequences and reactions, and overreactions, and now we're entering a phase in which they are putting down their weapons and looking at each other and accepting the challenge in front of them with [head teacher John] Kreese and kind of taking that next step and trying to grow as adults and leaders. And it's a great tipping point for them as performers and for their characters because it starts to provide new colors to their arrangement that are not just "I hate you, I hate you." We're finally entering into a second phase of their relationship.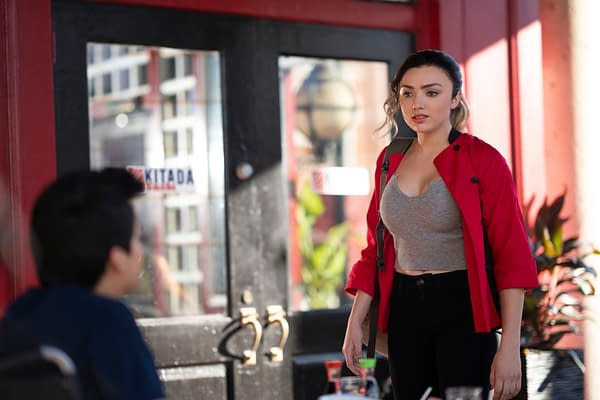 For more on how Heald help retained the spirit of the Karate Kid films within the TV series, and how Johnny would stack with Jason Sudeikis' Ted Lasso, you can check out THR. Cobra Kai season four premieres December on Netflix.

Bleeding Cool TV on Instagram: For all of the stuff too random and bizarre to make the site, make sure to follow us on Instagram: Bleeding Cool TV (@bleedingcooltv).
BCTV Daily Dispatch: For a look at what's going on across the television and streaming landscape, sign up for Bleeding Cool's daily email round-up of the news you need to know here.