Dave Bautista is continuing his program with WWE Hall-of-Famer President Donald Trump. Bautista has been a longtime critic of the President despite both men having deep ties to the pro wrestling industry. Trump, who hosted WrestleMania 4 and 5 at his Atlantic City resort and participated in the record-breaking WrestleMania 23 in the Battle of the Billionaires, is the wrestlingest President since Abraham Lincoln. Bautista, however, is an accomplished pro wrestler in his own right.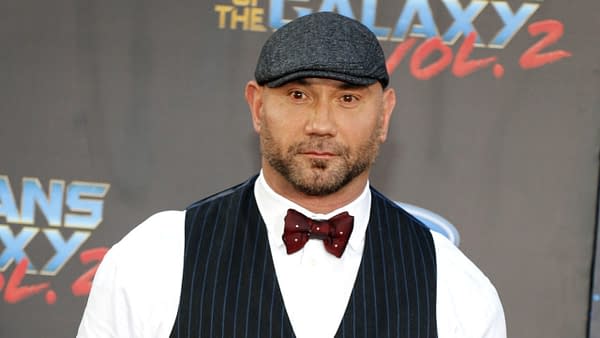 In April, Bautista cut a promo on Trump supporters, saying it "baffles my mind why working-class Americans support this #FakePresident. Same people who think they're being patriotic by supporting the most autocratic President we've ever had. #wannabedictator #braindeadmorons." The move was surprising considering Trump is not only a WWE Hall-of-Famer but because the friendship and financial connections between the McMahons and Trump was a driving factor in getting WWE declared an essential business so the company could continue to operate in Florida during the coronavirus pandemic.
Nevertheless, Bautista continued his feud with the President on Twitter Tuesday by tweeting, "This isn't a reality tv show @realDonaldTrump. You are the most undignified disgrace to ever hold the office of @POTUS…. #FakePresident." The Animal was responding to a video of Trump trashing George Conway. Bautista also put over his preferred presidential candidate, Bernie Sanders, once again, tweeting on Sunday in response to a video from Representative Justin Amash, "Which is why @SenSanders should be president."
Is Bautista building to a tag team match, perhaps between himself and Sanders vs. Trump and his friend, Triple H? Bautista claimed to have retired from wrestling after his match at WrestleMania 35, but a tag team between these two alliances would truly put asses in the seats. Hopefully, WWE is smart enough to put aside their personal feelings about Bautista shooting on their friend, the President, and offer truckloads of money to all four men to make this match happen.
Enjoyed this article? Share it!