Did John Cena Try to Bury AJ Styles Before His WWE Debut?
AJ Styles is currently one of WWE's top stars, but the last decade's biggest WWE star originally wasn't interested in bringing him into the company. Arn Anderson revealed on a recent episode of his podcast that he suggested bringing Styles, along with a couple of other TNA stars, into WWE years earlier as opponents for John Cena. However, Cena didn't think it was a good idea.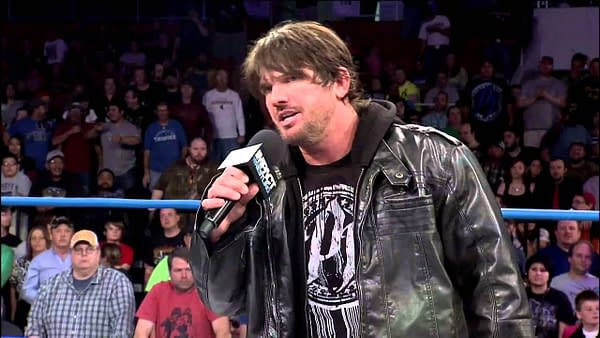 "I wasn't surprised. I was pleasantly surprised," said Anderson about Styles' eventual debut in WWE. "I pushed for AJ. There was a point in time when Cena had about run out of opponents, and I was on that whole ride with John for all those years, more than a decade I would imagine. We were sitting there and I was talking to him, and it was when TNA was doing well. I would watch their show, not every week, not every other week, probably because I was just too busy and suffering from burnout on wrestling. But I was sitting there with Cena one afternoon, we were sitting out there backstage at a table, and I said, 'You know John, it would really beef up the company if we would go out and we would steal Bobby Roode, AJ Styles, and the Cowboy, James Storm. If you just brought those three guys in, it would just give you a whole plethora of new opponents. It would give a lot of guys new opponents.' And that's just those three guys that I singled out because of their work and their psychology and things that I knew I could benefit helping them and they would catch right on and they would be a very good fit."
But Cena didn't see the value. Anderson continued, "The fact is, John looked at me and he said, 'Hey, we've got NXT. We make our own stars.' And I'm sure he was just transferring Vince's psychology to me when he said that. But I knew at that time what those guys could do in a match for John if you gave them 6-9 months to get over. But you would have to push them the right way, just like they were a fresh, 25-year-old body guy that you had hoped the stars for and that's what comes from the top. That's the deal. We want 'em young, we want 'em to have great physiques, great athletes, and we'll bring 'em in and we'll build 'em. But these guys had their experience. They already had their teeth cut on the indies. TNA. They were ready."
Unfortunately, WWE didn't think so. But things would change after Styles left TNA and had a huge run in New Japan Pro Wrestling. Styles made his WWE debut at the 2016 Royal Rumble, and he was treated like a main event star from day one. Styles, who has added two-time WWE Champion to list of accolades that also includes two IWGP Heavyweight Championships and two-dozen championships in TNA, went on to have a memorable feud with Cena, one of Cena's last before leaving for Hollywood.
Because Cena was at the tail end of his career, even though he did ultimately defeat Styles, Styles wasn't totally buried like many of Cena's past opponents during Cena's heyday. So, in a weird sort of way, Cena not pushing for WWE to hire Styles a few years earlier probably helped save Styles from being buried during the LOLCenaWins era.