Disco Inferno Calls for AEW Boycott Over Ratings Discrimination
Former WCW superstar Disco Inferno is leading like-minded pro wrestling fans in a boycott of AEW after the company's president Tony Khan and star Chris Jericho pointed to the 18-49 demographic rating as the true measure of success in "The Wednesday Night Ratings Wars." Disco took time out of his busy schedule of claiming COVID-19 is a liberal hoax to chime in on the ongoing battle over ratings which has totally consumed the wrestling internet.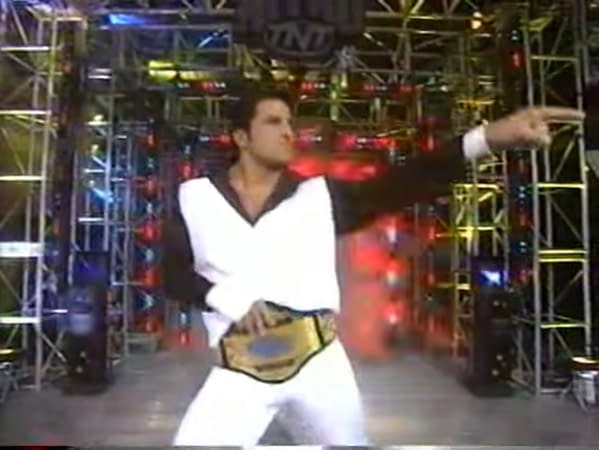 "Who publicly predicted on the podcasts six weeks ago that @WWENXT was turning the tide against @AEWonTNT??" Disco tweeted, adding, "The rules of the Wrestling Wars were simple. The show with the most viewers/higher rating won. You can't pretend this is a war if the losers don't take the L and try to say, "Well look at the box score" and try to pick some favorable stats and claim they actually won."
"Marks trying to educate me on wrestling would be better off spending their time trying to educate @elonmusk on rocket science," Mr. Inferno continued. He said, "So let me get this right. If you are over 49 years old you don't count if you watch wrestling on Wednesday night?? So @AEWonTN is literally going to discriminate based on age to take a W in the Wednesday Wrestling Wars?? Good luck trying to sell that bigotry in 2020."
"I am a social justice podcaster," concluded Disco Inferno. "I am looking for justice in the scoring of the Wednesday Wrestling Wars. If a show is going to marginalize it's fans over 49 years old, I think they should be boycotted. Eating anything but Goya products and watching @WWENXT only from now on."
It's unclear how many fans have already signed on Disco Inferno's AEW boycott, but if the movement takes off, it could prove a serious threat to AEW. Maybe AEW should hire Disco Inferno to get him on their side. Surprisingly, he didn't get that job he was gunning for on Donald Trump's coronavirus task force, so he is probably available.